It's no secret that home renovation and property improvement have become top priorities for many Americans. With the housing market booming at an astounding rate and thus tons of renovations taking place, homeowners have begun to tackle projects inside and outside their homes. The Manual sat down for an interview with HGTV star Matt Blashaw to discuss all things home renovation and lawn improvement.
Naturally, getting into the construction and home improvement game can be exciting and fun, but it's also daunting to build up the skills it takes to tackle many projects. That's why we asked Blashaw just how he got involved himself. "I started back when I was 16 years old, so I'm close to 30 years now that I've been building. I just love kind of building and seeing things materialize." But Blashaw carried his passion all throughout high school and college. Later, he got his contractor's license and real estate license. By 2008, he was on HGTV and started DIY. "I've been doing years, almost 13, 14 years, 550 episodes with them," Blashaw explained. It's a love of the homestead that continues to drive him. That's why Blashaw's latest advice and partnerships strive to help people achieve just that feeling at home through smaller, more manageable projects.
Related Guides
Renovating Your Home Without Hiring Contractors
During the pandemic, people were forced to stay home far longer than anyone would have liked. This resulted in a huge uptick in home renovation projects and outdoor improvements to make the most of people's time and space at home. "We just had a moment to take a breath on Earth, right, and say, 'Where are we?' So, yes, I think people are realizing, 'OK, what's my space?'" Blashaw said.
The answer to that question for a lot of people was to renovate, redesign, or optimize their space, which ultimately led to so many more people seeking out contractors. "Contractors are like a year out now on a lot of stuff, but I'm trying to empower people to do some stuff themselves, which I know that they can, for them to kind of reimagine their space, and then to also care about the space," Blashaw said. But there are some projects that are just off-limits to the average homeowner. "I think you want to stay away from electrical and plumbing, right," Blashaw joked.
Instead, Blashaw believes people should start with something more practical. "I've kind of empowered people to put their own pavers down. It's a lot of work, but when it's done, that's something easily attainable that they can do," Blashaw said.
To lay your own pavers, you'll need to start by digging out a space that is the same depth or deeper than the pavers so that they lay flat. Use paver sand and a level to raise any low points to ensure a perfectly flat surface. Finish the project off by simply laying the pavers onto the prepared ground. You can similarly build a backyard fire pit by digging out a trench before building up a circular stone wall that's later filled with sand to cover the bottom.
"It's really important that we take little small steps at a time so you're not getting overwhelmed because nothing is better than getting the positivity that that one project brings when you complete it and then working onto the next one," Blashaw said. Some small-scale projects you can easily do at home to get started include painting a room, changing out cabinetry hardware or light fixtures, or even installing molding. All of these are easy to achieve with a quick visit to your local hardware store or a day of shopping for fixtures or hardware online. "Whether it's interior or exterior, just take it off in little chunks, and try something new," Blashaw added.
Just make sure you shop smart and invest where necessary. Buy quality gear to get the job done and remember to properly prep before taking off with any of these beginner-friendly projects such as painting the molding before adhering it to the ceiling.
How to Renovate Your Lawn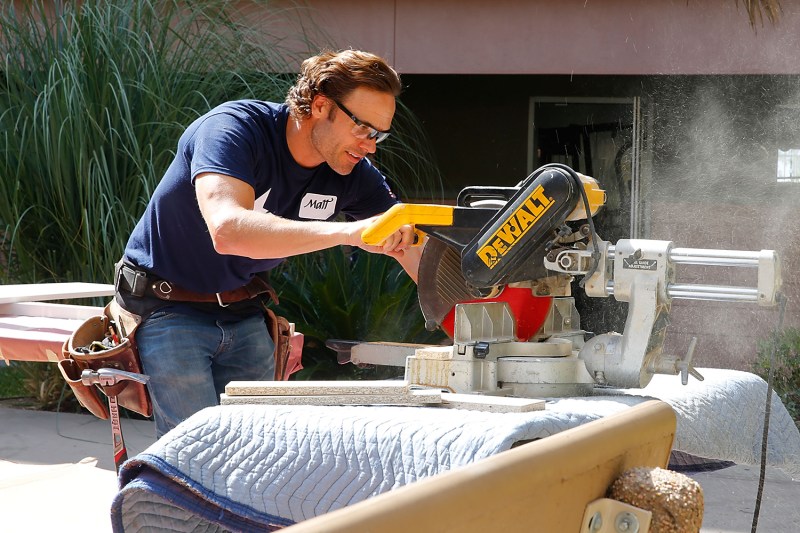 As we spend more time outside now compared to the past year, it's also easy to get started with your own home improvement outside. One home project that will instantly improve your backyard space is staining the concrete pad that is the patio. "Instead of just tearing it up, you can really beautify it with some amazing stains that are out there, semi-transparent stuff. You can bring some warmth or even kind of tone it down with some gray tones for some modern kind of appeal," Blashaw recommended. Just like painting inside your home, you'll simply need to prime, stain, and seal the concrete with whatever color you settle on.
But if you want to liven up the yard, start with gardening projects. "I love making what's called pot scapes, and making this beautiful pot scape I think is something that people can do as well. This is the time when you need to start beautifying your backyard, and that's a simple way to beautify their backyard," he said.
To improve your outdoor space with potted plants, you can simply buy pots of different or the same sizes and colors. Then simply fill them with plants that will thrive in your environment. You'll likely want one to fill in the base of the pot, and have one plant that will spill over the side, and one eye-catching plant to make up the mighty trio known as the "fill, spill and thrill" effect. Together in one pot and in the larger collection of plants, you'll find adding more greenery and design through plants to your backyard can really make it feel homier.
Related Guides
While pots are an easy starting place, the lawn takes far more care than more people realize. "Tending your lawn is probably one of the most maintenance-heavy things that you're going to put into your yard, but it looks beautiful when it's done right. People look at if they're watering it too much or too little, or if it doesn't look good, let's just fertilize it. Well, you need to go above and beyond," Blashaw explained.
For those who really want to master their exterior, Blashaw firmly believes Spectracide should be in your arsenal. "It's great and very effective. And especially if you're going to be using all of these products and putting that time and effort into it, make sure that you're teaming up with a company that's going to make sure, just like Spectracide, that it's actually going to work on the first-time application," he said.
So take a word of advice from one of television's most reputable home contractors and sources for home improvement before setting out on whatever your next goal is. You might not want to trouble yourself with finding a contractor at the moment, but you also might be surprised by what you can accomplish on your own. So start small and use the best tools on your toolbox to get the job done well the first time.
Editors' Recommendations