Whether you're a homeowner, renter, or just a guy who likes to tinker to figure out how stuff works, every man needs a well-stocked toolbox.
Filling a toolbox with the right tools isn't an easy task because every job requires a specific device, but guys should stick to the essentials when filling a toolbox. If space is limited around the house and your home doesn't have a garage or designated work area, a guy's toolbox needs to be jam-packed with all of the items that will come in handy again and again.
Even if your handyman skills are a notch above a beginner's level, a man still needs the proper devices and gadgets to get the job quickly and efficiently. The tools included on this list will help a man work smarter and not harder, and each item will assist in tackling a multitude of jobs.
From assorted hammers to cordless drills, without these practical tools, a man's toolbox is incomplete.
Safety Goggles
The first few items on this list of tools every man needs in his toolbox keep safety in mind, starting with protecting a valuable part of the body.
A good pair of safety goggles tops our list of must-have tools. Ideal for woodworking, carpentry, or just cutting the lawn, these safety glasses from NoCry will keep the eyes safe from direct and peripheral threats thanks to a solid and durable polycarbonate wraparound construction. The side and nose pieces adjust for a perfect fit without slipping, and the double-coated, untinted lenses prevent fogging during work.
Rechargeable Head Lamp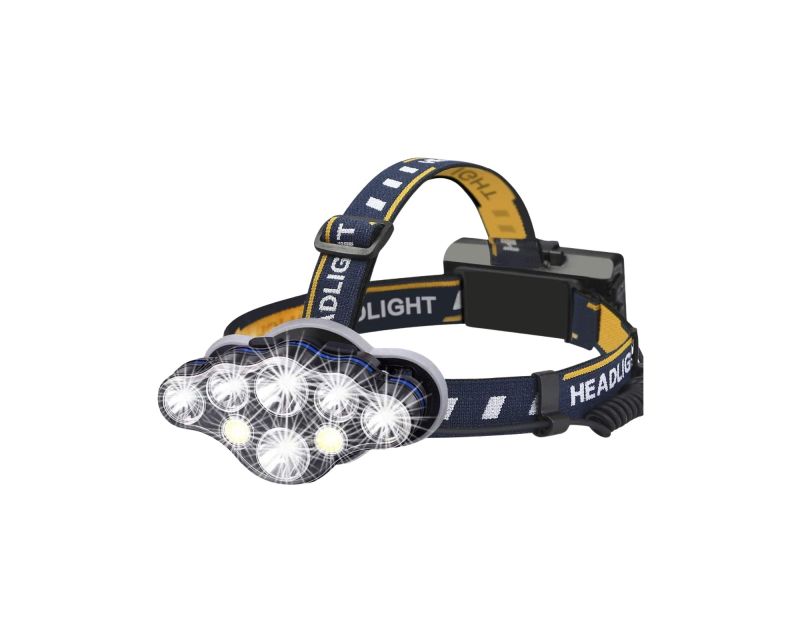 Stuff around the house doesn't always break in the middle of the day or well-lit areas. Perfect for jobs under sinks, under a car hood, or deep inside crawl spaces, this rechargeable headlamp from Tupwaid boasts eight incredibly bright LEDs to shine stronger, brighter, and longer. This headlamp is made of aluminum alloy, making it durable and sturdy, and the top strap prevents the headlamp from slipping down in the middle of demanding home improvement tasks.
Heavy-Duty Utility Knife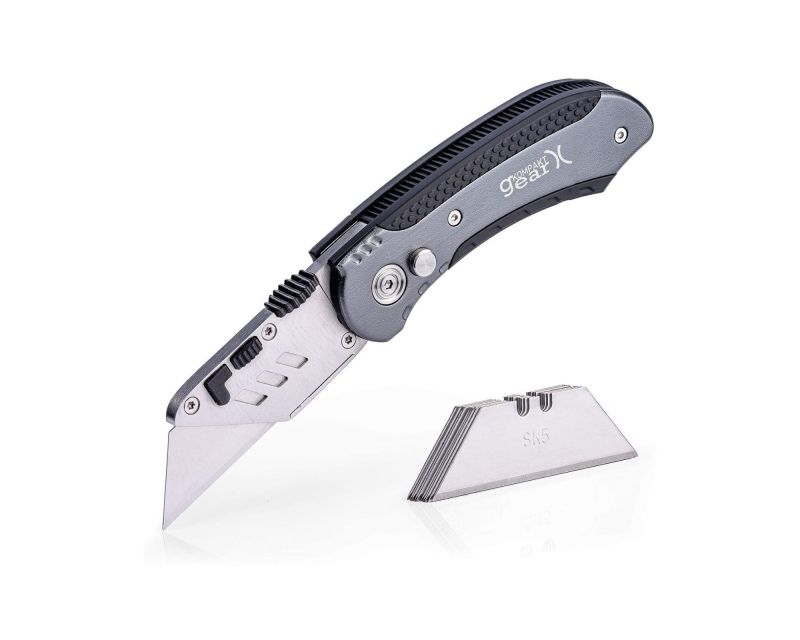 A sturdy and tough utility knife is crucial for an infinite number of repair projects, including breaking down all the boxes to put out for recycling every single week. The Kompakt Gear retractable razor blade knife has an anti-slip grip, and the retractable razors are constructed from carbon steel, so they stay sharp and pointy even with continual use. The aluminum body makes this knife lightweight and durable, and it's ideal for any cutting chore around the house.
Electronic Stud Finder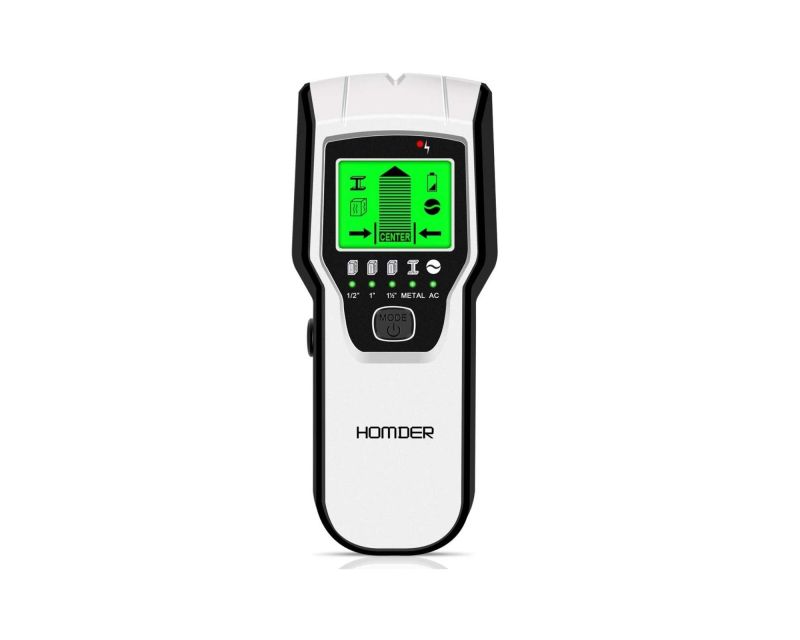 There's nothing more frustrating than putting numerous holes in a wall while trying to hang a simple photo or shelf. Don't trust instinct or tapping against the wall to find the stud. Grab this Homder electronic stud finder out of the toolbox to reduce the mistakes and limit the holes. This stud finder features five located modes, and the AC scan detects live unshielded AC wires up to 2 inches deep.
The Homder stud finder comes equipped with an intelligent micro-sensor chip with high sensitivity for quick and accurate stud detection. WARNING – waving this stud finder over your body and saying "found him" will result in immediate confiscation of your entire toolbox.
25-Foot Tape Measure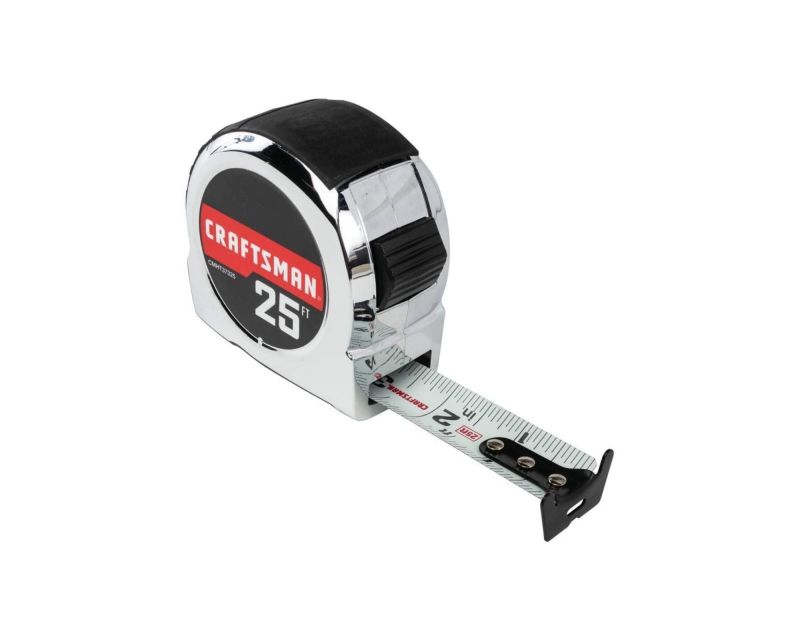 Every man has heard the expression, "Measure twice, cut once." Well, this 25-foot tape measure will help tackle any size measuring job, from hanging things in the home office to figuring out if the new couch will fit through the front door.
This 25-foot chrome tape measure from Craftsman features a 1-inch tape measure with a large, easy-to-read font, a rubber overmold for added grip, and a multi-catch hook that will grab onto surfaces on either side of the blade.
Bionic Adjustable Wrench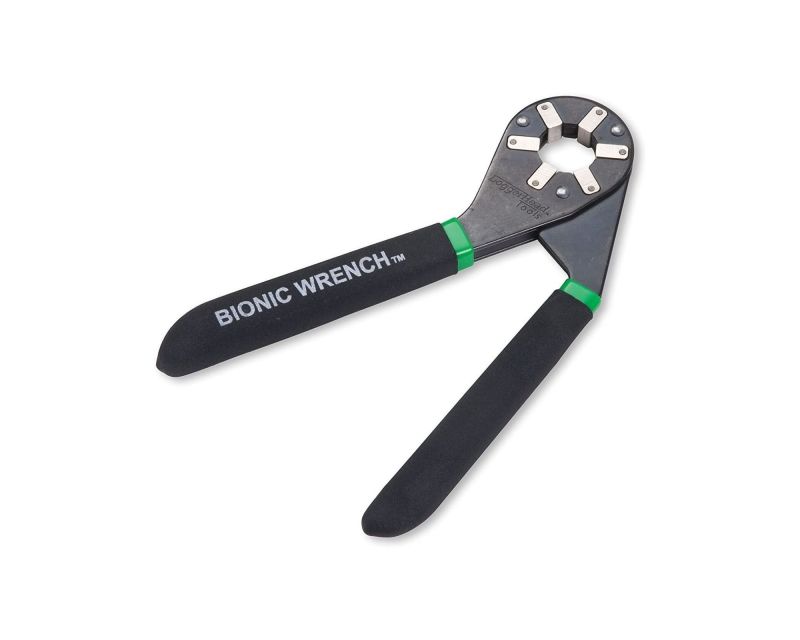 Don't waste your time with a suitcase full of random wrenches that never get used. Every guy should ditch the wrench collection and drop one of these handy adjustable wrenches to his arsenal of home improvement weapons.
The 8-inch bionic wrench from Logger is unlike any wrench in a handyman's arsenal. This cleverly designed tool has a pair of spring-loaded handles and a circular head with six hardened steel jaws. Just squeeze the handles, and all six jaws lock onto the head of any nut or bolt. This unique locking mechanism allows the Bionic Wrench to grip hexagonal, square, and even rounded fasteners.
Plier Set
Next on our list of the tools every man needs in his toolbox is a set of sturdy pliers with various heads. This assorted set of pliers from Workpro comes with a 6-inch long nose, 6-inch diagonal, 8-inch groove joint, 6-inch slip joint, 7-inch linesman pliers, and a handy pouch to keep the group in order. Workpro pliers are made of heat-treated steel to ensure better clamping force and durability.
Screwdriver Set
Stop trying to get away with just a few random screwdrivers in your toolbox and upgrade to this 60-in-1 precision screwdriver set. Perfect for big jobs in the garage and small tasks like repairing laptops, phones, and electronics, this screwdriver set from Oria boasts bits made of chrome-vanadium steel that won't break or wear down after extended use. No screw will be too difficult, thanks to a ball-bearing mounted swivel top and non-slip aluminum handle.
30-Piece Hex Key Set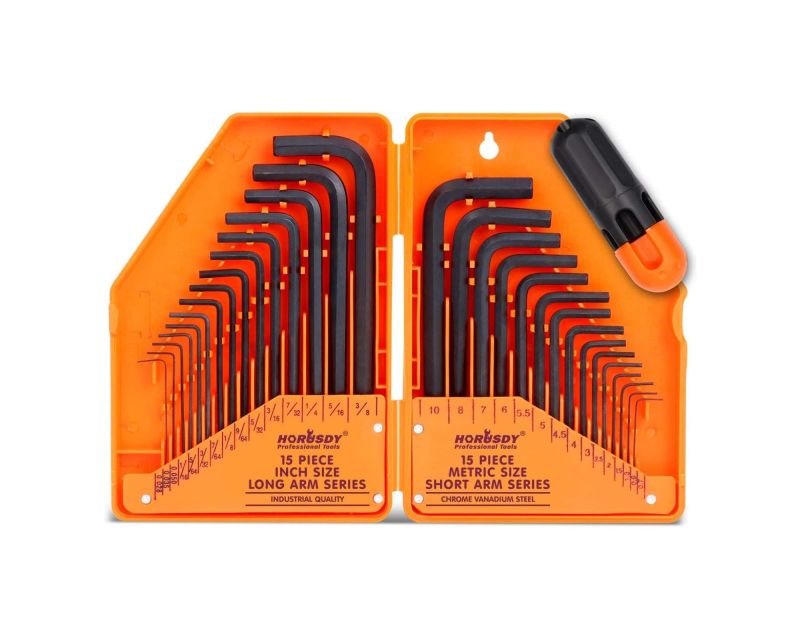 The next item on our list of the tools every man needs in his toolbox is a set of hex keys from Horusdy. Hex Keys, also known as Allen wrenches, are a must-have for around the house, especially for dads. Kid's beds, desks, bikes, and more are in constant need of tightening from daily wear and tear, and each one comes with its own Hex key that gets lost not long after assembly.
The Horusdy 30-piece hex key set is made from heat-treated steel and contains 15 long reach keys and 15 high leverage short keys. This Allen key set works on all hexagon socket screws and includes both inch and metric measurements.
3-Piece Hammer Set
A good hammer is an absolute necessity for every guy's toolbox. This 3-piece hammer set from Benchmark includes a rip claw hammer, double-sided rubber mallet, and tack and chipping hammer. Each Benchmark hammer has durable fiberglass handles and polished steel heads, and the set comes with a 1-year guarantee.
Multi-Purpose Laser Level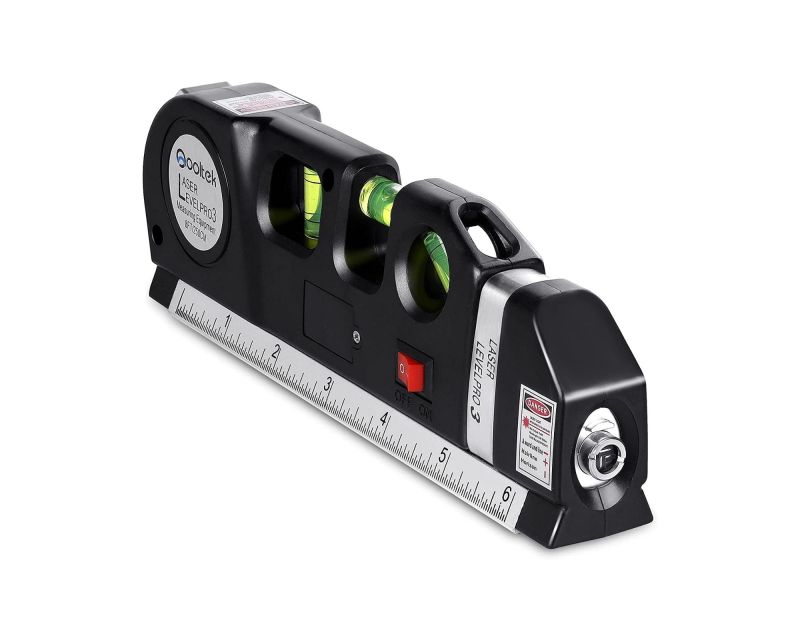 Stop trusting your eyeballs when hanging pictures, Christmas decorations, or anything around the house. Designed for any situation where accurate measurement is necessary, this multi-purpose level from Qooltek combines a fine-tuned tape measure, a triple-positioned leveling bubble, and a laser level to provide results with pinpoint accuracy.
Cordless Drill
Stop tightening tough screws with a handheld screwdriver and reduce the time it takes to finish routine building jobs around the house with a cordless drill from Black & Decker.
With an 11-position clutch and integrated bit holder under the handle, this Black & Decker cordless drill provides precise control for drilling into metal, plastic, wood, and all screw driving tasks. Lithium-ion technology means a longer battery life that will last for the entire job.
Editors' Recommendations