While we're waking up to a film of frost on the car windshield, assuming we know cold, Ben Saunders is attempting the first-ever solo, unsupported expedition across Antarctica. And when we say unsupported, we mean a 65-plus-day trek across sub-temperature ice and snow with only two pairs of underwear.
Saunders left for the expedition on November 3, and The Manual corresponded with him en-route to chat about fending off loneliness and isolation, training for the insane trek, the epic kit that Canada Goose designed especially for him, WTF he eats, and a couple sub-zero survival tips all men should know.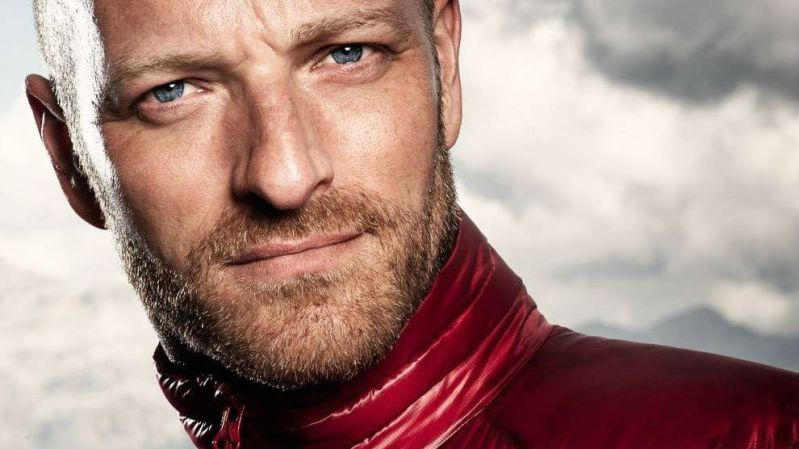 The Manual: First off, do you have a boring job that pays the bills, or is arctic adventuring a full-time gig?
Ben Saunders: You'd be amazed at the number of emails, PowerPoint presentations, and spreadsheets it takes to get something like this off the ground. I've been leading expeditions for almost 17 years now, and it doesn't seem to get much easier. In between expeditions, I am a "motivational speaker" for want of a better term. I've spoken at TED three times, and I enjoy sharing my expeditions through my talks. At some point I should probably write a book …
TM: What does training and prep look like for an expedition of this magnitude?
BS: Physically, this sort of expedition involves a mixture of strength and endurance training. I have to be strong enough to drag my sled — 300 pounds, or the equivalent of a full-grown gorilla in a bathtub — and have the stamina to cover 40 marathons back to back. I'm also going to be doing this journey in the coldest, driest, windiest, highest altitude place on earth — with temperatures reaching minus 40 degrees centigrade at times — so I need to put on weight, which I will lose while I'm out there due to the severity of the conditions. I've put on about 20 pounds for this expedition.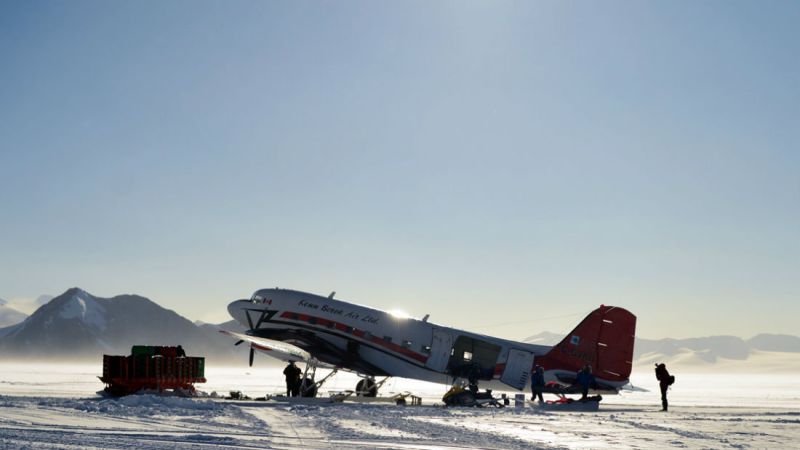 TM: So, pretty much you're a superhero?
BS: Hah, I train all year round — predominantly running and cycling — so it was a case of adding sessions to my regime that were more specific for this expedition, such as weight training or long walks with a backpack with weights in it. I see myself as an unusual kind of athlete rather than an explorer in the old-fashioned sense. I'm not trying to find out where the South Pole is — that was done a long time ago. To me, this is about exploring human limits.
TM: How do you mentally fend off loneliness and isolation? Do you talk to yourself?
BS: I don't remember feeling particularly lonely during my previous solo expeditions. Music definitely plays a big part in keeping me energized and present. When you're on your own, you're busy the whole time — you have to be alert and constantly aware of your surroundings. You're looking at weather conditions, you're navigating, you're looking at the time, and you're making sure you're eating and drinking regularly. It does take a significant amount of mental stamina to stay focused.
TM: What kind of music do you listen to?
BS: The key thing, in terms of my music choices, is having fairly upbeat music, including electronic music and some hip-hop. Something melancholy just doesn't work. It'll send me spiraling into feeling sorry for myself and wondering what the heck I'm doing out there alone, on my Christmas day, in my tent. I will have three iPod Shuffles as they're the smallest/lightest music-playing device, but they only hold a certain amount of music so I need a few!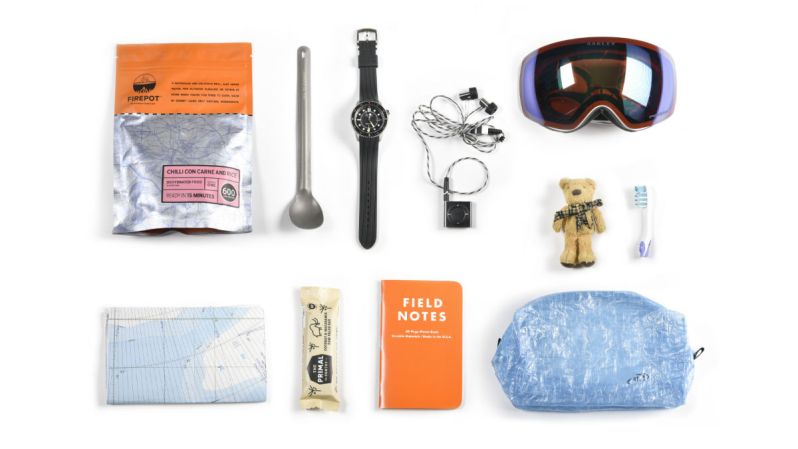 TM: Give us a glimpse of the rest of your complete pack:
BS: My tent is probably my most valuable piece of equipment, without that I would be a bit stuck as it's my only shelter. Then my essentials kit includes the following: iPod Shuffle, toothbrush, spoon, map, dehydrated food, energy bar, notebook, toiletry bag, watch, and teddy bear.
TM: Wait … you travel with a teddy bear? Badass.
BS: Barnaby Bear is a small teddy bear that is my good luck charm. He was given to me by a school many years ago. I've taken him on about four North Pole expeditions. I think he's been to Greenland a couple times too. I sent him off with a friend of mine, Jake Meyer, who's climbed the seven summits (the highest mountain on each continent). He's also had two attempts at climbing K2. He is probably, I reckon, one of the world's most traveled teddy bears. He came to the South Pole on the last trip in May and he'll be coming back with me all the way across this time. Barnaby is my expedition companion.
TM: What type of gear do you wear? I'd expect it has to be pretty gnarly.
BS: Canada Goose has put together a kit made up of products from their current collection, as well as a small selection of customized items to meet the unique demands of my unsupported, unassisted expedition, including: HyBridge Lite Vest, Lodge Vest, Customized Timber Shell, Customized Trousers, and a Mountaineer Parka.
TM: Do you have a favorite piece from Canada Goose?
BS: There's something really special about my down-filled Canada Goose Mountaineer Parka. It always represents a kind of safety for me and I feel invincible with this amount of insulation. The Mountaineer Parka is quite reassuring — you're not ready for the day's work until you put it on.
TM: I heard that you'll consume 6,250 calories a day. How in the world?
BS: Yeah, it's an awful lot of food to try and consume, but I need to make sure I keep my calorie intake high as I will be burning around 8,000-9,000 calories a day through physical exertion. It's one of the biggest challenges of the trip: I will physically be working really hard, traveling on foot, wearing a harness, and dragging a sled behind me. Every morning I will have two hours in my tent before I start moving to prep for the day. During this time, I melt snow so I can make my breakfast and my morning shake (egg yolk powder and protein). I'll also make two liters of hot energy drink for the day. Then, while I'm skiing, I will have a break every 60-90 minutes. I'll stop, sit on my sled, have a drink and one of my snacks for the day. This happens about six times a day before I set up camp for the night and melt some more snow to cook my dinner — another 900 calories.
TM: Other than staying fueled, what are the most important sub-zero survival tips?
BS: 1) Stay humble. My first big expedition (unsupported to the North Pole from Russia in 2001) was a steep learning curve. I mistakenly thought success would mean toughing it out and ignoring discomfort and pain. As a result, I ended up with frostbite and nearly lost a toe in an episode that taught me to pay attention to warning signs and not be afraid to ask for help.
2) Stay alert. An ability to put your head down, grit your teeth, and do what it takes is important in any endurance challenge, and more so in a challenging environment, but don't forget to pop your head up occasionally and make sure you're keeping tabs on your own well-being, as well as the people around you.
3) Look after your gear. On a big expedition, a broken zip or ski binding could spell the end of months of hard work and years of ambition. It pays to make sure your equipment and clothing is clean and well-maintained.
Sold on visiting wild Antarctica? Check these cool cruises and other bucket list adventures to the southernmost continent.
Feature image courtesy of Natural World Safaris.
Editors' Recommendations