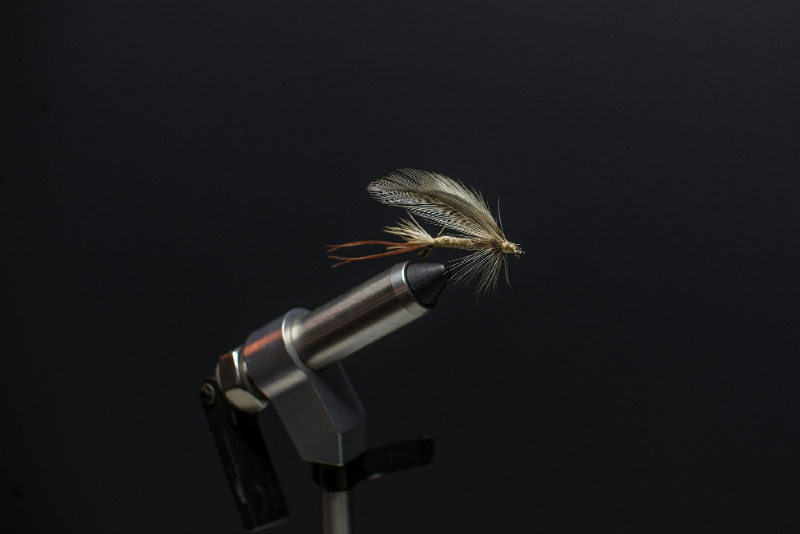 Fly tying is the process of fastening feathers, hair, or synthetic materials to a hook. This tradition dates back to the 1st or 2nd century. Both materials and equipment have come a long way since then, though the fundamental concept is still the same. This Beginner's Guide to Fly Tying will let you in on everything you need to know to get started. If you're new to fly fishing or have always wanted to give it a shot, you should take some lessons or at least read a beginner's guide to fly fishing. It's also not a bad idea to learn more about fishing in general if you don't know how to fish.
Thankfully, fly tying doesn't have to be complicated, and often, it isn't. The ritual of fly tying, especially as the days grow shorter and the weather grows cooler is a relaxing hobby. When you do catch that first fish on a fly you've tied yourself the sense of pride and enjoyment of the whole fishing experience is just that much greater.
What You Need for Fly Tying
Vise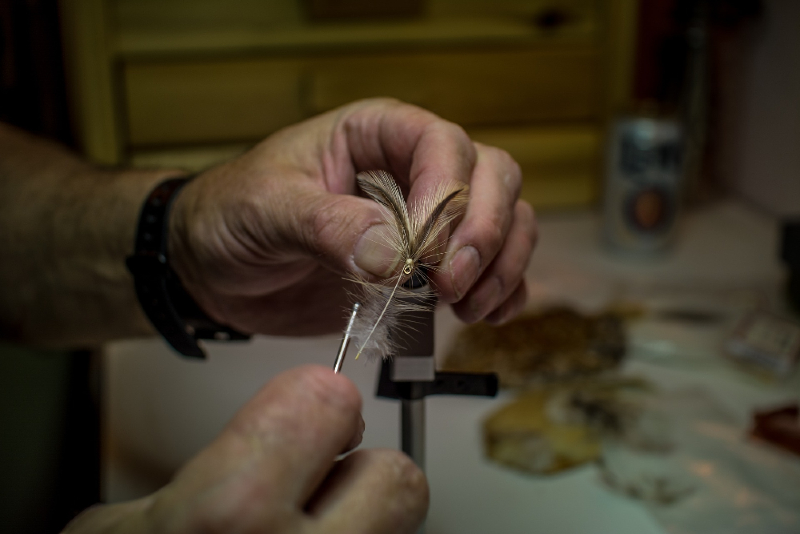 The central piece of your fly tying set-up is your vise. The Griffin Odyssey Spider Cam Vise tool that holds the hook in place while you transform it into a fly. This vise from Griffin is a nice starter option. As is the Renzetti Apprentice Vise.
Other vises, like the Renzetti Traveler 2000 Vise or the Regal Revolution Vise cost a bit more but if you stick with fly tying, you'll likely upgrade your vise down the road anyway.
Bobbin
The next item you'll need is a bobbin. Flies are tied with thread and your bobbin holds that thread so it's easy to manage. The bobbin from Cabela's will do the trick, though there are plenty of options out there.
Head Cement: Loon Outdoors Hard Head Fly Finish Clear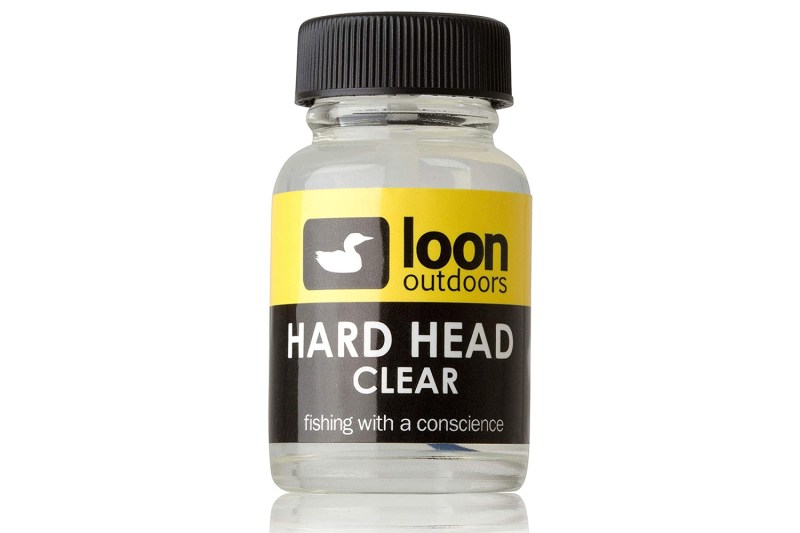 Another item you'll need is a hair stacker, head cement.
Whip Finisher: Creative Angler Rotatable Whip Finisher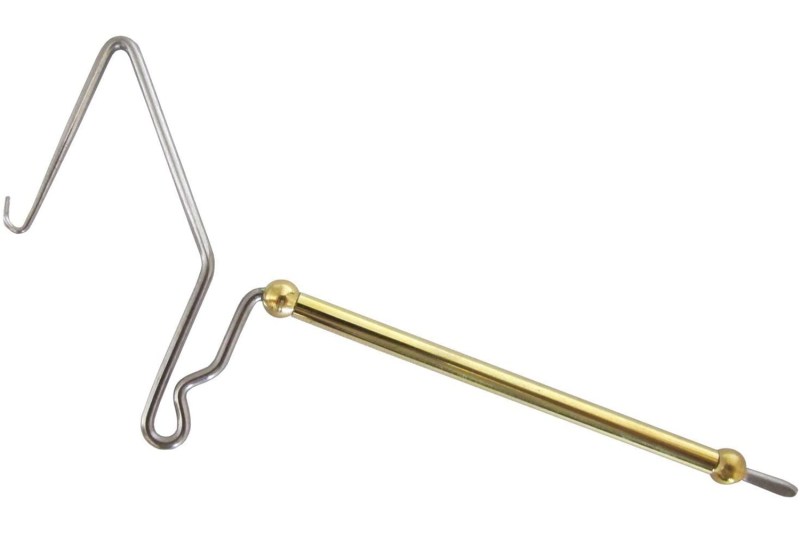 A whip finisher is the tool used to tie off the fly and ensure the thread remains unraveled when you are fishing.
Scissors: Kershaw Skeeter 3
Scissors are the next item you'll need, and they're more important than you'd think. Getting in close to snip fibers with precision matters a lot in fly tying. Consider these Skeeter 3 Scissors from Kershaw.
Tool Kit: 4-Piece Fly Tying Combo Kit
This tool kit is a nice option when it comes to getting started on fly tying.
Encounter Fly-Tying Kit
You'll also need materials. Thread, fur, feathers, hooks, and beads. You can buy them online or at your local fly shop. But what you buy will depend on what fly you're tying. Generally, black thread, tungsten beads, a wide variety of hook sizes, and a pack of different colored dubbing are a good start. Toss in some elk hair, a pheasant tail, marabou, and you're on your way.
If you want to start tying as quickly as possible, you might consider buying a fly tying kit. Kits can be great because they come with everything you need (tools, materials, instructions) to tie 10-15 fly patterns right out of the gate. Typically the fly patterns provided will work well on different waters. Check out this kit from Orvis.
Scientific Anglers Deluxe Fly Tying Kit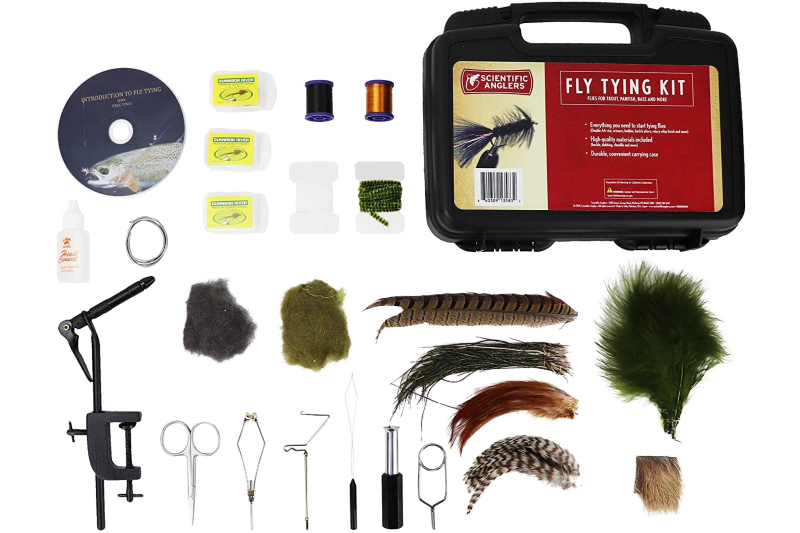 As you discover new patterns you'd like to tie you can supplement the kit with different colors of thread, fur, or feathers. This kit from Scientific Anglers has a great variety.
Fly Tying Books
So, you've got all your tools and you're ready to tie. What flies are you going to tie? Some internet research on what flies do well in your area is great. It's also helpful to talk with your local fly shop and see what they suggest. Successful flies vary depending on the water and the time of year.
I would suggest these books for both patterns and techniques:
Fly Tying for Beginners

Essential Trout Flies

Charlie Craven's Basic Fly Tying

Fly Pattern Encyclopedia
Editors' Recommendations