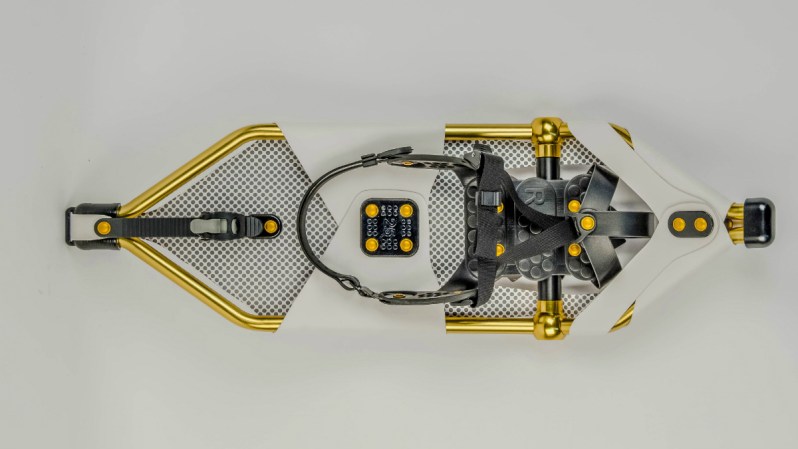 Tae Kim has reinvented the snowshoe.
Growing up in Alaska, Kim spent most of his time outdoors (his favorite piece of gear was his snowboard) and went on to graduate from Stanford University's prestigious d.school. He took a role with The North Face, where he was the design director of hard goods for eight years, but split from the outdoor giant to found his own brand, Alite Designs (you've probably heard of their casual camping outdoor furniture). And now he's reinvented the snowshoe. No big deal.
(Uh, big deal.)
The next best thing to walking on water is walking over snow, which allows you to hike through frozen tundras during any season. Snowshoes work by distributing the weight of the person over a larger surface area so that the person's foot does not sink into the powder. However, with this distribution comes cumbersome size. If anyone has tried carrying their snowshoes while not in use, they know it's a hassle and a half. Needless to say, snowshoes aren't optimally designed for anything other than snowshoeing.
Kim's new futuristic snowshoe (and the company's first winter product), the Snow Leopard 25 ($240 and slated for retail winter 2019-2020), applies the same collapsible technology used for Alite's camp chairs. "We felt there was a bit of staleness in the snowshoe market," he tells The Manual. "Snowshoes can be a bit inconvenient at times; they're often bulky and difficult to store when not in use, not to mention carrying them in or usually on your bag or backpack. We've imbued the Snow Leopard 25 with our chair technology so it's fully foldable, making it super portable and easy to carry. We've done extensive testing with other snowshoe designs and even with the added function of foldability, our new design doesn't sacrifice any performance."
The feel of these snowshoes compared to your pop's old pair is more solid in their connection to the ground, thanks to the construction of the frame and the sturdy pivot axel that runs beneath the crampon. "Your feet also feel more supported in the binding because it is set on the cross bar that is attached directly to the frame. This also helps keep the snowshoe parallel to your feet and gives a nice flow and action when in-step," says Kim."
While the differences are highly foundational (did we mention you can collapse the Snow Leopard 25 into itself for compact carrying?) the difference is also skin-deep.
"Lots of snowshoes nowadays look kind of the same," Kim says, "So we designed the Snow Leopard 25 with a new aesthetic angle so that it stands out in a category that has remained greatly unchanged. It looks sexy … Can I say that about a snowshoe?"
Yes, Kim, because these futuristic snowshoes are dripping with winter sex appeal, flashing gold carbon steel and matte white tarpaulin.
Both the bones and the face of the Snow Leopard 25 were made possible by the means of Kim's design process. After being with The North Face for so long, Kim started Alite with a focus on making the design studio and workshop more hands-on, especially in terms of prototyping. Kim says, "We built out a wood shop and a metal shop as well as a sewing studio so we can do lots of rapid prototyping in-house. We also have a really small design team that has an intimate relationship with each product we create."
Now thanks to Kim, next winter we'll have foldable, easy to store, easy to travel with, 'sexy' snowshoes that have never been offered before. "Bringing along a pair of snowshoes for a weekend trip no longer has to be a big commitment with space in your pack or the car," Kim says, with attention to the recreational outdoorist who isn't quite as hardcore. In that respect, the visual appeal of Alite's snowshoes make for a stunning wall mount (much classier than your old college posters).
"It's a snowshoe that works great, is aesthetically pleasing, and that folds nicely and easily creates more opportunity for people to use it," Kim adds. "And hopefully inspires some folks who never thought they'd snowshoe to go outside and try."
Editors' Recommendations