While keeping your sparkling smile and fresh breath is important any time, these days it may also help save your life, and you can take that to the bank (or to the dentist, rather). As we head into what we hope is the last (but seemingly hardest) part of the COVID-19 pandemic, it's important to maintain a healthy mouth. We caught up with Dr. Spiro Papadatos, DMD, to talk about how to best care for your oral cavity.
Related Guides
"Periodontal health is key during COVID," says Papadatos. "You have to keep your mouth healthy! If you breathe in germs, you are much more likely to get sick if they come into contact with already infected tissue. Healthy tissue doesn't get infected as easily. A regular oral hygiene routine is key. Besides proper cleaning and care, you should also avoid smoking and vaping. Keep your oral cavity as healthy as possible."
The doctor goes on to recommend using ADA-certified products for maximum benefit. We've gathered some of his, some of ours, and some of the ADA's favorites here.
CVS Health Dental Floss
First things first. Papadatos recommends flossing before brushing and rinsing. The ADA recommends starting with about 18 inches of floss, loosening plaque and food before brushing. It's also great for stimulating gum health.
Hello Naturally Whitening Fluoride Toothpaste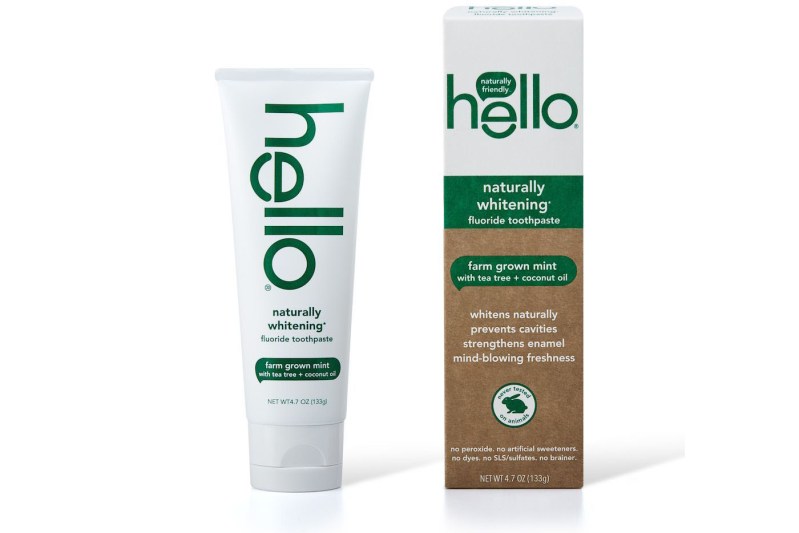 Papadatos isn't necessarily the biggest fan of natural toothpastes. "If you're going to use one, make sure that it's one that has fluoride. You can keep using all those other natural products, but don't complain when you end up making your dentist very wealthy. Not all municipalities have fluoride in their water, and many people only drink bottled water anyway. If you don't use a fluoride toothpaste, you're guaranteed to get cavities." Papadatos also thinks that charcoal in toothpaste is a waste: "They haven't proven anything."
Walgreens Hydrogen Peroxide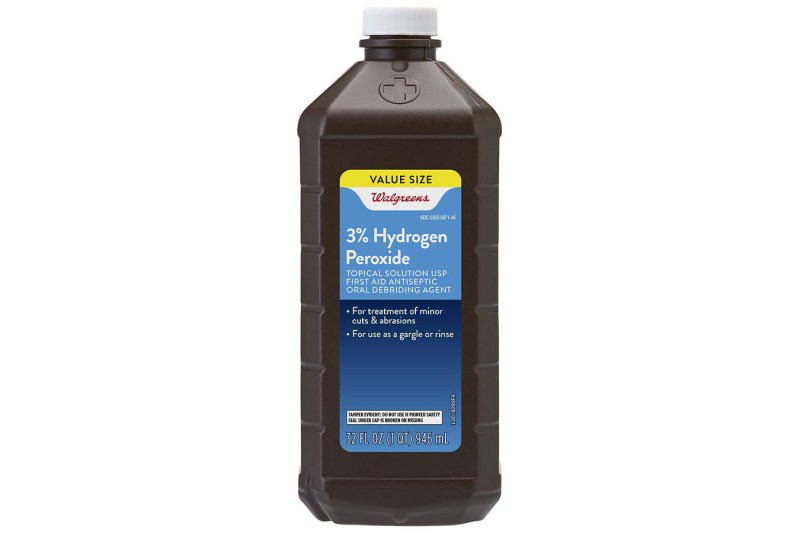 "Right now the most important products for a healthy mouth are Listerine and a bottle of hydrogen peroxide. And I'm not talking about the bottle you've had sitting in your cabinet for years. Go buy a fresh one," says Papadatos. "Anytime you're going out in public where there are a lot of people (socially distanced, of course) —to the supermarket or a restaurant — rinse with Listerine and a splash of hydrogen peroxide for a full minute. Rinse with a little water afterward if you find it's too 'bubbly.'"
Papadatos points out that, for patient visits to his practice, he has them rinse with something called chlorhexidine gluconate, which is much more powerful but can stain your teeth with regular use. "It's part of keeping the dental practice clean and safe."
Listerine Ultraclean Oral Care Antiseptic Mouthwash, Citrus
"Rinse every day with Listerine, especially at night," says Papadatos. "I love the orange flavor because it takes away some of the nastiness of the hydrogen peroxide when I'm using that, too." Check out some of our other mouthwash recommendations here.
Radius Adult Toothbrush Big Brush with Replaceable Head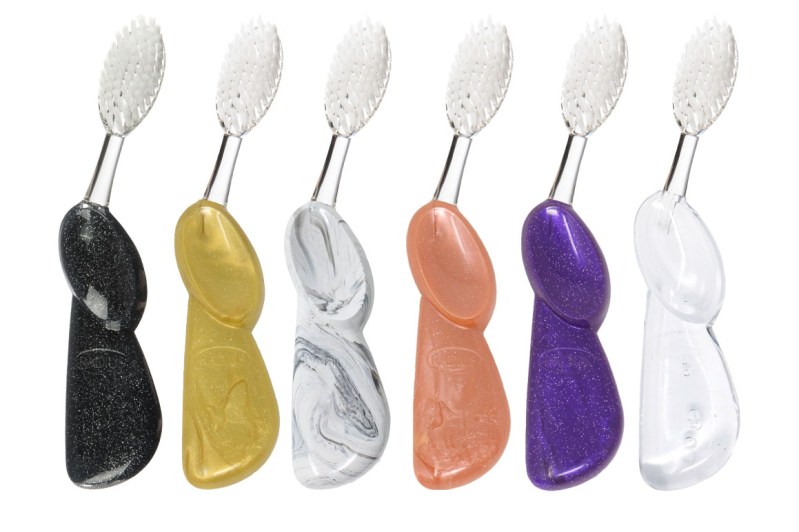 While Papadatos doesn't endorse a particular brand of toothbrush, he does caution that "you get what you pay for: Don't give in to buying the one that's on sale for 88 cents at your local grocery store or drugstore chain. It's better to spend 5 or 6 dollars on a brush that will do a better job cleaning and won't fall apart. An adult has a lot of teeth, so you need a deluxe brush to do a good job. Always choose soft bristles unless you have a problem with motor skills. Also, remember that you are recovering from COVID, or even a cold or the flu, throw out your toothbrush! It's full of bacteria, so start over with a fresh brush. In any case, change your brush every two months."
We also asked Papadatos about sustainable brushes. "I don't have a particular opinion on them, but again, check out the ADA which does research and testing on all products. Does your natural toothbrush have an ADA seal? Probably not." Your plastic toothbrush may end up in the landfill, but it's probably better to focus on having a healthy mouth that you can use to argue for better practices on a larger scale.
The ADA-certified Radius offers an ergonomically-designed handle for both right- and left-handed users, with a replaceable head. The handle comes in a nice range of colors and subscriptions are available so you'll never have to keep track of when to change your brush.
Klēn Gold Tongue Cleanser
"Tongue scrapers are great," says Papadatos. "They really help fresh your breath. There can be a lot of build-up on your tongue, depending on your diet; and it can also be a problem for those with acid reflux. A good toothbrush will have a scraper built-in, but if you have a strong gag reflex, they may not be as easy to use. The 'alligator tooth' scrapers are a little easier to handle."
This scraper from Klēn removes bacteria from the entire tongue in one scrape, making the whole process simple and fast. It's built to last from easy-to-clean surgical-grade stainless steel.
Spotlight Oral Care Whitening Strips
Papadatos actually recommends working with your dentist for tooth whitening. "Bleaching is nice, but it can be dangerous," he cautions. "People who have had too much bleaching actually end up in a lot of pain. If you're really concerned, drink your coffee with a straw. Avoid both red and white wines (yes, white wine can stain, too), and, again, use an ADA-certified product." Papadatos likes Crest Pro White Strips.
"Be sure to check expiration dates on these products," urges Papadatos. "Stores like to put these products on sale right before they are due to expire, so don't fall for that and buy product that's not optimal."
While these strips from Spotlight don't have ADA approval yet; the product is sustainable and clinically-effective, the company started by dentists. Based on a recent clinical trial, Spotlight's Teeth Whitening strips were proven to be eight shades brighter on the average patient.
Doctor Papadatos also loves irrigators or "interdental cleaners." "Water flossers help keep pockets (between your teeth and gums) clean. This is especially important if you can't afford to go to your dentist for extra cleanings. You can really keep gum disease under control, especially when used with a little Listerine to help deliver medicine directly into the area."
What is the Best Oral Care Routine?
The best oral care routine, simply put, starts with oral care products that fit your needs and your lifestyle. Just as we outlined above, it's often better to spend a little bit more or to look for unique devices to upgrade your oral care routine (look at the Klēn tongue scraper, after all).
The best oral care routine is more than just brushing your teeth twice a day. It's taking advantage of using Listerine and occasionally hydrogen peroxide as needed, and it also involves flossing, tongue scraping, and (ideally) regular or semi-regular dental care visits. In a few steps, you should floss before brushing and rinsing, as Dr. Spiro Papadatos, DMD, outlines above. You should also make use of Listerine (more on this in a second).
You should also go the extra mile with teeth whitening strips and a tongue cleaner, as well as a soft-bristled toothbrush. As with anything, be it upgrading your shoe collection or upgrading your oral care routine, the right products assuredly make the difference, especially if you're interested in, say, how to take care of your teeth as you get older.
What Mouthwash Do Dentists Recommend?
Let's look at mouthwash as you might any other grooming product in your routine. It's just a "nice-to-have," it's a "need-to-have," kind of like finding the best men's body wash or even one of the best solid colognes, because you'll wonder how you lived without it as part of an overall routine. But back to oral care products.
In that case, dentists recommend a reliable standby, Listerine, preferably used in tandem with a bit of hydrogen peroxide during these pandemic days.
Oral hygiene products can work in unexpected but ultimately beneficial ways, and keeping your mouth in the best condition possible is key in the fight against COVID-19 (and, you know, cavities in general).
What is the Best Teeth Cleaner?
The best teeth cleaner can be tricky to track down if you don't know where to start, so here's hoping this guide has been helpful. The best teeth cleaner for our money's worth is the well-designed ADA-certified Radius toothbrush, complete with an ergonomic handle, soft bristles, and a range of fun colors to suit every palette.
It's but one part of a well-managed oral care routine, one that should also include flossing, tongue scraping, and more. Avoid cheap drugstore toothbrushes and change your toothbrush every two months at the minimum to get the best out of your routine these days.
Editors' Recommendations