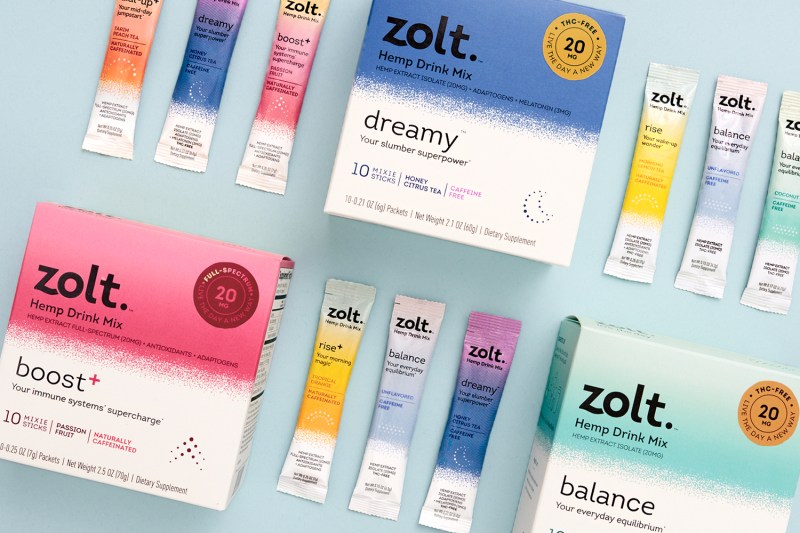 Whether you've turned your living space into a serious workout station or you've been feeling joint pain from long hours of sitting, and you just need a pick-me-up to start, continue, or end the day. CBD can help. Enter Zolt, the first brand of CBD supplements specially designed to provide holistic health benefits to match your energy state.
Packaged into slim, portable, single-serving-sized mixie sticks, Zolt products can give you with a boost when and where you need it. Compared to other CBD supplements on the market, Zolt's all-in-one drink mixes can be easily blended in with your favorite beverages such as your pre-workout hydration, cocktail, mocktail, or tea!. This very moment, you have the chance to win The Smarter CBD Bundle Gift Set (7 boxes of 10 packets), valued at $200. This set provides you the perfect opportunity to try all 7 options and find what works best for you!
How Does CBD Work?
CBD, or Cannabidiol, is a cannabinoid,  an active ingredient found in the hemp plant. CBD is non-psychoactive, unlike its relative, THC (found significantly only in marijuana), so users don't get a "high" feeling. It functions as a complement to the body's endocannabinoid system, with reported health benefits including increased relaxation, pain mitigation, inflammation reduction, anxiety reduction, and stress release.
What's Special About Zolt Products?
When it comes to CBD drinks, Zolt's products outshine the competition by combining top-quality CBD isolate or hemp extract with organic adaptogens, antioxidants, sweeteners, and other natural ingredients. It's not just great for your body, but also comes in a range of truly delicious flavors.
Simply stir one of the handy-sized mixie sticks into your favorite beverage — water, juice, morning tea, after-workout smoothie, coffee, etc. — quickly stir, and then enjoy. Zolt makes drink mixes that are custom-blended for different times of the day.
The formulations listed above all come packaged in boxes with small mixie sticks, perfect for combining with either 8 ounces or 16 ounces of water. Any athlete, parent, college student or couch potato can benefit from any number of the restorative values Zolt is offering. Our team can attest to the portability, ease-of-use and tastiness of Zolt's flavors. Don't miss your chance to win this bundle for yourself or for the family!
Zolt CBD Gift Set Giveaway
Editors' Recommendations