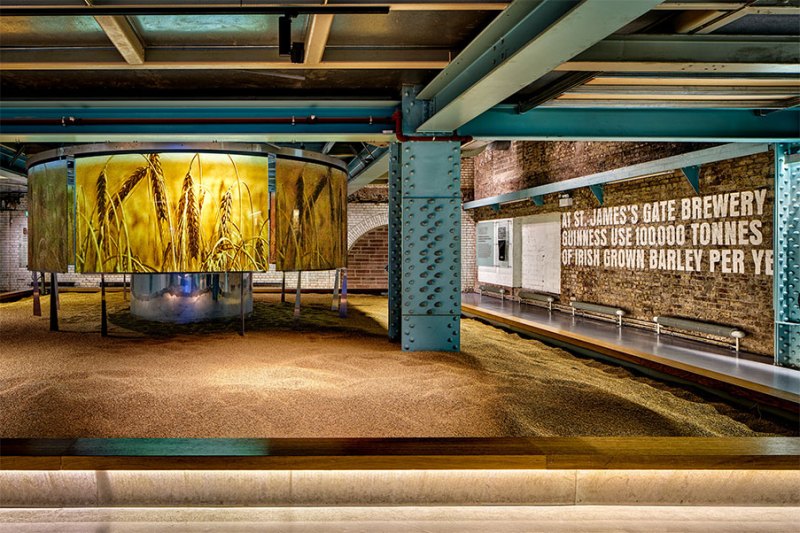 With all that's going on in the world, it's a damn good thing rye whiskey is making a comeback.
Rye whiskey is an American drink– it's a bold, spicy, nuanced kick to the pants that wakes you up to Manifest (your) Destiny. Thanks to Redemption Rye and Clark Street Bread in Los Angeles, you can now eat it, too. Meet your favorite new sandwich: When Pigs Rye. Don't worry; they've given us the recipe (below).
Rye whiskey is staging its glorious comeback: America was forged by people drinking rye, hell George Washington had a distillery at Mount Vernon. Then Prohibition struck and Americans started sneaking Canadian whiskies, which were much smoother, and almost sweeter, which made sense since their primary grain was corn. It was out with the rye, in with the bourbon.
Redemption Rye has been at the forefront of this rye resurgence: they source their rye from Old Seagram's Distillery in Indiana and choose to use a mash bill of 95% rye. It's a high proof, beautifully aged, intensely sippable whiskey made by people passionate about the spirit.
Zack Hall, the founder and baker of Clark Street Bread, usually ends his long days with a glass of whiskey. His artisan breads are near-perfect: crispy baguettes, golden, flaky croissants, thick, spongy focaccias– it's no wonder some of the best restaurants in town order his goods. And now he's created a masterpiece of a sandwich: When Pigs Rye. "I… love American whiskies and Redemption is one of my personal favorites," says Hall. "The high rye content in the small-batch whiskey inspired me to come up with the ultimate pairing of my two favorite things."
The former musician-turned-baker took inspiration from the Danish Rye bread and soaked the rye berries with Redemption Rye then made the bread. "By combining rye whisky with the actual rye berry, we get to take the final product back to the first step, which is a high quality rye grain," Hall explains. His idea results in deliciously warm tasting bread.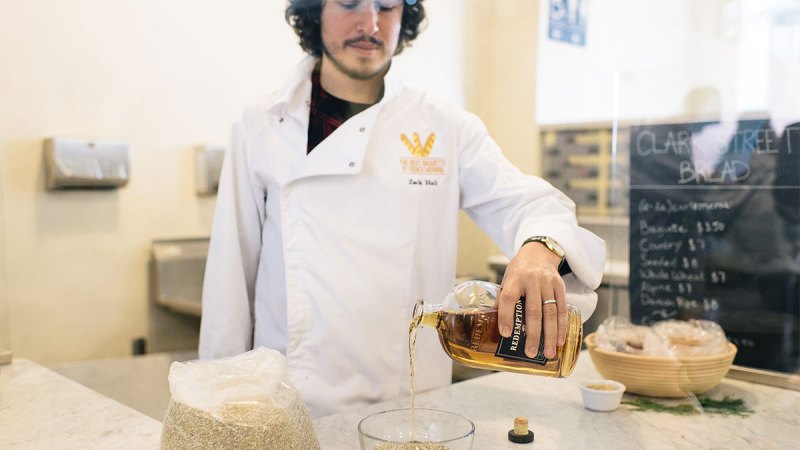 To complete the open-faced sandwich, Hall spread on some homemade whiskey mustard, piled the slice of rye high with succulent pork, added homemade whiskey pickles, and garnished this culinary masterpiece with dill. "Rye whiskey has a spicier flavor to it than bourbon – think of the difference between rye bread and sweet cornbread," Hall says. "We found a rad way to bring traditional-style, hearth baked breads and Redemption Rye whiskey together as one." Expect a spicier rye kick from the mustard and pickles than you'll get from the bread.
Once you try Hall's Redemption Rye bread, there's no going back. From now until April, you can order this game-changing sandwich at his Grand Central Market location (he will soon be opening an Echo Park location). If you can't make it there, or you find yourself craving it later (and you will) Hall has kindly offered up the recipe so you can make it at home– it's a two day process, so feel free to sip on some Redemption while you're at it.
"When Pigs Rye" Recipe
Plenty for 6-8 people
Ingredients:
Redemption Rye Whiskey

Roast pork or smoked ham

Rye Berries (for rye bread recipe)

Whiskey Pickles (see recipe)**

Whiskey Mustard (see recipe)*

Sea Salt (high quality)

White Wine Vinegar

Red Vinegar

Butter (high quality)
Recipe: To prep several days in advance
*Whiskey Mustard:
Soak mustard seeds in equal parts Redemption Rye and water overnight.

100g yellow mustard seeds

100g black mustard seeds

50g Redemption Rye

50g water

Vinegar (to taste)

Salt (to taste)
Once seeds have soaked, blend all ingredients in blender for a minute or two until smooth. Taste for seasoning; allow to come together for a day or two.
Rye Bread:
Soak rye berries in equal parts water and Redemption Rye. Allow to absorb overnight. Make your favorite rye bread recipe and add whiskey soaked rye berries to taste.
To prep day of:
**Whiskey Pickles:
6 Kirby or Persian cucumbers
1 part sugar
2 parts vinegar
3 parts Redemption Rye/Water combination
Slice half a dozen Kirby or Persian cucumbers thinly on a mandolin. Salt over a chinois strainer or sieve and allow to drain for 15 minutes. Dissolve 1 part sugar in 2 parts vinegar and 3 parts split Redemption Rye/water. Soak cucumbers for 15 minutes or to your taste.
To assemble:
Take one piece of Danish rye bread, spread with butter. Next, spread with mustard, and then top bread with pork. Place pickles on pork and garnish with dill or fennel fronds.
Editors' Recommendations