Not everyone has the chance to be an Olympian. Try as you might, you probably won't even be asked to audition for the team, never mind standing on the podium, a tear trickling down your cheek as "The Star-Spangled Banner" plays to a raucous, sold-out crowd that is busy cheering for you. There is a sport, though, that is about to have the preliminary round to determine the 2018 Team USA and anyone can apply to try out. That sport? Wine tasting.
The World Wine Tasting Championship is being held for the sixth time this year and for the fourth time, the U.S. is going to participate. But in order to participate, the country needs a team. To find that team, a blind tasting competition is being held. Cue "Eye of the Tiger" here.
Wine Acuity will be holding the U.S. Open Blind Wine Tasting Competition on August 11, 2018, at the Marina Del Rey Hotel in Marina Del Rey, California.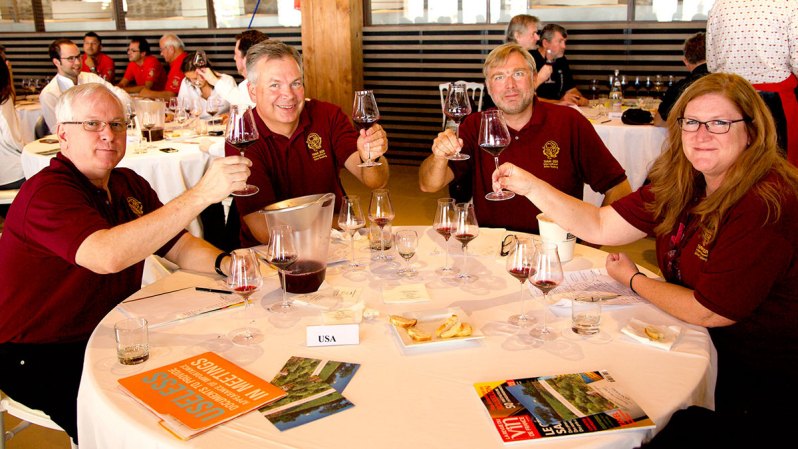 Teams of two will be asked to blind taste six white and six red wines from around the world. Teams will gain points by identifying primary grape, country of origin, region of origin, vintage, and producer. This mimics the finals, but halves the number of wines.
The winners will eventually represent the red, white, and blue at The World Wine Tasting Championship, which will be held on October 12, 2018, in Chateau Saint-Pierre de Serjac, Languedoc, France.
At last year's contest, Sweden — yes, Sweden — came in first. Britain came in second while Luxembourg took home the bronze. The home team, France, came in (wait for it) eleventh out of 24 teams and the U.S. finished in the bottom half of the rankings. (France and the U..S, at least, did better than Italy, which came in last.)
The best finish for the U.S. was in 2016 when we placed third, a significant improvement upon the dead last placement in 2015.
The placements may seem like this is a pro-only event but CEO of Wine Acuity, John Vilja (who was part of the 2016 team), stressed that the blind tasting is open to anyone and that you don't have to be a professional to enter. In fact, only one of the four members of the 2016 US team had any formal training.
"It is about being passionate for wine and having a desire to represent the U.S. in a world event," Vilja said.
Basically, what do you have to lose? If you love wine and think you know about it more than your friends, it can't hurt to enter a regional competition to check your skill level. Who knows, you might surprise yourself (and your parents, when you tell them you're going to the U.S. Open Blind Wine Tasting Competition).
You can learn more about the regional competitions here. To register directly for the finals, go here.
Editors' Recommendations