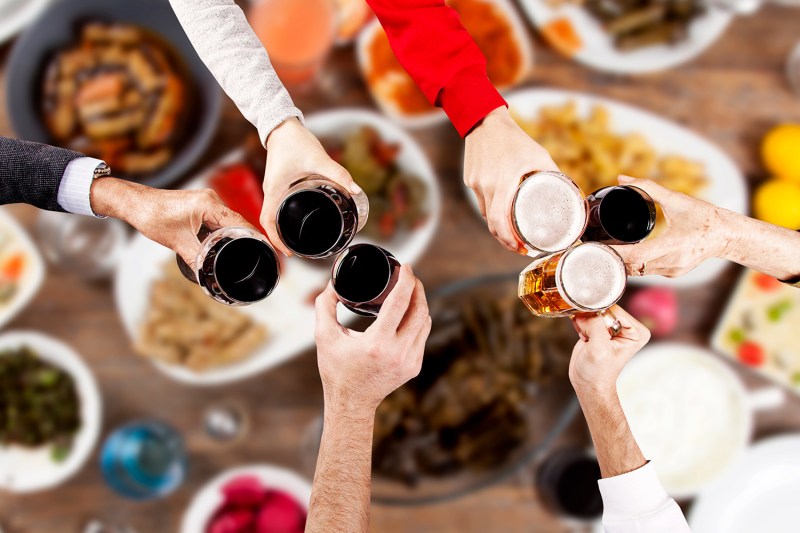 Thanksgiving approaches and while that spells mashed spuds and a big bird for many, it doesn't have to be that way. There are tons of great Thanksgiving side dishes out there, many of which you've likely never tasted, let alone even considered.
We've rounded up some of our favorites just in time for the annual Thursday feast. Read on for everything from a hearty carrot pasta to an interesting twist on leftovers. These are dishes that throw a tasty curveball at the table and dazzle in terms of presentation, too.
Carrot Bolognese
This recipe comes from Chef John Fraser of The Terrace and Outdoor Gardens in New York. It's a great vegetarian dish that's hearty as well (note that this recipe is in grams).
Ingredients
130 grams celery, medium dice
240 grams California carrots, medium dice
190 grams Spanish onion, medium dice
125 grams cremini mushrooms
225 grams walnuts, toasted and roughly chopped
130 grams sun-dried tomatoes
500 grams canned tomatoes
60 grams extra virgin olive oil
45 grams garlic, chopped
4 grams red pepper flakes
3 thyme sprigs (in sachet)
2 bay leaves (in sachet)
2 cinnamon sticks (in sachet)
1 pinch allspice, ground
5 ounces red wine
25 grams nutritional yeast
14 grams salt
Shaved cauliflower, fresh basil, and orange zest, for garnish
Method
Chop the carrots, celery, onions, and mushrooms finely in a food processor.
In a blender, puree half of the canned tomatoes with the sun-dried tomatoes.
In a shallow pot, gently sweat the garlic and chili flakes in olive oil until translucent.
Add the walnuts and vegetables and cook over medium heat for 45 minutes, stirring often.
Add the tomato puree, sachet, and the remaining ingredients and simmer for 5 minutes, and then add the red wine and reduce by half.
Add the remaining canned tomatoes and simmer gently for an additional 30 minutes.
Remove from the heat, discard the sachet, and stir in the nutritional yeast and cool.
Cook your favorite pasta al dente and then move it to a saute pan with a healthy splash of pasta water and Bolognese and toss.
Garnish with thinly shaved cauliflower, picked fresh basil, and orange zest.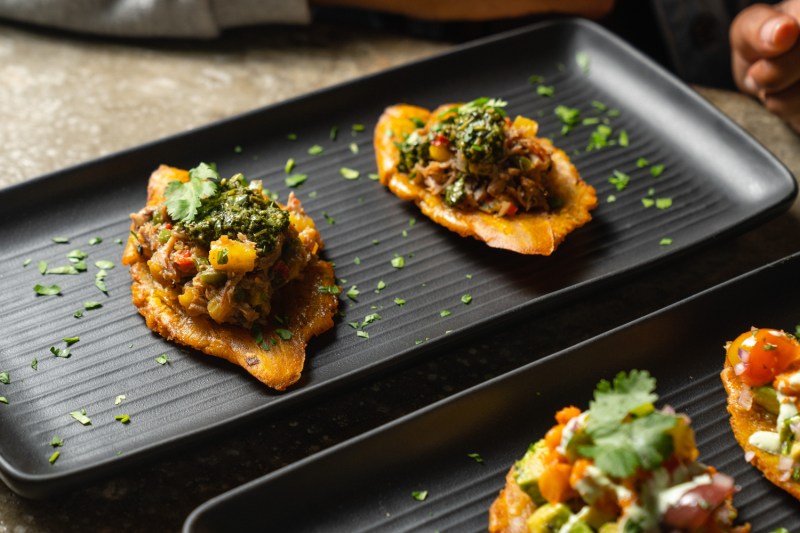 Lechon tostones
This dish adds a little Miami to the Thanksgiving table. Makes sense, as the recipe hails from R House in the artsy Wynwood neighborhood of the south Florida city. The recipe below is built for a gathering, turning out 32 tostones.
Ingredients
Pork/marinade
4-6 pounds pork shoulder
4 cups sour orange
40 garlic gloves
4 tablespoons salt
2 tablespoons oregano
2 tablespoons cumin
4 teaspoons ground pepper
4 tablespoons rosemary
4 tablespoons thyme
Pork skin
4 pounds coarse salt
4 egg whites
1/2 cup white vinegar
1/2 cup apple cider vinegar
Lechon mix
2 tablespoons olive oil
10 ounces diced pork
18 ounces pineapple slices
4 tablespoons shallots
4 tablespoons green bell pepper
4 tablespoons red bell pepper
4 tablespoons red onion
2 tablespoons jalapeno
Mojo verde
2 garlic cloves
1 teaspoon salt
1/2 teaspoon cumin
1/4 teaspoon coarse ground pepper
1 1/2 bunches cilantro
4 tablespoons lime juice
1/2 cup olive oil
Tostones
2 platanos (plantains)
1/4 cup pork mix
1 teaspoon mojo verde
Fresh cilantro for garnish
Method
Preheat the oven to 350 degrees Fahrenheit.
Prepare and roast pork shoulder in the oven. Marinade pork overnight and cover with salt (at the restaurant, the marinade is made with sour orange, chopped garlic, oregano, cumin, ground pepper, rosemary, and thyme).
Make a thick salt coating using the salt, egg whites, regular vinegar, and apple cider vinegar.
Roast the pork shoulder for 2 hours.
Remove the salt crust (and save) then cool, de-bone, and dice meat into small chunks.
Prepare a simple sofrito by sauteeing 4 tablespoons each of the diced shallots, green bell peppers, red bell peppers, and red onions and 2 tablespoons of the diced jalapenos. Separately, grill 9 ounces of pineapple slices until dark grill marks form. Dice the pineapple and then add to your sofrito mix. When mixed well, add 5 ounces of diced pork and continue to mix.
Next, to make the tostones, fry 16 thick slices of platanos (plantains). After initial frying, smash the platano slices so they form thin and wide slices, then re-fry them until they are golden brown. When crispy, remove them from the pan and pad off any excess oil. Place the tostone slices on large plates and then on each piece place a quarter cup of your pineapple-pork mix. Place 1 teaspoon of mojo verde on top and then season with the salt from your original salt crust.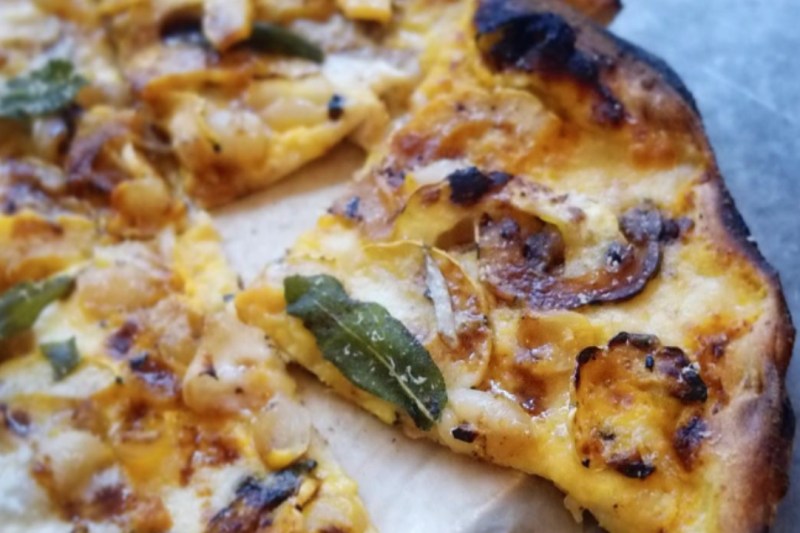 Zucca pizza
This pizza is inspired by Thanksgiving and the work of Chef Laurent Tourondel of L'Amico in New York. It's a savory wonder that blends a bunch of great late fall and winter flavors.
Ingredients
8 1/2 ounces pizza dough
3 ounces butternut mascarpone cream*
1 1/2 ounces mozzarella
2 ounces roasted delicata squash slices
1 1/2 ounces roasted cipollini onions, quartered
2 ounces gorgonzola dolce
1/2 teaspoon vin cotto
Sea salt
Parmesan
Sage leaves
*Butternut mascarpone cream: Bring 1 quart of cream to a simmer and pour over 500 grams of mascarpone. Let it sit for 5 minutes until smooth. Add 1 quart of butternut squash puree (a blend of 2 squash, 6 sprigs of thyme, 2 bay leaves, and 6 ounces of olive oil, baked and then pureed) and adjust seasoning with salt and freshly grated nutmeg.
Method
Stretch dough into a 10-inch round. Evenly spread butternut squash cream and top with mozzarella, onions, and roasted squash slices.
Bake until the crust is crispy on the bottom and well charred. About three-quarters of the way through, pull out the pizza and add the gorgonzola. Finish baking and remove from the oven. Top with cheese, salt, vin cotto, and fried sage leaves.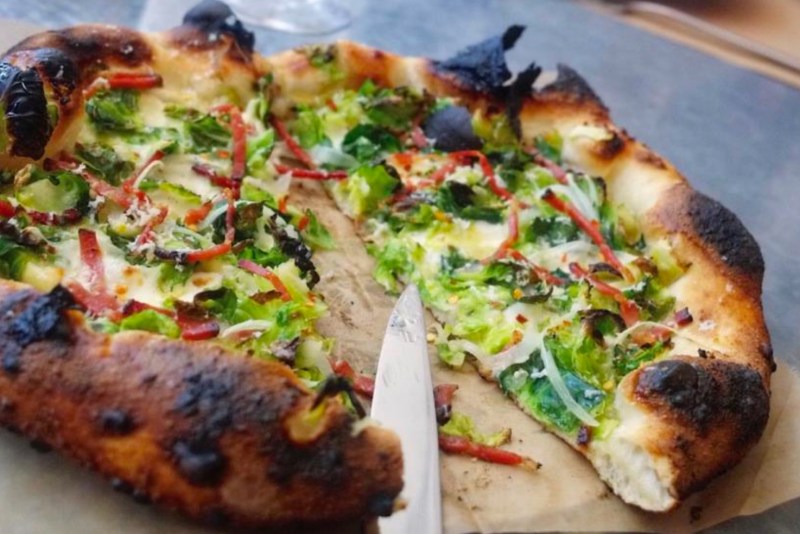 Brussels sprouts pizza
Here's another pizza from the NY chef above (Chef Laurent Tourondel), but this time, taking a Thanksgiving vegetable staple and giving it the savory pie treatment. If you don't have duck bacon (you should), use regular bacon.
Ingredients
8 1/2 ounces pizza dough
1 1/2 ounces mozzarella
1 1/2 ounces taleggio
1 1/2 ounces robiola
2 ounces shaved Brussels sprouts
2 ounces Brussels sprouts leaves, blanched
2 ounces duck bacon, sliced thin
1 ounce onion, shaved
Method
Stretch dough onto a flat surface and transfer to a peel.
Arrange cheese on top. Add Brussels sprouts and onions and season.
Add duck bacon and bake until crispy. Top with a drizzle of olive oil and finish with pecorino.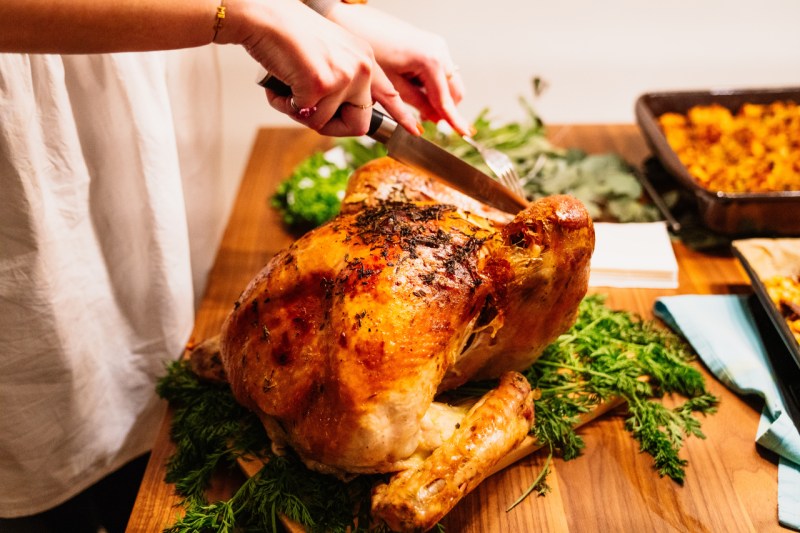 Turkey and waffles
Even if you go creative this holiday season, turkey will likely be in the Thanksgiving dinner picture. Leftovers are great, but you may tire of sandwiches. Here's a better use of that poultry. This recipe comes courtesy of Chef Marcus Woodman of The Bower in New Orleans.
Ingredients
2 pounds leftover turkey
4 cups turkey gravy
1 box of your favorite waffle mix
2 oranges
3 sprigs rosemary
4 ounces cranberry sauce
1/2 cup apple cider vinegar
2 tablespoons Dijon mustard
1 ounce cane syrup
1/2 crushed red pepper
1 1/2 cups olive oil
Method
Follow the waffle mix directions. Add the orange zest and chopped rosemary to the waffle better. Let it rest.
Simmer the turkey in gravy until it starts to shred apart. Add more stock if things get too thick.
In a blender, add cranberry sauce, mustard, vinegar, cane syrup, and pepper. Blend together and slowly add the oil to emulsify. Add salt and pepper to taste.
Cook the waffles and add the turkey on top, then a drizzle of vinaigrette. Add a fried egg if you would like.
Are you after something more traditional when it comes to Thanksgiving food? Check out our guide to more classic Thanksgiving side dishes. Also, go super savory and read about our smoked Thanksgiving side dishes. Too much family? Fix yourself a festive Thanksgiving cocktail. Happy holidays!
Editors' Recommendations