Drink local they all say!
You can't get much more local than your own kitchen: brewing your own craft beer has never been easier than with the Pico Personal Craft Beer Brewery. Beginners and master brewers alike will enjoy the PicoBrew system.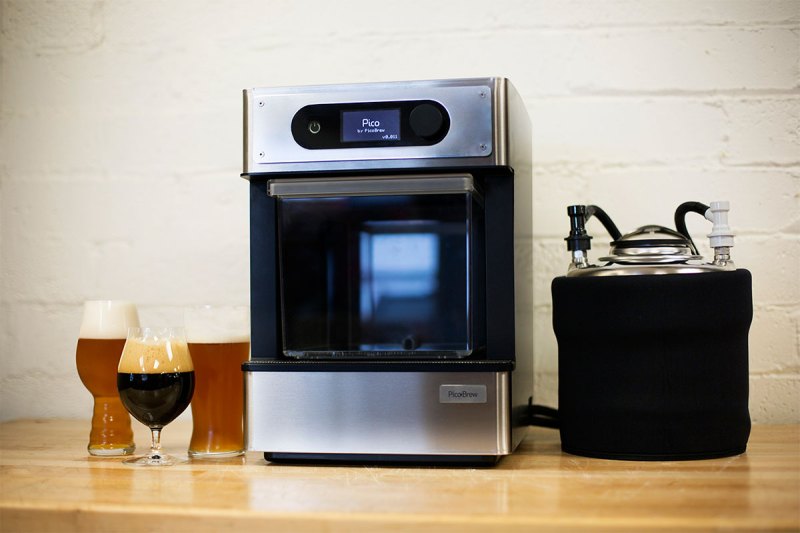 We humans have been drinking alcohol for almost as long as we've been drinking stuff. Alcoholic fermentation is a natural process: leave some grapes in a clay jar long enough and you'll get something like wine. Beer is a fickle mistress, though, with different strains of yeast needing specific conditions and temperatures to become delicious, alcoholic, liquid bread. As much fun as home brewing can be, the success rate can be discouraging.
PicoBrew takes all the frustration out of brewing and just leaves the fun and sense of accomplishment. In as little as a week, you can have freshly brewed beer all thanks to the ingenious PicoPaks, which are created by breweries all over the world. Choose from the likes of Brew Free or Die's IPA, 5 Joaquin's Craft Cerveza's El Marron, a dark lager, Man Skirt's Great Porter or Barbarian Brewing's Saison Blanc. Absolutely any beer is possible with the PicoBrew– you can even design your own PicoPak, picking hops, grains, yeast, and ABV in your own quantities. If you find you're pretty good at this PicoPak design thing, consider joining their PicoBrew Developers Program where you earn a commission on every pack sold.
The PicoPak brews for about two hours in the system then ferments in the brewing keg for around a week. You have two options for carbonating your freshly fermented brew: either you use the CO2 attachment to force carbonate it or, perhaps more traditionally, use the sugar packet they include to allow the beer to naturally carbonate for about seven days. Depending on how you intend to dispense your glorious home brew, it will stay carbonated anywhere from a couple of weeks to months.
At only about the size of a small microwave, your PicoBrew will fit nicely in your kitchen and both the fermentation and serving kegs are a fridge-friendly 1.25 gallons. Did we mention it also comes with a sous vide adapter? It's true– your own home craft brewery system will also allow you to cook delicious foods to eat with your beers.
If you've ever had the desire to brew your own beer, PicoBrew will be an invaluable tool from your first batch to your own recipe developed over years of careful brewing.
Editors' Recommendations