Chef Whitney Otawka of "Top Chef" fame and is the culinary director at the incredible Greyfield Inn on Cumberland Island off of Georgia.
She's worked in some of the best restaurants in San Francisco, Atlanta, and New York, but it's the Greyfield Inn, with its almost two acres of fresh fruits, herbs, vegetables and even honey, mixed with the island's pristine beaches and melancholy ruins that she loves.
No matter where you find yourself this Thanksgiving, Chef Otawka has some advice you'll be grateful to have.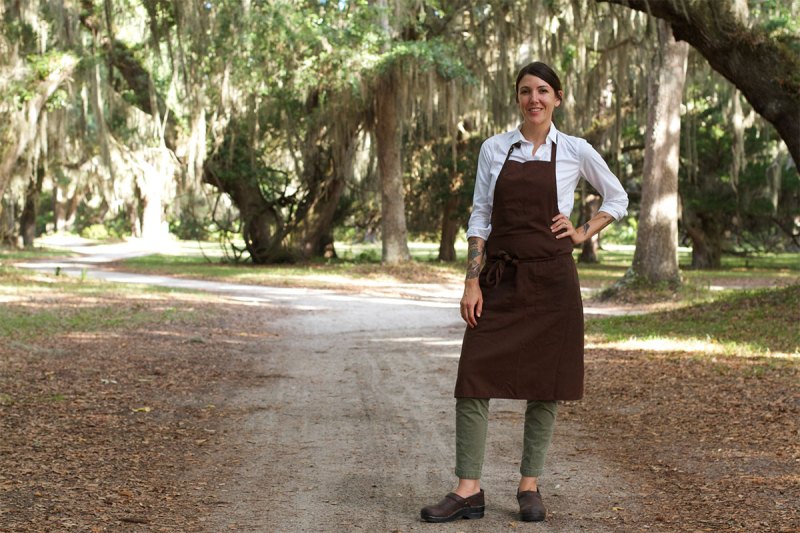 Are heritage/organic/free range turkeys really worth the higher price?
"YES. The flavor is superior and the ethical eating will satisfy your stomach and your soul."
Mary's Free Range, Organic Turkey is an excellent source for this kind of bird. BN Ranch is dedicated to ethically raised, healthy animals, especially turkeys. Heritage Foods USA can trace their turkeys all the way back to the 1840s and these guys are pasture-raised, antibiotic free, and not horrifying Frankenstein-esque breast-monsters that can't even stand up like some supermarket brands offer.
What's the greatest cooking sin committed against turkeys?
"There are two serious crimes in the world of turkey: overcooking and under seasoning."
Can the turkey be salvaged if it comes out dry?
"If your turkey is dry, your best bet is a really amazing gravy. To be honest with you, gravy can be used to save a lot of bad cooking technique."
What's the best way to prep the bird?
"It depends on how you plan on cooking it, but a tried and true method for most techniques is brining the bird at least one day ahead of cooking it. You can infuse the brine with any number of aromatics which will add a personal touch to the process."
Stuffing: Cook in the bird or on its own?
"Stuff the bird! If you are planning on roasting the bird whole, it would seem to be that there is no debate. When you stuff the bird all of the juices and fat from the turkey drip into the stuffing, infusing it with such a rich flavor. What a loss to just roast stuffing on the side."
Any tips on how to time the cooking so it all comes out at once?
"To be honest with you I have two methods I will be using this year for the six turkeys I am making. I will be deep frying three and smoking three.
"For the three I smoke, I will breakdown the bird into six pieces which will allow me to control the cooking times on each individual cut. Deep frying is my preferred method of cooking whole birds. They stay incredibly moist with perfectly crispy skin. It can seem like an intimidating task, but for those who love to cook, it's a must for Thanksgiving at least one."
When it comes to the whole meal: "Plan ahead. Make sure to choose sides that can be served at a range of temperatures (hot/ cold/ room temperature). For your hot sides use a range of cooking methods that include roasting, stove top, and even your grill. Also do as much prep starting at least one day ahead of time so you're not overwhelmed.
"Another idea would be to make your celebration a pot luck, make it a shared responsibility."
If someone wanted to change things up, do you have a good suggestion for an exciting alternative to turkey?
"Instead of replacing the turkey, I like the idea of spicing up the original preparations. I really love the thought of shaping an alternative Thanksgiving that highlights other cultures. For instance, making a Thanksgiving that is inspired by the flavors of Mexico. Roasted Turkey with mole poblano and fresh tortillas… count me in."
Your must-have side dish for Thanksgiving dinner?
"I am crazy about good vegetables and when it starts to get cold out I crave sweet potatoes. I like to wood roast a few and turn them into a perfectly silky, buttery side dish."
See Chef Otawka's recipe below:
Wood Roasted Whipped Sweet Potatoes
Serves 4-6 people
3 pounds sweet potatoes*

½ cup heavy cream

1 sprig of thyme

2 bay leaves

1 teaspoon kosher salt

8 tablespoons unsalted butter

½ teaspoon espelette pepper
To cook the sweet potatoes, build a small fire in a wood grill. Let the fire burn down until the coals are white. With the lid closed, the temperature should be between 323-350 degrees. Place the sweet potatoes on the grill and close the lid. Cook for around 45 minutes or until cooked through. The sweet potatoes will be extremely soft and easily pierced with a wooden skewer. Remove the potatoes from the grill and set aside.*
While the sweet potatoes are cooking, in a small pot combine heavy cream, thyme, and bay leaves. Bring this to a simmer over low heat. Turn off and set aside, allowing the herbs to steep into the cream for 10-15 minutes. Strain the cream. Add the cream back into a pot and warm with the butter until melted.
Peel the skin off of the warm sweet potatoes. After they have been peeled you should have a little over 2 pounds of sweet potato pulp. Place into a food processor. Add in the warm cream mixture and salt. Pulse until smooth. At this point the sweet potatoes can be cooled and stored for up to 4 days or served immediately. I like to garnish my sweet potatoes with espelette pepper, which gives them a little kick. Alternatively you could garnish with toasted pecans, a dusting of cinnamon, or a little brown sugar. Enjoy!
* When making this recipe, make sure to adjust cooking times for size. This recipe was made using small sweet potatoes that were grown here on Cumberland Island. Your standard grocery store sweet potato will be a little larger and need a little extra time to cook.
Editors' Recommendations