Everybody loves pizza, but there is an underworld of the beloved food very few truly know about: pizza as a sauce-covered, competitive food.
With two major events each year — one in Las Vegas and one in Italy (The World Pizza Games and World Pizza Championships, respectively) — pizza competitions are heated, according to Tony Gemignani, multiple World Pizza Championship winner and an eight-time World Champion Pizza Acrobat.
"People might say they have the best pizza, but this is the floor to prove it," said Gemignani, who owns 18 restaurants in California and Nevada (Tony's Pizza Napoletana, Pizza Rock, Capo's, and more). "It's almost the Super Bowl of pizza; all the big players are there and people are there to compete."
What that means outside of competition is that more pizza concepts are opening than ever before. Some of these, depending on where you live, may seem banal, but others may lead to new, delicious territory. You may have heard of the abundance of by-the-slice joints popping up, Gemignani says, but Roman-style pizza places are also making a case for being the top 'za.
Sometimes, though, a homemade pizza is the best route to take, and that's what we asked Gemignani about next. Most at-home pizza makers wouldn't come near winning these worldwide competitions, but Gemignani has some no-fail pizza making tips in a standard kitchen.
Dough
To win events, Gemignani said it's all about the ingredients and using what he knows (which makes his trips to Italian competitions especially difficult). The foundation of every pizza is dough. Talk to any seasoned pizzeria owner and they've experimented with their dough recipes countless times to get to their preferred end result. Do the same.
Gemignani likes to add a browning agent (such as sugar or honey) to his doughs to provide a bit of caramelization. Using a higher-protein or gluten flour also aids in making a better crust.
Pizza Stones
If cooking pizza is a regular occurrence in a house, you're likely to already have a pizza stone in the kitchen (if you don't, this one will run you less than $40). It's a good start, but Gemignani said two ovens are the way to go.
"Start on the upper shelf on one stone and finish on the bottom on the other," Gemignani said. "You get two heat sources, a crispier bottom, and a better crust."
In the oven, hotter is better. At home that means a 500- or 525-degree Fahrenheit oven, since most residential ovens won't approach the heat of commercial pizza ovens. (If for some reason, you have an aversion to stone, pizza steel is a great investment too, he said.)
Toppings
Gemignani eats a lot of pizzas. He eats pizzas with a lot of toppings. However, when he gets to choose, he generally likes to keep it simple and go with a Margherita: tomato, mozarell, and basil. Otherwise, he likes natural case pepperonis — the kind that cup when cooked — prosciutto, and arugula.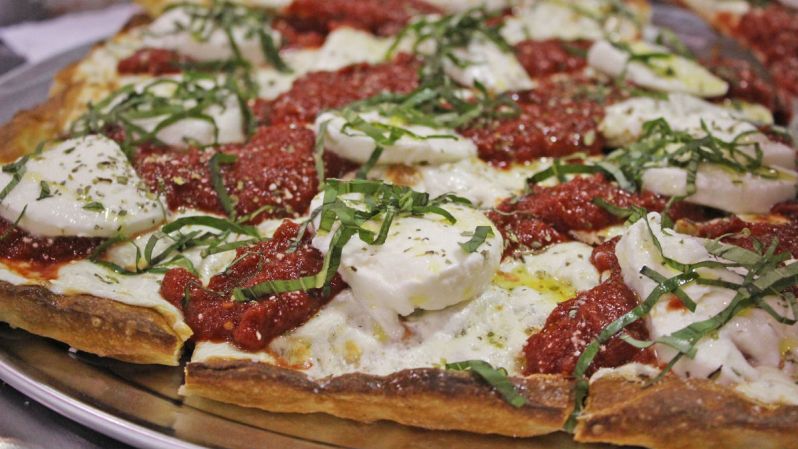 According to Gemignani, you should hold off on adding ingredients to the pizza while it cooks. "Remember to put more finishing ingredients than cooked," he said. "A lot of times home chefs think they have to put everything before, and really, if you make a pepperoni pizza, the rest of the items should go on after it comes out of the oven."
This is easy to remember when you're dealing with fresh ingredients like Parmesan, feta, arugula, or fresh peppers. Still desiring cooked peppers, mushrooms, or onions? Sauté them on the side and add after the pizza comes out of the oven.
Beverages
Pizza and beer is one of the most American things people can opt for on a Friday night. The pair go together great, Gemignani said, but sometimes the yeasts don't don't sit well in his stomach, so he'll pour some Prosecco. "When you're teaching someone pizza in Italy, you talk about prosecco," he said. "It cleanses the palate."
Not drinking? Go with the beverage found in every Italian Neopolitan pizza place: Ferrarelle Sparking Water .
Editors' Recommendations