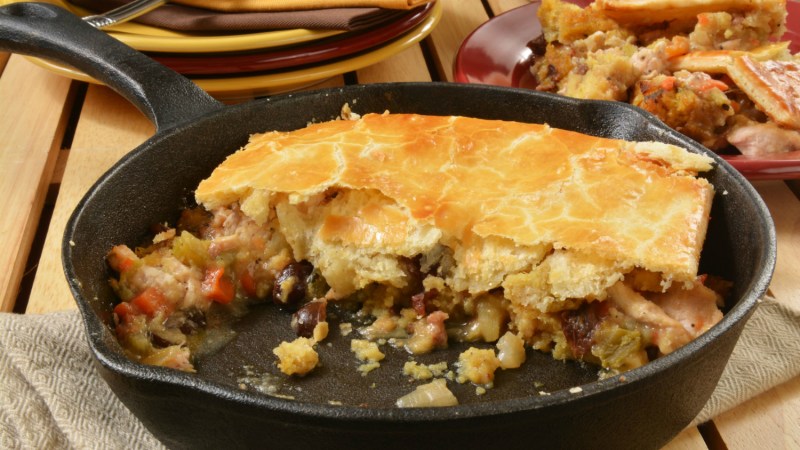 You're doing it! You're surviving Thanksgiving! No amount of heartburn, football or awkward family political "discussions" could thwart enjoying your delicious meal!
Despite the traditional overindulgence, there are usually leftovers. This year, chefs from some of California and Texas' best restaurants gave us their favorite ideas and recipes for repurposing those Thanksgiving leftovers along with a few other great ones grabbed from around the web. And if you're looking for a drink to wash it all down with, we've got your covered, too.
Chef's Recipes
Meat Mac n' Cheese and Turkey Shepherd's Pie
Chef Jose "Junior" Melendez from BOA Steakhouse in Los Angeles
"When I have Mac n Cheese leftover from Thanksgiving and the dark meat of the turkey or ham, I like to dice up the meat and reheat the mac and cheese with milk or cream, then add the meat, and put in a casserole dish, add more cheese on top, and bake until golden brown.
Another fun thing is making Turkey Shepherd's Pie with the leftover mashed potatoes and turkey meat with gravy. You heat up the turkey with the gravy (you can also add leftover mushrooms or Brussels sprouts if you like) and put that mixture in a casserole dish, then place mashed potatoes on top, sprinkle parmesan cheese and chopped parsley, and bake until golden brown.
I also like to take my turkey meat and reheat with my leftover mushrooms and serve with a side of creamed spinach that I reheat and add a little Parmesan cheese too."
Turkey Porchetta
Chef Denis Dello Stritto of Vinoteca at the Four Seasons in Beverly Hills
"Pork Porchetta is a traditional Christmas dish in Rome," explains Chef Denis. "But I usually use the same technique to make turkey Porchetta after Thanksgiving."
Ingredients
Turkey
Fennel
Pepper
Rosemary
Salt
"I'll debone my turkey, pound it out into a large sheet, and season the inside with traditional Roman spices for Porchetta—like fennel, black pepper, and rosemary. Then I'll grind the turkey scraps, roll them up inside the pounded turkey (with the skin facing out), and roast the entire bird for 3 to 4 hours at 300°F. Once it cools, you can then make thinly sliced turkey Porchetta sandwiches and grill them on a plancha. you can serve the meat cold and sliced very thinly for sandwiches or sliced thicker for sandwiches that you can make on a grill or plancha."
Thanksgiving Pot Pies
Head Teppan Chef Michael Monzon from ROKU in West Hollywood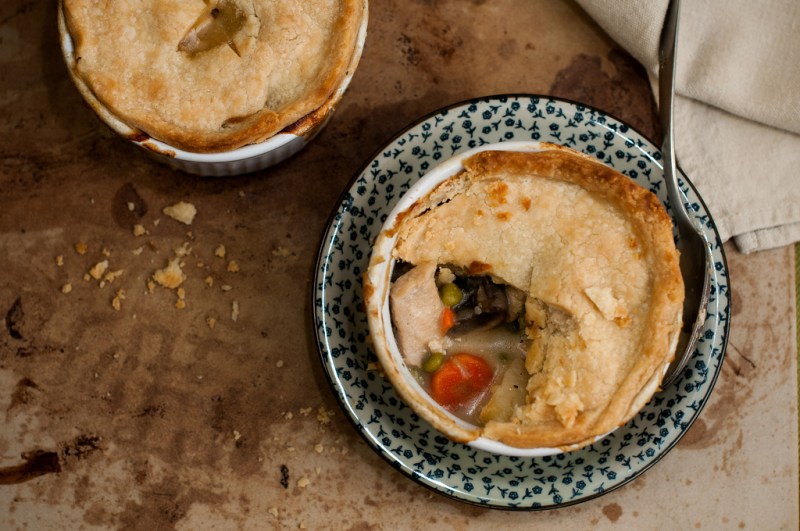 "I like to put all the Thanksgiving leftovers in a giant bowl and mix them together. I'm talking everything—vegetables, turkey, potatoes, gravy, a little cranberry sauce. Line some ramekins with ready-made pie crust and brush some butter on the inside, then fill them up with the leftover mixture. Put the pie crust on top to seal them, and bake! Basically you're making Thanksgiving pot pies. Wrap them up in wax paper and foil and you can put them in the freezer to enjoy Thanksgiving dinner through Christmas. One of my favorite memories as a kid!"
Leftover Turkey Steamed Buns
Chef Jason Dady, owner of Tre Trattoria, Tre Enotec, Two Bros. BBQ Market, and more in San Antonio
Ingredients:
6 steamed buns, frozen

12 oz. leftover turkey leg and thigh meat, shredded

2 oz. butter

1 leek

¼ cup Hoisin sauce

2 tsbp Sriracha

1 English cucumber
Method:
Steam the frozen buns until soft and tender. About 2 minutes, using a classic bamboo steamer.

Using a heavy bottom sauté pan, sear the turkey until crispy and golden brown. Season with salt and pepper as needed.

Slice the cucumber into 1/8 inch slices and set aside.

Chiffonade the leek and set aside.


Add the Sriracha to the hoisin sauce and set aside.
Other Great Options
Everyone loves tacos and what better way to use up the five pounds of turkey meat? The best part about tacos is the flavors are so different from Thanksgiving that it will be a welcome palate cleanse. Make sure to have some tortillas, jalapeños, lime, cilantro, and mild cheese on hand and wow whatever family is still kicking around your house the next day by making these bad boys for lunch.
If you're feeling more adventurous and want to really up your leftover game, try this turkey tetrazzini. The best part about this dish is that you'll end up with a bunch of leftovers so when no one feels like cooking over the weekend you can choose between the traditional Thanksgiving leftovers and this creamy crowd-pleaser.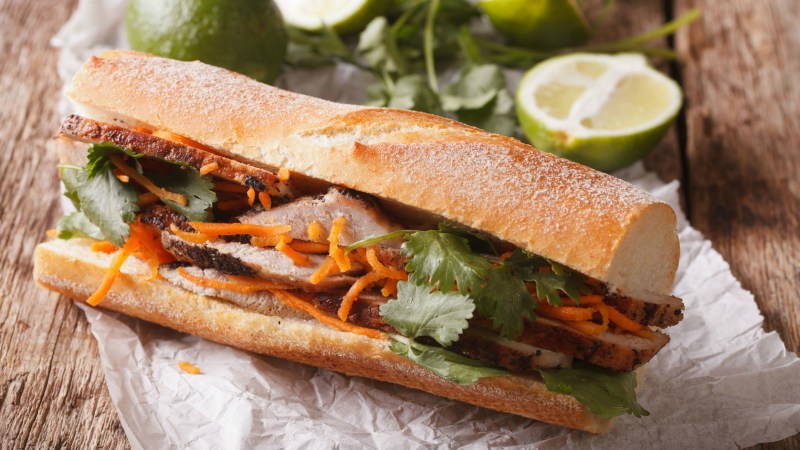 The classic leftover sandwich is always a great fallback option, but how about spicing things up this year and making a Bahn Mi with that leftover bird? Because of the similarity in ingredients, you can even offer up a Bahn Mi option next to your taco option and let your guests pick their poison. Make sure to pick up some bread and a few extra carrots and cucumbers and you're all set.
Make sure to have some extra ingredients from your green bean casserole and your sweet potato pie so you can whip up this warm soup on Friday after standing in line at Best Buy for way too long. You'll be warmed up and you won't have to work too hard for a very satisfying meal. Best part again: more leftovers for the weekend.
While you're working your culinary magic in the kitchen, listen to our delicious cooking playlist:
Editors' Recommendations