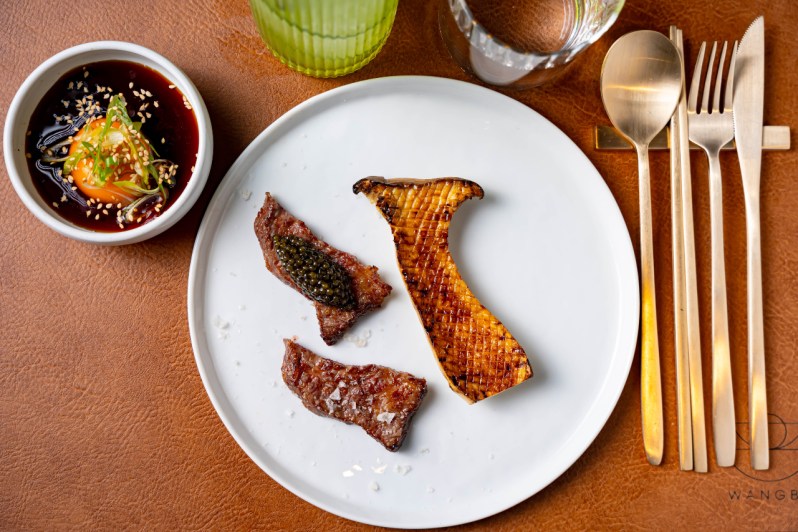 While beef is often paired with red wine, there's another liquor that's equally amazing with steak — Korean soju. This smooth and mild liquor is incredibly popular in Korean cuisine, so much so that the distinctive green bottles of the alcohol are a common sight on any table piled high with Korean barbecue.
But the world of soju is plenty diverse, with varying flavor profiles from floral to peppery to notes of pine. To guide us on this journey, we sought out Kyungmoon Kim, a Master Sommelier at Wangbi, an exclusive 12-seat chef's counter-tasting menu in New York's Koreatown.
"Pairing is all about harmony and creating synergy between food and beverage," said Kim. "And there is nothing better than accompanying authentic Korean sool with Korean food. Everything just falls in the right places."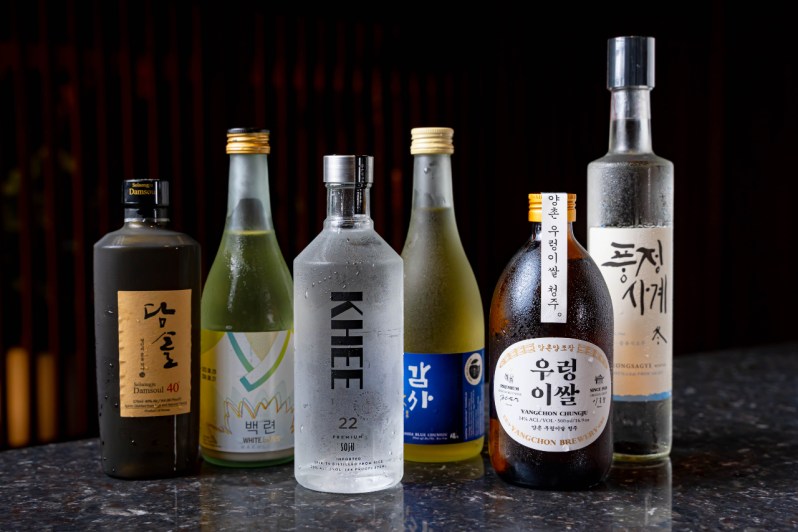 What is soju?
First, soju is a type of sool, a broad category of traditional Korean alcohol, such as milky makgeolli (막걸리) or the clear chungju (청주) made from rice. In Kim's opinion, sool is deeply rooted in the fabric of Korean culture.
"These beverages are crafted using traditional methods and often have unique flavors and characteristics that set them apart from Western spirits," explains Kim. "Sool production and consumption have deep cultural and social significance in Korea, and they are enjoyed in a variety of social settings, including family gatherings, special occasions, and traditional ceremonies."
Soju is the best-known alcohol in this family of sool alcoholic beverages. Traditionally, soju was made by distilling rice chungju and, according to Kim, "has a very distinct flavor of sweet rice." However, most conventional soju (most commonly found in a green bottle) is produced at scale and, in Kim's opinion, a comparatively "flavorless alcohol." And instead of rice, conventional soju is made from a combination of grains, sweet potatoes, or tapioca. Generally, this is the type of soju most people have tasted at their favorite Korean barbecue restaurants.
For a better soju experience, Kim has some recommendations, including Won Soju, made by Korean American musician Jay Park; Seoul Night Plum Soju, double distillation of golden plum with a floral aroma; fragrant pine-flavored Damsoul Pine Soju, and Samhae Soju, which Kim considers the most exclusive soju on the market and "an intangible cultural heritage of Seoul" and "one of the greatest examples of true soju."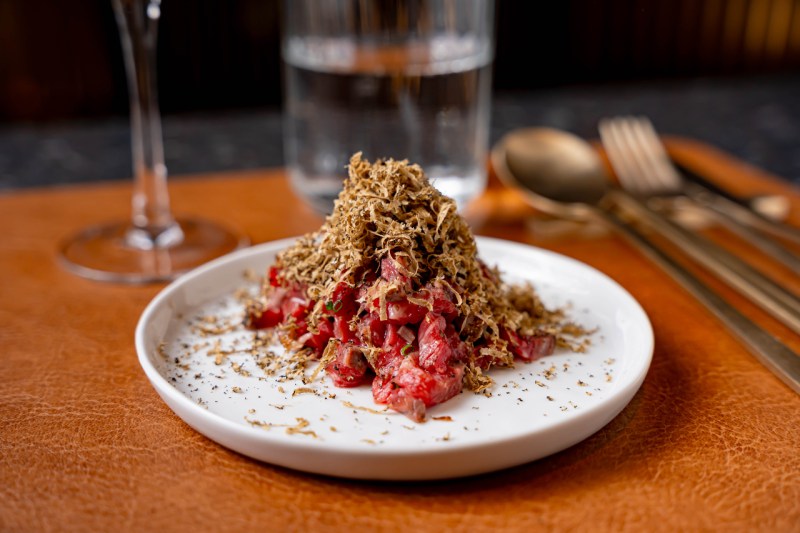 How to pair soju and soju cocktails with beef
Because Wangbi is a multiple-course, counter-tasting menu, Kim has created a carefully curated strategy on the right drink pairings for each dish.
"Wangbi has a very exciting course menu that transcends the dining experience for guests, no matter if they are familiar with Korean food or not," said Kim. "The course menu has a natural progression of flavors from light to bold. We start out with rather delicate chungju rice wine, and then with the main course, we offer soju that is packed with bold flavors. We want to showcase there are lots of possibilities with artisanal Korean sool."
There are plenty of beef cuts that pair wonderfully with soju. At Wangbi, they serve a modern twist on classic Korean yukhoe, a beef tartare. Only at Wangbi, Executive Chef Taewoo Kim uses smoky, lightly seared ribeye, still raw in the center and topped with plenty of grated truffle. However, unsurprisingly, one of the best beef cuts to pair with Korean liquor is a favorite of Korean BBQ: galbi.
"Personally, I love galbi, which is a short rib," said Kim. "It may be grilled as thinly sliced meat, or it can be marinated in soy sauce before grilling. With this cut, I particularly like Yangchon Chungju, which is rice wine. This chungju has distinct earthy and savory flavors with a hint of subtle sweetness, which can accentuate the flavors of grilled galbi short rib."
But soju is not only great by itself; it's also delicious in cocktails. "Soju can be quite versatile," explains Kim. "Unlike many years ago when people were looking to mask the flavor of alcohol, now many bartenders are gravitating towards understanding the true flavor of base spirits."
Because the flavors of rice-based soju lean towards savory and earthy, when used in a cocktail, it's great mixed with alcohol like sherry or vermouth. "It can also work well with varieties of citrus," stated Kim. "I love yuja (or yuzu) citrus, which has very nice exotic citrus notes. It can bring some brightness to the cocktail." The results of these combinations? An absolutely delicious soju drink that helps accentuate the natural umami of beef.
Sol Negroni
"This is our variation of classic negroni with rice soju infused with pine and spruce, chungju, omija berry syrup and campari," said Kim.
Ingredients:
1 oz Damsoul Pine Soju
1 oz Yangchon Chungju
1/2 oz Campari
1/2 oz Omija Syrup (if omija is not available, just use whole 1 oz of Campari)
Method:
Pour all ingredients over ice and stir.
Strain over rock glass with ice. Garnish with orange peel.
Editors' Recommendations