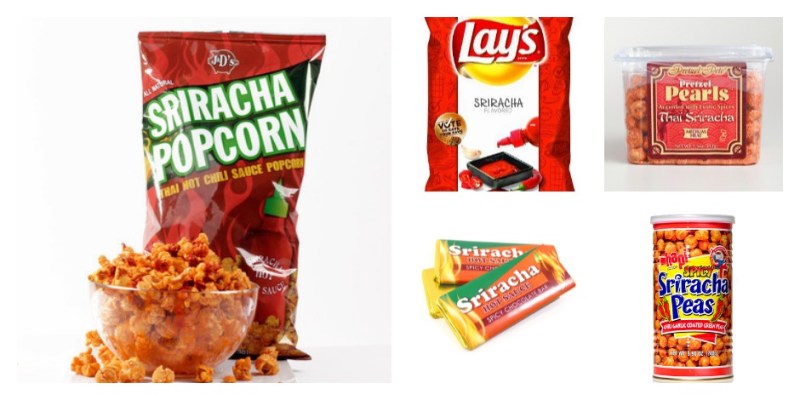 Do you grab a bottle of Sriracha — the Thai hot sauce named after the Eastern Thailand coastal city — when you need a little spice in your life? We certainly do. In the past few years sales of the condiment, which is made from chili peppers and distinguished by its signature rooster bottle, have skyrocketed, making it as much of a household name as Tabasco. People pour it on everything — noodles, eggs and even tacos. Lately we've noticed that Sriracha has been showing up in a number of snacks — some sound amazing, while others seem a bit bizarre. Here's a rundown on a few of the Sriracha-flavored munchies that we've come across.
Hapi Spicy Sriracha Peas
You've all heard of Hapi's Wasabi Peas, right? Now Hapi has come up with a version for Sriracha lovers. Coated with Sriracha and a bit of garlic, these peas are just right when you need an extra kick.
$21.60 at soap.com.
Sriracha Cinnamon Nuts
Sugar Plum Chocolates concocted this sweet and spicy snack by dusting kettle cooked Spanish peanuts with just the right mix of cinnamon and Sriracha powder. How's that for something that's both sweet and savory?
$30 at fab.com.
J&D Foods Sriracha Popcorn
J&D Foods added put a new take on kettle corn by adding red chilies, garlic, sugar and a tiny hint of vinegar to this movie theater favorite.
$18 at fab.com.
Sriracha Dark Chocolate Bar
"Everything tastes better with Sriracha on it," say the guys at perpetualkid.com, and when they said that they were talking about the Sriracha Dark Chocolate Bar. "You'll get the burn you love from your favorite rooster sauce and the happiness you feel when you eat delicious dark chocolate!" they say. We hope so!
$4.99 at perpetualkid.com.
Brown's Court Bakery Sriracha Croissasnts
This Charleston bakery went high meets low by throwing in some Sriracha to its croissant dough for something that's flakey, buttery and oh so spicy. We guarantee that this will help wake you up in the morning.
For more information, visit brownscourt.com.
Pretzel Pete Sriracha Pretzel Pearls
Sriracha adds a bit of pizzazz to these salty Pretzel Pete's Pretzel Pearls. We bet you'll empty out this box of savory snacks pretty quickly.
$3.49 at worldmarket.com.
Lay's Sriracha Flavored Potato Chips
The elusive Lay's Sriracha Flavored Potato Chips — yes, they do exist, but where do you find them? Lay's came up with the genius idea of giving their beloved potato chips and extra spicy kick, and people must love them because they're so hard to find! Grab them on Amazon quick; they're about to run out!
$14.99 at amazon.com.
Editors' Recommendations