For most of us, it's cold right now. For some of us, it's really, really cold (tongue stuck to a flagpole cold).
It's a time when sun-warmed sand and fresh, tropical cocktails are not just appealing, but you might consider selling a limb for them. It'd be one thing to just head south and go to any island in the Caribbean, but what about when you want a well-made, well thought-out cocktail? Well, we have the answer and we think you're going to like it.
Located on the island of St. Kitts (which has an average temperature in December of 82 degrees Fahrenheit), Salt Plage at Christophe Harbour, is your one-stop shop for all things, fun, sun, and alcohol.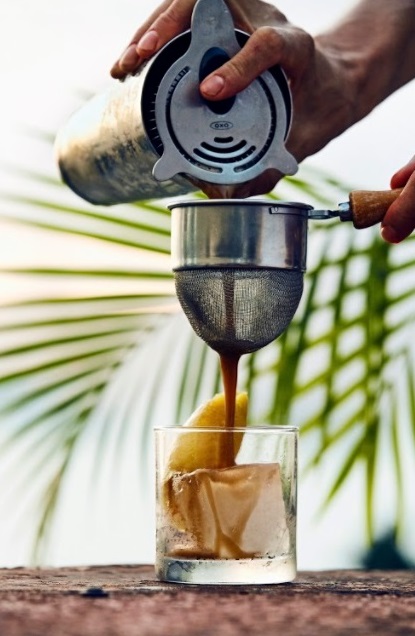 Headed by Christian Zamora, Salt Plage is one of the best beach-side bars in the world by Condé Nast, and for good reason. You see, Zamora and his team at Salt Plage has done what has been previously unknown on the island of St. Kitts—they've created a craft cocktail program.
"Craft cocktails is a new thing here and I feel very privileged to bring this to the island for perhaps the first time. I think Christophe Harbour and I share a great responsibility bringing craft cocktails to the island," Zamora said of the task before them.
Part of what makes the craft cocktail menu at Salt Plage work, according to Zamora, is that they utilize local ingredients to bring fresh colors and flavors to their drinks. Ingredients like soursop, sorrel, and a bark that goes by the name mauby (which, according to Zamora tastes like a peaty root beer), have all found their way into drinks on the menu.
"Using things like mauby is very unusual. Kittitians are really into unique non-alcoholic drinks but the idea of using those elixirs in a cocktail isn't really a thing, it seems," Zamora said.
By using those ingredients that were previously not thought of as cocktail-ready, he's seen the locals that visit the bar engaged in their drinks, wanting to learn more about the process, the ingredients, everything. "Sometimes, people that come in bring me ingredients—like a wax apple, for example—and it allows me to learn about something new and see how I can use it," he added.
Where the team at Salt Plage stands out, though, is working to make sure too many ingredients don't muddle the overall product. With so many colors and flavors, it'd be easy to want to add them all. You can't do that, though, according to Zamora.
"If you throw a bunch of colors in a pot, it'll turn brown. It's the same with cocktails. Our goal is to take care with the drinks so that doesn't happen."
Another way the cocktail program has seen success, Zamora said, is by embracing what already works on the island. For example, two-part drinks like a vodka soda or a gin & tonic are big, because there's a reputation for drinks to take a long time to come out.
"If you order a Manhattan and there's nobody else in the bar, it still may take ten minutes," Zamora said. "There's a saying here for stuff like that, 'Rush slowly.'"
With that in mind, Zamora worked to create drinks that embrace that idea while pushing the flavors to new heights. The Mauby Mule—a take on the Dark & Stormy that utilizes the local mauby bark—is just one example.
A third area that Zamora said has been an interesting challenge is the realm of frozen drinks.
"The connotation of frozen cocktails is interesting out here. There's a stigma against them to many," he said.
Instead of ignoring them, as it would be easy to do, again Zamora embraced them, channeling the classic Caribbean cocktail the Painkiller to create the Jumbie, a frozen drink that has quickly become one of the staples on the menu.
Zamora's thoughts on the matter are simple: "Rather than fight the idea, how can I make this better. How can I make it the the freshest, the best that this person has ever had?"
To add to the level of care and craft for their cocktails, the team at Salt Plage is now hand-squeezing all of their juices for cocktails. They are also the only bar in the country to offer Mezcal, Fernet Branca, Green Chartreuse, bitters other than Angostura, Rye Whiskey, Aperol, Averna, and Cynar. Basically, whatever your wish for a craft cocktail is, Salt Plage will have you covered. Not only that, but you'll be able to do it while getting a tan and listening to the waves. What more could you ask for?