Swill is our bi-monthly column dedicated to liquor, wine, beer, and every other delicious dram that falls under the broader umbrella of booze. But it's more than just tasting notes scribbled on a cocktail napkin — swill is about getting outside of your comfort zone, trying new things, and exploring the big, wide world of libations. One week you might catch us halfway through a bottle of single-malt scotch, and the week after that we might be buzzing on some Ugandan moonshine made from bananas. This column is just one big boozy adventure, so grab yourself a glass and join us for another round.
Generally speaking, I despise flavored whiskey. The way I see it, whiskey is already awesome, so it definitely doesn't need any frilly additives. I can count on one hand the number of flavored whiskies that i've actually enjoyed in my life — but despite the really crappy track record, I've got to admit that I'm still pretty excited to try out Rogue's new Chipotle Whiskey. If you haven't heard about it yet, here's a quick snippet from the description on Rogue's website: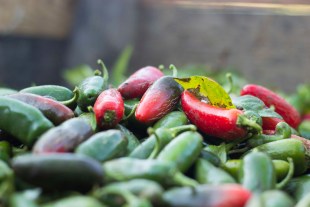 "Rogue Chipotle Whiskey begins in the dirt at Rogue Farms in Independence, Ore., where we plant, grow and harvest our jalapeño peppers. We then make the short drive to our distillery in Newport, where they are dried and smoked over cherry and alder wood. This turns our farm fresh jalapeños into the sweet, smoky, and spicy chipotle peppers we use 3 ways in our Chipotle Whiskey. Rogue Chipotle Whiskey is brewed, distilled, and barrel-aged with our chipotle peppers for three times the flavor – and a touch more heat."
Sounds pretty amazing, right? I'm trying really hard not to get my hopes up because Rogue has had a few less-than-stellar experimental creations in the past few years, but I have a feeling that this one is going to be a home run. Here's why:
1. Rogue hasn't been distilling for long, but it already makes some great whiskey. Dead Guy, Oregon Single Malt, Oregon Rye — they're all pretty damn good, so we have every reason to believe that this chipotle concoction will be built on a very strong foundation.
2. Flavored whiskey sucks, but certain flavors actually work with it, and chipotle might be one of them. Why? Because chipotle peppers are smoky, and if there's one flavor that goes well with whiskey, it's smoke. Take Del Bac from Hamilton Distillers. They malt their barley over a mesquite fire — and it makes for some amazing hooch.
3. Everyone loves a little bit of spiciness. I'm not crazy about Fireball, but that cinnamon kick gives it an undeniable appeal. If Rogue doesn't overdo it with the peppers, a little bit of extra warmth could take this whiskey to the next level. Let's just hope it doesn't taste anything like the company's Sriracha Hot Stout.
I haven't had a chance to sample this stuff yet, but it should be rolling out to store shelves in the near future — so keep an eye out for it at the liquor store, and be sure to circle back for our inevitable review/tasting notes piece.
Editors' Recommendations