Whether you're an avid home gardener, a farmer's market regular, or a discerning produce-market shopper, you're undoubtedly aware of the bountiful nature of the summer growing season. Many fruits and vegetables reach their prime durinig the warmest months of the year, including famously seasonal (and famously short-lived) items like tomatoes. It's common for home cooks to seek out summer recipes that highlight the fresh stuff to its fullest effect, often in raw salads, cold soups, and no-cook sauces.
But, as it happens, one of the finest culinary platforms for seasonal summer produce comes in the form of a traditionally slow-cooked French dish. That's right: We're talking about ratatouille. In terms of texture and cooking methods, this Gallic staple falls somewhere between a stew and a casserole, which is why you'll often see it on menus in the fall and winter. But its key ingredients include tomatoes, zucchini, eggplant, peppers, and fresh herbs, all of which you'll find in abundance during the summer months.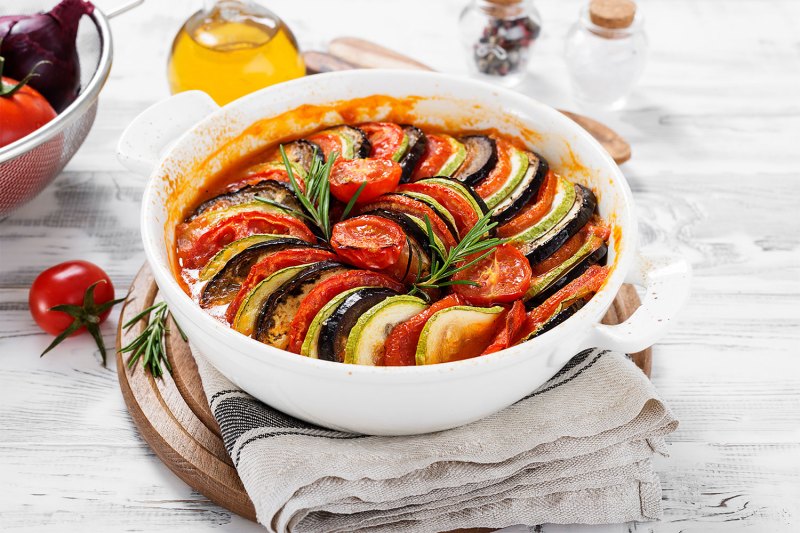 If you've ever seen the Pixar film Ratatouille, you may have the impression that this dish is painstakingly complicated and requires an expert chef (or a very talented rodent with a flair for French cuisine) to properly execute. But it's worth considering that ratatouille got its start (and still shows up prominently) in home kitchens, and with a solid haul of in-season veggies and a few pro tips, you'll be amply prepared to give it a try yourself.
To make an excellent ratatouille, follow these pieces of advice:
Take full advantage of high-quality, in-season tomatoes.
As mentioned above, tomatoes are widely considered the highlight of the summer harvest. Because ratatouille generally undergoes a slow-braise process, it's easy to assume that subpar tomatoes won't adversely affect the end product, but using fresh, high-quality tomatoes in the height of their seasonality will only boost the overall flavor of this dish. When shopping for ratatouille tomatoes, follow the example of chef/instructor Rosa Jackson of Les Petits Farcis cooking school in Nice, France and select tomatoes that are "ripe to the point of bursting for optimum sweetness."
Keep your vegetable slices as uniform as possible.
Ratatouille doesn't strictly require any one cut of vegetables; if you Google "ratatouille," you'll find versions with diced veggies, roughly-chopped veggies, sliced veggies … the list goes on. However, the dish traditionally utilizes sliced vegetables, which are then arranged in a baking dish in an aesthetically-pleasing spiral pattern. When making any style of ratatouille, chef/instructor and founder Ilse Dumont of Culinary Ambition insists that uniformity is the key to even cooking: "Chop all ingredients to the same size (your choice, big or small)."
For more textural contrast and quicker prep, cook the vegetables on a sheet pan before folding them into the sauce.
Some ratatouille naysayers point to the dish's stewed cooking method as a negative, arguing that slow-cooked vegetables suffer from a mushy texture. If you'd like to minimize that risk, try the method used by Top Chef runner-up Adrienne Cheatham, a chef at the Institute for Culinary Education: "Par cook your vegetables separately and then fold them into the [tomato] sauce. Roasting the vegetables separately means you don't need such a large pot for the ratatouille, and can help save time since you won't be reducing the sauce as much since roasting helps remove some liquid from the vegetables. I also like the intense flavor of roasted vegetables."
Herbes de Provence makes a perfect seasoning for ratatouille.
Ratatouille relies on a blend of herbs to bring the vegetables together and to provide appealing aromatics. You're welcome to play around with different herbal seasonings until you find the combination that speaks to you, but herbes de Provence, a dried herb mixture native to the South of France (where ratatouille got its start), makes a natural fit. "[Adding] herbes de Provence is a nice way to elevate the dish! Season the ratatouille generously for a great flavor," resort chef de cuisine Anthony Herve of The Cosmopolitan of Las Vegas says of this herb blend, which typically includes marjoram, rosemary, thyme, oregano, and (in some markets) lavender.
Make enough for leftovers.
Even if you're only cooking for your small quarantine pod, don't hesitate to whip up enough ratatouille to feed an army, because this dish makes for fantastic leftovers. "Since you're [already] investing the time to make ratatouille, double the recipe so you have leftovers. It tastes just as good, if not better, the next day," recommends executive chef Mike Brewer of Copper Vine in New Orleans.
Ratatouille Provençale
(By Anthony Herve, chef de cuisine, The Cosmopolitan of Las Vegas)
Ingredients:
2 onions, thinly sliced

2 Roma tomatoes

1 green zucchini

1 yellow squash

1 eggplant

Herbes de Provence, to taste

Extra virgin olive oil, to taste

Salt and fresh ground pepper
Method:
Preheat oven to 400 degrees Fahrenheit.

Put the sliced onions in a pan and cook over medium heat with extra virgin olive oil, stirring occasionally until the onions are soft and nicely caramelized.

While the onions are caramelizing, slice the tomatoes, zucchini, squash, and eggplant into ¼-inch slices.

When the onions are cooked, tightly layer the sliced vegetables over the caramelized onions in a baking or roasting pan.

Generously season the ratatouille with herbes de Provence, salt, and pepper. Drizzle with olive oil.

Put the ratatouille in the pre-heated oven and cook for 30 minutes, or until the vegetables are soft.
Editors' Recommendations