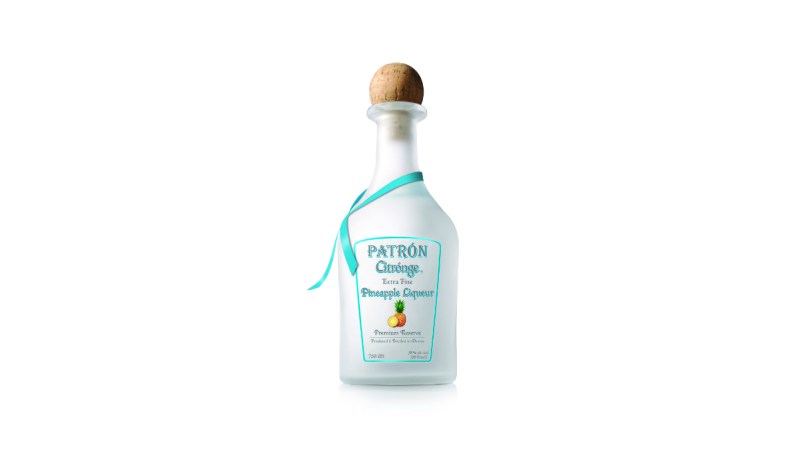 For us here at The Manual, when it comes to tropical, summery drinks, pineapple is one of the flavors that comes immediately to mind. Whether it's because of the way-too-cheesy-but-still-potentially-delicious piña colada (with an overproof rum float, of course) or any number of Tiki drinks, the bright yellow fruit steals the show more often than not. That's why we got excited when tequila brand Patrón introduced the newest flavor liqueur in their Citrónge line: Pineapple.
The third in the family (joining lime and mango iterations), Citrónge Pineapple is made with a Patrón Silver tequila base and Piña Miel pineapples, a smaller, sweet variety of that fruit that is cultivated in the Mexican state of Veracruz. It comes in at 35 percent ABV.
According to the brand, the decision to make the liqueur was based in part on pineapple's rising popularity in the craft cocktail world.
On the nose, you'll find a sweet, tropical aroma, which carries through onto the palate. There, the taste of pineapples comes at you sweet and strong, and lingers long after you've swallowed a sip. While you could, we guess, sip or shoot this one, Citrónge Pineapple is best used when incorporated into cocktails. Not sure where to start? We've got two recipes below to get you started. One is a cooler, hipper version of the Piña Colada created by friend of The Manual, Cody Goldstein — you probably remember him from these Willy Wonka cocktails — while the other, La Piña Swizzle, incorporates and Italian amaro and sage for a tasty twist on the flavors you might normally associate with the fruit.
Patrón Mini Pineapple Piña Colada
(Created by Cody Goldstein, Muddling Memories, for The Fat Monk, New York City)
2 oz Patrón Reposado
.5 oz Patrón Citrónge Pineapple
2 oz Pineapple Juice
1 oz Passionfruit Juice
1 oz Cinnamon Cream of Coconut
.5 oz Lime Juice
2 dashes Pecan Bitters
Method: Add all ingredients into a shaker and fill half way with ice. Shake for five seconds and double strain into a hollowed out pineapple with ice. Take the top and cut off the spikes and leave a two-inch hole in the middle. Take mini pineapples and stack on top.
La Piña Swizzle
(Created at Winnie's Jazz Bar inside the Refinery Hotel, New York City)
1.5 oz Patrón Reposado
1 oz Pineapple Sage Syrup*
.5 oz of Patrón Citronge Pineapple
.5 oz of Amaro Montenegro
.5 oz of Lime Juice
Method: Combine ingredients in a shaker tin and whip shake with crushed ice. Pour into a Collins glass or your favorite Tiki mug and pack with crushed ice. Optionally* garnish with three pineapple fronds and an absinthe soaked pineapple slice. Char slice to order.
Pineapple Sage Syrup
1 qt of water
1 qt of sugar
1 qt of pineapple juice
4 gr of sage
Method: Bring water and sugar to boil then remove from heat. Add sage and let steep for five minutes. Remove sage and add pineapple juice.
Editors' Recommendations