Pancakes are made, in some form, the world over. Whether they are fluffy circles of dough covered in syrup (or chocolate chips) like we have here in the states, stuff with savory or sweet items in the form or a crepe, or countless other iterations, pancakes are everywhere.
One type of pancake we are absolutely in love with is okonomiyaki, a savory pancake from Japan.
"Okonomi means 'whatever you want,' meaning that the chef may add whatever ingredients he/she wants," says Chef Hiro Mitsui of Washington DC's Ramen by Uzu, who contributed the recipe below.
The delicious recipe he sent us includes cabbage, scallions, pickled red ginger, and pork belly. Check it out.
Osaka Okonomiyaki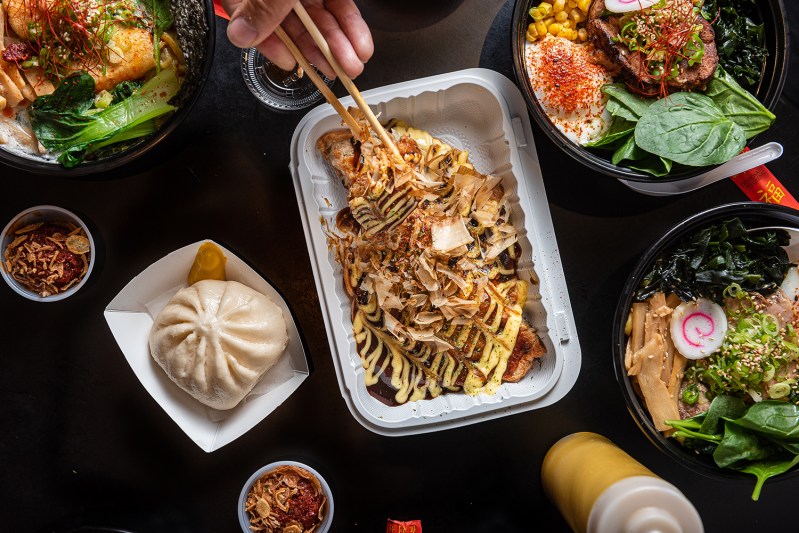 "This is a recipe for a basic home-cooked Osaka-style okonomiyaki. In addition to pork belly, common fillings include: tomato and cheese; oysters; squid; or shrimp. This recipe makes approximately 1 serving of okonomiyaki," says Mitsui.
Ingredients:
Batter
1/3 cup all-purpose flour
1 egg
1/8 cup water
.25 tsp Hondashi
.25 cup grated nagaimo (adds fluffiness), optional
Filling
1 stuffed cup very finely-sliced green cabbage
1 tbsp chopped pickled red ginger
1 stalk chopped scallions
1 tbsp fried tempura crisps
2 slices per pancake thin-sliced pork belly
Topping
.25-.5 cup Otafuku okonomiyaki sauce (depending on preference)
Kewpie mayonnaise, according to preference
1 pinch bonito flakes
A few shakes Ao-nori
A few shakes Togarashi
Method
Mix all batter ingredients together in a large mixing bowl. Mix until smooth.
Except for the pork belly, slowly combine the filling with the batter. Mix until well incorporated.
Heat the pan over medium-high heat. Add 1 tablespoon of vegetable oil.
Drop a small amount of batter onto the pan to test the heat. If the batter fries, it is hot enough. Turn the heat down to medium.
Once the pan is ready, scoop 1 cup of batter in the pan. Place 2 slices of pork belly on top. Cover the pan with a lid. Wait 3-4 minutes.
Use a spatula to lift one corner of the pancake. Wait until the bottom of the pancake is golden brown to turn it over.
Once you flip the pancake, cover the pan and cook it for approximately 4 more minutes. Then take the lid off and cook it for 2 more minutes.
Use a spatula to lift one corner of the pancake. Wait until the pork belly is cooked and the bottom of the pancake is golden brown.
Poke the center of the pancake. If the batter runs out, cook the pancake with the lid on top for 1-2 more minutes. Repeat this step until no more batter emerges.
Use a spatula to place the pancake on a plate. Cover the pancake with okonomiyaki sauce. Use Kewpie mayonnaise to draw a design on top of the okonomiyaki sauce. Shake ao-nori and togarashi over the pancake. Add one pinch of bonito flakes on top.
Editors' Recommendations