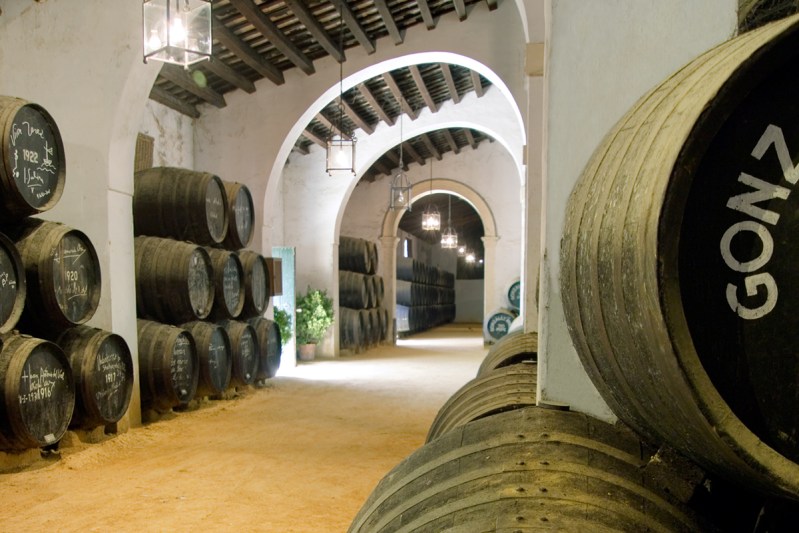 Which new bourbon are we pumped about? What does it take to be a master journeyman? Where are we excited to travel to next? The Manual is dedicated to helping men live a more engaged life – and that means learning new things.
For this week's episode of The Manual Podcast, food and drink editor Sam Slaughter and spectacular slinger of words Greg Nibler sit down with González Byass USA Senior Brand Manager Claire Henderson to talk about one of the oldest styles of wine on the planet: sherry.
Made in Spain, sherry is a fortified wine with a history as rich as a sip of some of the stuff itself. Henderson takes the crew through what it takes to make sherry before diving into the fun stuff — the different kinds of sherry and what it takes to make them. What you'll learn, as we did, is that the history of sherry is more than just a history of a wine. The food and culture of southern Spain are also intimately tied to the drink.
If you've ever had a Scotch whisky that's been aged in a sherry cask, but have never had sherry, this episode is going to give you a chance to learn a little bit more about what gives your whiskies those very specific sherry notes.
Are you a fiend for sherry or do you, too, have a bottle that's been in the back of your liquor cabinet for ages? Do you have a favorite sherry cocktail? Have you been to Jerez? Let us know. If you ever have a question or comment for The Manual Podcast folks, give us a shout at podcast@themanual.com — we're always around! Be sure to follow us on Facebook and Twitter and keep an eye out for podcast polls so you can join the discussion.
Editors' Recommendations