Despite being on the coast, it's surprisingly hard for Angelenos to make it the beach thanks to insane traffic and parking fees that require a small loan.
Fortunately, a Polynesian paradise sits a mere 19 miles (about a hour and 13 minute drive on weekdays) away from LA's beach: Welcome to Tiki No.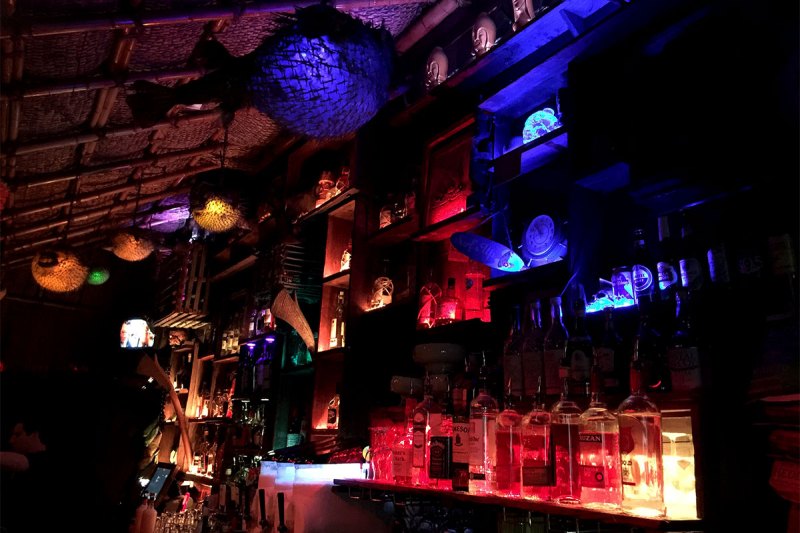 Los Angeles started the tiki bar trend in the 1930s with the infamous Don the Beachcomber, so it's fitting Tiki No would continue the tradition. The North Hollywood bar is on the small side, but crammed with tropical details, harkening back to the tiki bar's glory days. You'll have no trouble finding Tiki No: giant lit torches stick out from the roof and a massive neon Tiki mask beckons you in.
Once inside, you immediately feel like you're outside again at a moonlit bar on a tropical beach. It might take you a minute to realize the colorful globe lights suspended from the palm and bamboo roof over the bar are blowfish. Knickknacks behind the bar look exactly like stuff divers might pull out of shipwrecks. Individual booths feel like beach cabanas with a bamboo pendant light and grass roof. The patio looks out onto the street, somewhat dashing the outdoor beach illusion, but it's perfect for cool, breezy North Hollywood nights.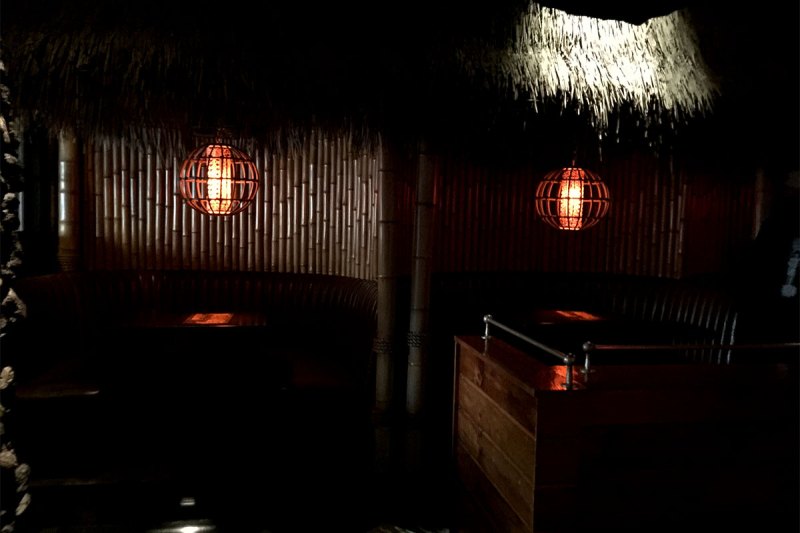 The drinks are appropriately rum-heavy, with classics like the Piña Colada made fresh every day with a healthy dose of Silver Rum, the Happy Buddha (white rum, Chachaça, Cointreau, Guava Puree and lime), and the Dark and Stormy (dark rum and ginger beer). If you want something that's not too sweet and definitely not overpowered by rum, start with the Lychee Luau, a drink originated at the Tiki No: Gold Rum, Silver Rum, Lychee Liqueur, pineapple, lemon, and Falernum.
Groups may want to opt for the Scorpion Bowl in which a massive bowl is filled with Gold Rum, gin, brandy, Orgeat, orange juice and lime, and a shot of Overproof rum from St. Croix. Then, of course, a flame is lighted in the center. They don't scrimp on the decorations either: fresh fruit, umbrellas, fresh orchid blooms, even cones of ice adorn your tropical libation. Interestingly, all the drink's origins are noted on the non-happy hour menu: the Happy Buddha, for example, originated at a New York Benihana in 1944. You drink and you learn! Rum not your thing? No worries– it's a full bar with both wine and beer available.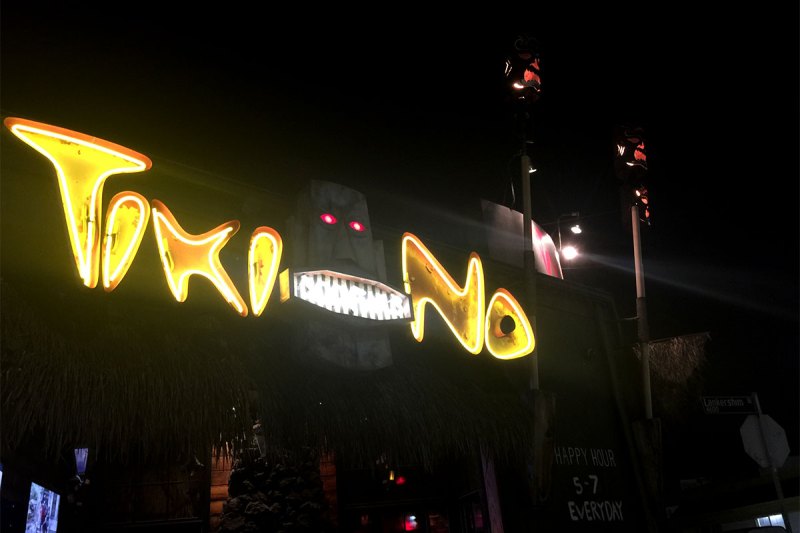 Happy hour is one of the best deals in town and happens daily from five to seven. Tiki No also offers a Mug of the Month club, in which you buy your drink in the delightfully kitschy tiki mug, which you get to keep, with refills just $8. Karaoke on Sundays and awesome bartenders make this one of the most fun, relaxed bars in town.
If you're in the LA area, head out to Tiki No for a bit of tropicality:
Tiki No
4657 Lankershim Blvd,
North Hollywood, CA 91602
Editors' Recommendations