Typically, noodles get a bad wrap as a meal option because they're high in calories and carbohydrates, and many people end up overindulging when sitting in front of a plate of pasta. While you should be able to enjoy any pasta dish every once in a while, there are other alternatives out there that may be a better option for you.
Kinjabang Noodles are one such option. There are three different varieties of ramen noodles that can be prepared in no time and topped with your favorite protein sources and veggies.
Let's take a look at the pros and cons of this meal option to see if it's a healthy alternative that you can enjoy on a regular basis without having to worry about artificial ingredients, sugar, and calories.
Are Kinjabang Noodles healthy?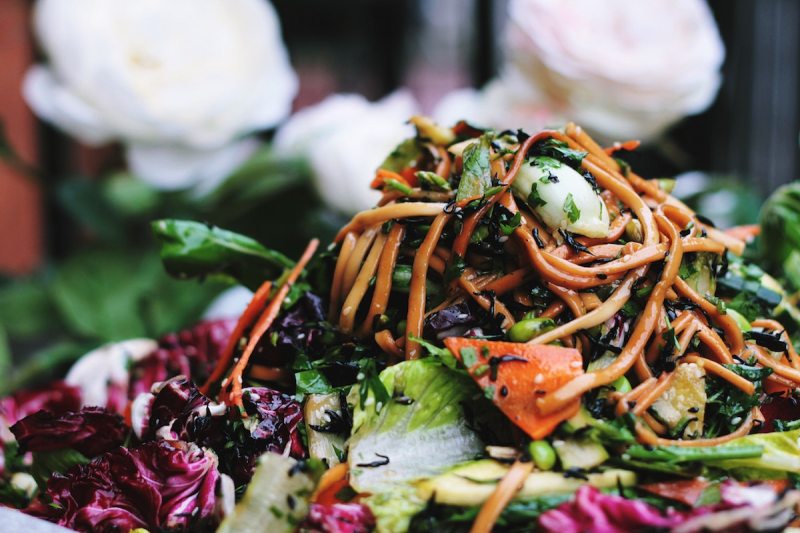 In general, Kinjabang Noodles are a healthier option for a fast meal, but they still have a few nutritional downsides that you will want to be aware of.
Benefits
Three different flavor options

Quick and easy to prepare

Come with sauce and vegetable packets for seasoning

No trans fat

No cholesterol

No added preservatives

Air-dried noodles
Downsides
A bit higher in calories

High in sodium

Long ingredient lists for sauce
Your Kinjabang Noodles options
Original Kin Style Medium Cut Noodles
If you prefer a little extra flavor, these noodles are a bit spicy without being overwhelming. The medium cut of the noodles is also great for supporting all of your favorite toppings!
Calories: 350
Total fat: 4.5 g
Cholesterol: 0 mg
Sodium: 1,310 mg
Total carbohydrates: 67 g
Dietary fiber: 3 g
Total sugars: 7 g
Protein: 11 g
Zesty Blade Style Thick Cut Noodles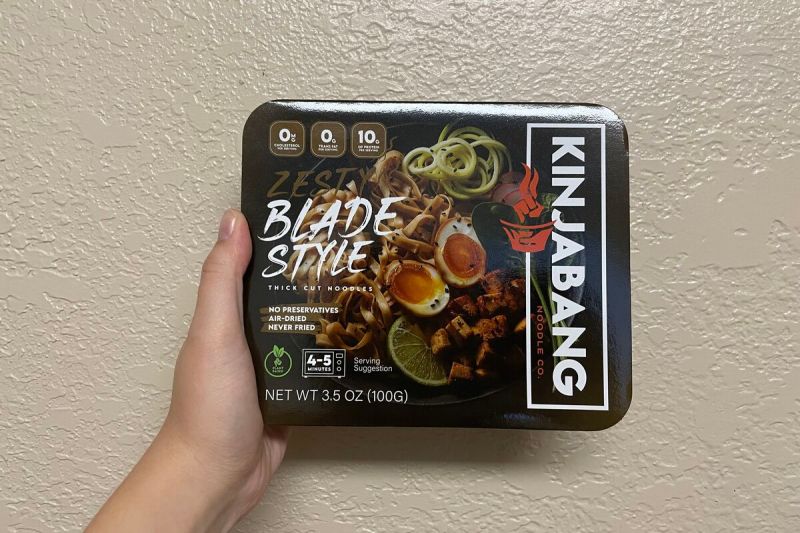 While the other two flavors of Kinjabang Noodles are a certain level of spicy, you don't have to worry about that with the Zesty noodles. A bit sweet and plenty flavorful, this version is my personal favorite!
Calories: 290
Total fat: 0 g
Cholesterol: 0 mg
Sodium: 460 mg
Total carbohydrates: 63 g
Dietary fiber: 3 g
Total sugars: 4 g
Protein: 10 g
Spicy Shadow Style Thin Cut Noodles
For those who prefer spicy noodles, this variety is the one for you. This sauce packet adds a ton of flavor, but if it's a bit too much for you, you can skip adding the sauce and still enjoy the thin-cut noodles and dried vegetable packet.
Calories: 320
Total fat: 1.5 g
Cholesterol: 0 mg
Sodium: 1,360 mg
Total carbohydrates: 67 g
Dietary fiber: 3 g
Total sugars: 8 g
Protein: 11 g
Would I recommend you purchase Kinjabang Noodles?
Personally, I'm a fan of Kinjabang Noodles. They're quick and easy to make, and the fact that they come with a vegetable packet and a sauce packet means that I don't have to worry about flavoring them myself. You can also make them healthier by adding a lean protein source like chicken or salmon, along with various vegetables like bell peppers, broccoli, and red cabbage.
The protein and lack of sugar are great nutritional advantages, but it's important that you remember that the noodles are a bit higher in calories and very high in sodium — over 50% of your daily recommended sodium intake for two of the flavors! However, you can skip adding the sauce packet to get rid of the scary sodium number.
Overall, whether or not you should buy Kinjabang ramen noodles is up to your personal preference, but I would recommend them.
Editors' Recommendations