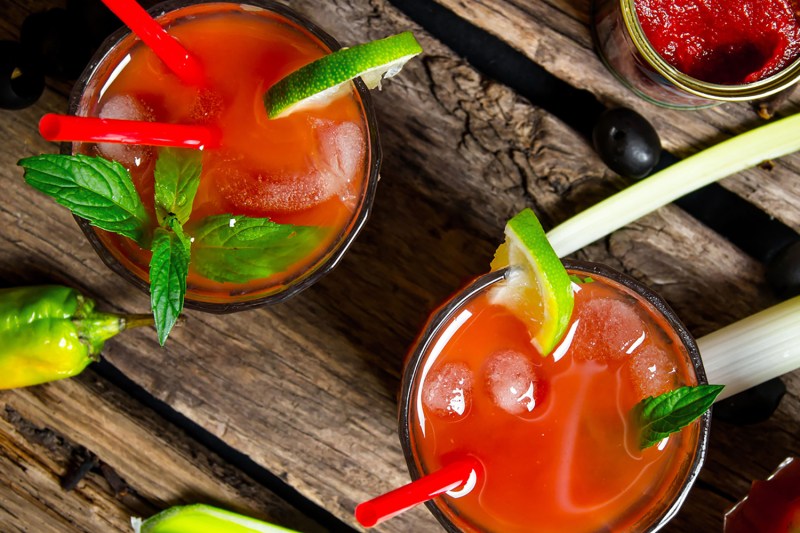 The bloody mary might be the least boilerplate drink out there. Sure, you can get the pre-made bloody mary mixes and just add some vodka, but often, the best versions are a little adventurous. Bartenders throw just about anything at the drink, from mezcal and whiskey to various condiments, spice blends, and literal towers of garnishes.
It's believed that the bloody mary was devised in 1921 in Paris, specifically at the New York Bar. Since then, the drink has gone on to become a brunch staple and has many popular spinoffs, from the bloody Caesar to the bloody maria. Bartenders guard their house-made mixes like a hawk, of the belief that they've cracked the code and made the perfect version of the drink.
While we don't always know what goes into every bloody mary recipe, we do know that the savory drink loves savory company. It's one of a few classic cocktails you can hit with layer after layer of things, like pickles, cocktail sauce, onions, fish sauce, and more. Which brings us to kimchi, perhaps the best ingredient for the drink and one that mixers are starting to use more often.
What is kimchi?
What is kimchi made of? Well, the iconic Korean dish traditionally involves fermented cabbage, radish, onion, and other vegetables, treated to an array of spices. What does kimchi taste like? That depends on the exact recipe, but generally, it's a zippy item, a bit tangy, a bit spicy, and equal parts vegetal and sour. It plays atop your entire palate and is quite complex. The fermentation process can throw a little CO2, making the veggies almost have a slight carbonated texture to them (read our feature on how to make kimchi at home if you're feeling ambitious).
Kimchi works in a bloody mary for so many reasons. It offers the kick that a more conventional ingredient like horseradish might offer while affording the complexity of traditionally added seasonings like celery salt or black pepper. The recipe below takes advantage of kimchi liquid, which has all the flavors of the solid stuff, but at-home mixers are welcome to work with the actual kimchi as well. After all, this is a drink known to flex its garnish muscle, so go nuts with the kimchi veggies and throw a skewer on it to set atop the glass.
Wilson Brannock is the managing partner at Noko in Nashville. For him, creating the ideal bloody mary is all about balancing flavors. "For us, it's about getting enough umami and spice into the drink, but also keeping that signature sour flavor from the kimchi at the same time," he said.
The drink also benefits from a spicy ingredient that most don't immediately associate with a good cocktail, and one often found in kimchi. "Using gochugaru, which is a Korean chili powder, adds some flavorful heat to cocktails when looking to add some spice," Brannock added. Read on to learn how to make a bloody mary that will stand out from all the others.
Kimchi bloody maria
Courtesy of bar manager Angel Lyle, this Noko drink involves a little prep work, but it's well worth the effort. Know that if you don't have a good fish sauce, you can sub in soy sauce and experimentation across the board is highly encouraged. Note that kimchi liquid merely refers to the liquid at the base of your kimchi container, which can be poured or strained out with ease.
Think of this drink as the boozy and spicy cousin of a good gazpacho. That said, it's great any time of day and can even serve as a nice pre-dinner drink that serves as both a chilled refreshment and a savory snack. Either way, it's about to become your favorite drink for the end of summer and beyond.
Ingredients
3 ounces house gochujang bloody mix*
1 1/2 ounces mezcal
1/2 ounce lemon juice
*House gochujang bloody mix: Combine 1/2 ounce of kimchi liquid, 1/4 ounce of fish sauce (or soy sauce), 3 ounces of Charleston bloody mary mix, 1 ounce of lemon juice, and 1/4 ounce of gochujang.
Method
Salt the glass with a salt of your choosing.
Build in the glass and roll to finish.
Garnish with freshly charred shishito pepper.
While this is a great start, you can do any number of directions while keeping the above template in mind. Consider taking a slight Nordic turn and subbing in Aquavit for mezcal (and perhaps even throwing in a little dill). The earthy, vegetal qualities of mezcal might be best with this exact recipe, but you should also play around with different tequilas (blanco and reposado) and even consider a spiced vodka, like the exceptional chile green vodka from St. George Spirits.
Want more bloody mary ideas? Check out our piece on making a bloody mary like a bartender and how to make a bloody maria — maybe the best hangover drink of all time. Just remember to consider adding kimchi to any and all versions of the popular drink.
Editors' Recommendations