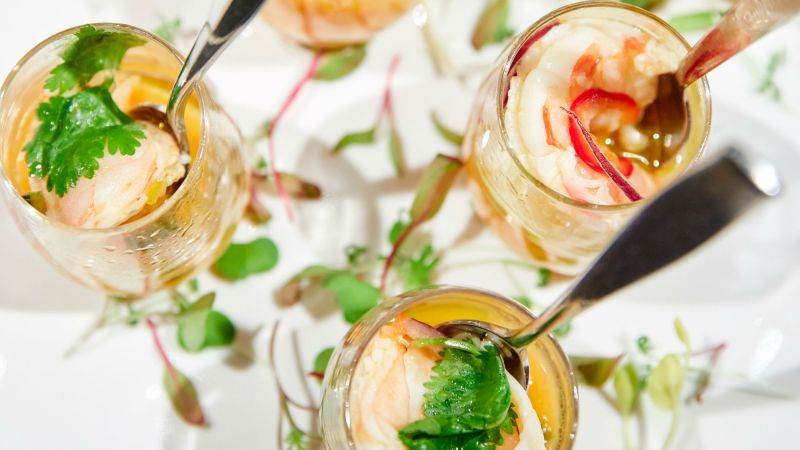 Recently, I lucked into an invitation to dine at the James Beard House, the residence of the eponymous late, great chef and food writer that today serves as a culinary school, a nonprofit headquarters, and as the location of dozens of lavish, unique gatherings curated by some of the finest cooks from around the globe. One could easily walk right past the James Beard House and have no idea that some of the world's most delicious dishes were not only prepared there, but conceived there. Inside, most of the building still looks like a home, albeit one with immaculately set dining tables spread about in many of the rooms. However, in this home, you don't rummage for a box of cereal or a can of soup — you dine on some of the finest food to be found in New York City or well beyond.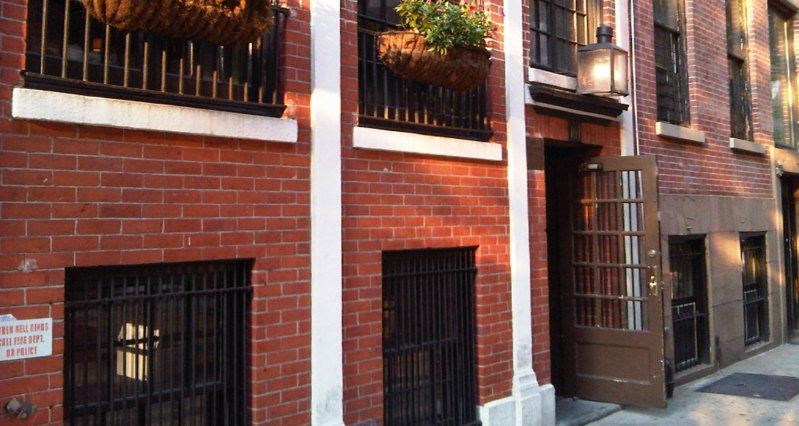 The long and short of the story is this: If you're going to be dining at the James Beard House —which you can do by invite, membership, or by paying most of the money you earned last week (just kidding, but not really) — plan to come hungry and to pace yourself. One could easily eat themselves into stupor. Also the wine and cocktails flow pretty liberally. (And here are some more general tips about eating at a fancy restaurant, just in case).
What makes a James Beard House dining experience so special is the ephemeral nature of the evening. Chances are that you will never see the same menu offered there twice, nor will you see it anywhere else. This is because chefs often prepare meals that are collaborative efforts, joining the talents of several culinary masters to create menus tailored for a specific event.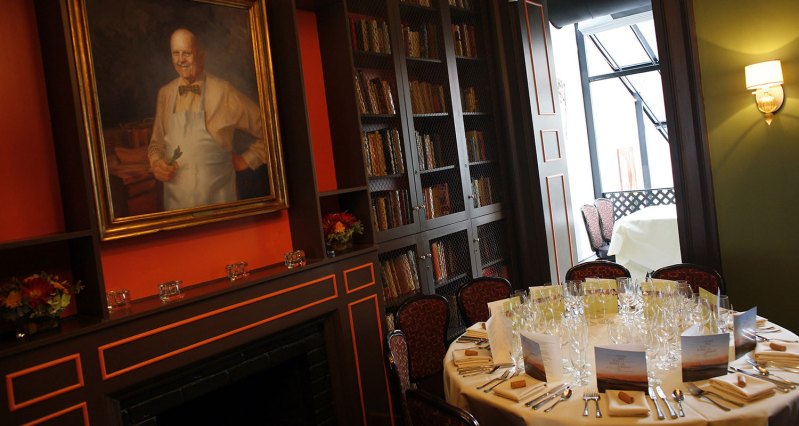 The event I attended was titled Sophisticated Chophouse, and it brought together the head chefs from four of the renowned STK Restaurant locations. The first STK opened in Manhattan in 2006 with the goal of putting a more energetic, modern twist on the often stodgy steakhouse. While the top-notch cuisine remains refined, the atmosphere of the restaurant is more like an after-hours lounge than a traditional eatery. Apparently the model worked, for in scarcely over a decade, more than a dozen additional STK outposts have opened around the country and several more have popped up overseas.
For the Sophisticated Chophouse event at the James Beard House, the STK chefs, sous chefs, and assistants crammed themselves into the rather small kitchen on the bottom floor of the house — the same kitchen in which Mr. Beard himself cooked, taught, and oft found inspiration. To walk toward the back patio where drinks or served or up to the dining area itself, guests pass right through the kitchen, easing around cooks stirring sauce pans and chopping vegetables. The first trip through feels invasive, the second and third rather charming, and eventually you all just elbow past with a nod.
At my table, where I sat with several members of the STK marketing and development team (which worked out well because they turned out to be lovely people and because they were friends with Guillaume Marconnet, the evening's sommelier, who took particularly good care of our table). At dinner, we discussed a range of topics, with the conversation frequently returning to the foods placed before us. I will now share the menu in full, because it was spectacular. This might seem like a tease, especially after I've pointed out that you are not likely to see the same menu offered twice, but it's not so bad as you might think: the foods served at the Sophisticated Chophouse event were all inspired by or lifted from an STK menu. So with a bit of your own curation work, you can find (and eat) pretty much all of this stuff. (The wines are in italics, and paired beautifully. Go ahead and use this menu as inspiration for your own holiday feast.)
Hors d'Oeuvres (Paired with Champagne Gardet Brut 1er Cru NV)
Charred Japanese A5 Kusunoki Wagyu Beef Carpaccio with Pickled Hon Shimeji Mushrooms, Aged Shoyu, and Crispy Shallots

Wild Georgia Shrimp Escabèche with Ají Amarillo, Sweet Potato, and Cilantro

Butterball Potato Tart with Braised Leeks and Caviar |
Dinner
Florida Grouper with Florida Clams, Chorizo, Sweet Peppers, and Sherry–Brown Butter Vinaigrette | Paired with Château Marjosse Pierre Lurton Bordeaux Blanc 2015
Seared La Belle Farm Foie Gras with Apple Presse, Pickled Pumpkin, and Pomegranate Gastrique | Paired with Pierre Henri Ginglinger Gewurztraminer 2009
Domestic Lamb Saddle with Green Lentils, Savoy Cabbage, and Spiced Yogurt | Paired with Clos Magne Figeac Saint-Émilion 2014
Linz Heritage Angus Beef Duo of 48-Hour Braised Beef Cheeks and 60-Day Dry-Aged Prime Beef Rib-Eye with Smoked Cipolline, Celery Root Purée, and Bone Marrow-Roasted Black Trumpet Mushrooms | Paired with Lagarde Malbec 2015
Dessert
Pumpkin Praline Tart with Gingersnap Tuile, Spiced Whipped Cream, and Candied Pepita Brittle | Paired with Château Tour Grise Les Étourneaux Coteaux de Saumur 2004
Feature image by David Chow.