For diners in the United States, a lot of what we consider "Italian food" is, in fact, "Italian-American food." Spaghetti and meatballs? Chicken parm? Fettuccine Alfredo? All dishes developed by Italian immigrants in America during the 19th and 20th centuries, combining techniques and recipes used in traditional Italian cooking with ingredient variations based on what these cooks could find stateside. The result? A delicious hybrid cuisine known for bright flavors, plenty of melted cheese, and the love and devotion of Italian-American grandmothers (popularly known as "nonnas").
The crown jewel of Italian-American cooking comes in the form of "Sunday gravy," a valued weekly tradition for plenty of families across the United States, but one that often confuses those who didn't grow up with it simmering on the stove. If you equate "gravy" with "a brown, meat-drippings-based sauce served with turkey," then the red version favored by Italian-Americans may prompt an eyebrow raise. In fact, the use of the "gravy" term to describe this sauce also perplexes native Italians; executive chef Fortunato Nicotra of Felidia in New York City tells us that "I came to America at the age of 34. My first introduction to the term 'gravy' was at a Thanksgiving dinner where I tried my very first turkey with mashed potatoes and gravy. I understand now many years later that there is quite a bit of controversy regarding the 'gravy' versus 'sauce' concept at Italian-American tables. I was born in Sicily, where fresh tomato sauce is a very important part of our culture, so to me, [Sunday gravy] represents culture."
If you've never heard of Sunday gravy before, we're here to clear things up with a full explanation: what it is, what it's called in different regions of the U.S., how it's made, and why everyone, even those without a drop of Italian blood flowing through their veins, should try it out.
What is Sunday gravy?
First of all: no, Sunday gravy doesn't have anything to do with turkey gravy. The base of Sunday gravy bears many similarities to that of a traditional marinara sauce — it includes tomatoes, garlic, olive oil, and herbs like oregano and basil. What typically differentiates Sunday gravy from marinara sauce is the inclusion of meat. While Sunday gravy isn't always a full-fledged "meat sauce" like a ragu or a Bolognese, it draws much of its flavor from meatballs, Italian sausage, pork or beef braciole, or other cuts of meat that soak in the gravy during its cooking process, infusing the sauce with richness and umami. Most importantly, Sunday gravy relies on slow cooking, so taking your time is a non-negotiable necessity. As executive chef Matt Sigler of Il Solito in Portland, OR puts it, "there are no shortcuts with Sunday gravy, so you have to save it for when you have all day to give the dish the time it deserves. It's the ultimate comfort food."
What other terms are used for this dish?
"As a kid, my family would gather at my grandmother's house every Sunday to enjoy her Italian cooking. It was always the same dinner: pasta with sugo, meatballs, salad, and fresh bread. I know some people on the East Coast call it 'gravy,' but I'm from the Midwest and we have always used the term sugo, which is just an Italian [term] for simple tomato sauce. To me, my nonna's sugo (which became my mom's sugo and is now mine) tastes like family — warm, cozy, with lots of love and time invested and the ability to feed you (and your soul) throughout the week," explains chef Anthony Spino of HUNGRY.
Chicago-based chef Michelle Durpetti of Gene & Georgetti also remembers calling Sunday gravy "sugo," telling us that "in our family, it was actually 'Nonno's favorite sugo.'" My grandfather Gene was always at the restaurant, and [on] Sunday evenings when I was growing up, it was a special treat for him to be in the kitchen at home. Food is life in our family, and there is no place we celebrate better than together at a table with a grand feast! Being of Tuscan origin, we always fall on the 'sugo' (or sauce) side of the 'sauce/gravy' discussion. His recipe is a classic Tuscan bolognese, on the rustic side utilizing both beef and pork, extra virgin olive oil, fresh garlic and not too finely chopped carrots, onions, and celery. A splash of red wine, a beautiful rind of Parmigiano and a bay leaf to finish (more or less), set to simmer on the stove for hours. A great paccheri pasta that really scoops up the sauce was the most perfect accompaniment. This recipe and his method for making it is one that I use quite frequently on Sundays as an adult, welcoming my family over to celebrate together and honor my Nonno's legacy in the best place possible: the kitchen!"
Why is Sunday gravy such an important part of Italian-American culture?
The link between family bonding and Sunday gravy can't be denied. Executive chef Jonathan Benno of Benno in New York City explains that, "Just like so many other Italian-American families and chefs, [I believe that] my grandmother truly did make the best Sunday gravy. For us, Sunday gravy represents family and tradition. My sister and I were forced to stay home every Sunday for family dinner – now, I'm thankful for those memories. My grandmother would bring the Sunday gravy, a traditional red sauce or ragu. My aunt would bring a salad, made completely from all of her produce from her garden, and my mom would always do dessert. Sunday gravy is a great addition to any family meal – it's easy, can be extremely affordable to make, [and] can be served with a variety of pasta, meat, veggies, and sides. But, what's really better than a big bowl of pasta on a Sunday, surrounded by family? Nothing."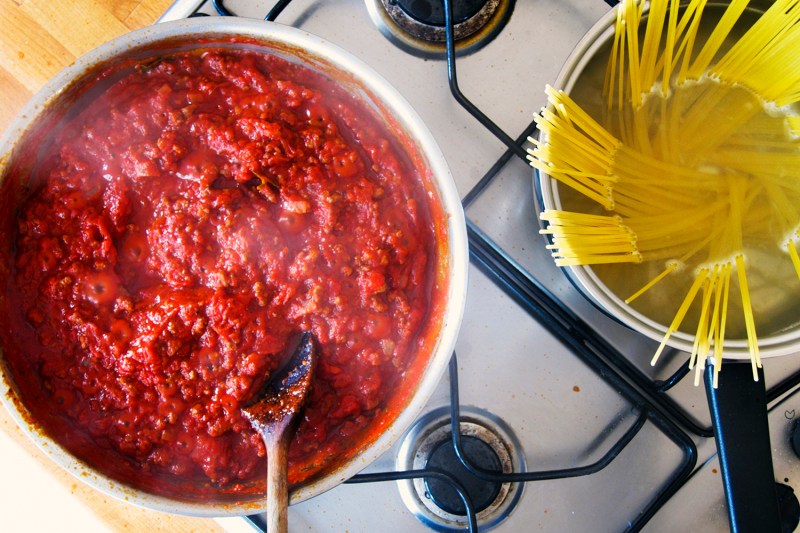 Another Italian-American chef, Jessica Formicola of Savory Experiments, says that "Sunday gravy, to me, represents warmth and comfort. I loved waking up on Sunday mornings to the smell of sautéing garlic and onion in olive oil. The scent is still nostalgic. Everyone's family recipe is different and everyone will claim [that theirs is] the best. The best is really the sauce that brings up emotions [for you]. For me, the trick isn't crazy ingredients or even a long ingredient list. It is simply allowing enough time for the flavors to develop."
Owner Paul Barker of Pauli's in the North End of Boston considers nostalgia the most important ingredient in a Sunday gravy, telling us that "[gravy is] essentially is the centerpiece of what [brings] Sunday dinners in an Italian household together. You can't think of this as just the dish itself; you to need to think of it as both the process and the end product. You need to think of your grandmother, mother, and aunts and uncles in the kitchen laboring over making the meatballs, short rib, pork, sausages and other treasures that will go into the sauce. You need to think about the smell that makes you strategically sneak into the kitchen with a piece of fresh-baked bread your dad brought home from the neighborhood bakery that you use to steal a taste as you run away and get yelled at, but you can't resist, and you think of your entire family sitting, eating, and laughing and loving all around this simple but amazing dish!"
To get the full "Sunday gravy" experience, block off a chunk of time (several hours, at least) and give this traditional recipe a try.
Michael Vitangeli's Sunday Gravy Recipe
(Created by Michael Vitangeli, chef de cuisine, Scarpetta at The Cosmopolitan of Las Vegas)
"Growing up, my family would have Sunday gravy every week after church. The whole family would attend, and my grandmother Emilia would cook. She was my inspiration. As soon as we stepped into her house, the Sunday gravy would fill the entire home with an aroma of braised tomatoes and different spices, herbs, roasted meats and sausages. She made fresh pasta and hung it over a retracting laundry drying rack. The loud roar of the family would turn to silence as we sat down to eat. My favorite memories I have about my life and family growing up were made at that table, with Sunday gravy at Grandma Emilia's house," Michael Vitangeli says the gravy he enjoyed as a kid, which inspires the following recipe.
Ingredients for gravy:
10 lbs peeled San Marzano tomatoes in basil, blended until smooth
1 whole peeled Spanish onion
3/4 of a head of garlic, peeled and shaved
1/4 tsp crushed red pepper flakes
1/4 lb fresh basil
2 tbsp good extra-virgin olive oil
Salt & pepper to taste
Ingredients for Sicilian meatballs:
.5 lb ground pork
.25 lb ground veal
.25 lb ground beef
1 clove chopped garlic, sauteed in olive oil
.25 cup toasted pine nuts
.25 cup raisins
1 bunch chopped parsley
2 oz chopped oregano
2 whole eggs
1.5 cups Italian-style bread crumbs
Salt & pepper to taste
Ingredients for pork spare ribs:
2 lb pork spare ribs, cut into single bone ribs
2 tbsps extra virgin olive oil
Salt & pepper, to taste
Ingredients for Italian fennel sausage:
.5 lb ground pork
.25 lb ground fatback
.25 cup garlic powder
.5 tsp zested nutmeg
1 oz toasted fennel seeds, chopped
1 tsp crushed red chili flakes
2 oz chopped oregano
2 tbsp salt
1 tsp ground black pepper
Pork sausage casings
Ingredients for bracciole:
2 flat-iron steaks, pounded flat
Chopped parsley, to taste
Parmigiano Reggiano, to taste
Salt & pepper, to taste
Method:
Mix all meatball ingredients together in a large bowl and roll by hand into desired sizes.
Mix sausage ingredients in a large bowl and use a sausage-piping machine to fill the sausage casings. If you don't have a piping machine, you can buy pre-cased sweet or hot Italian sausages from the grocer or butcher.
To make the bracciole, generously season the flat-iron steaks with salt and pepper. Next, spread Parmesan cheese and parsley over the flattened steaks and roll them into log shapes. Use trussing string to secure.
Smother the spare ribs with extra-virgin olive oil, salt, and pepper. Spread on a baking sheet and bake at 375 degrees until golden brown.
In a large pot, heat 4 tbsps extra-virgin olive oil at medium-high. Once the oil is hot, add the bracciole and cook until golden brown, then remove from pot and set aside.
Add the meatballs to the olive oil and cook until golden brown, then remove and set aside.
Add the sausages to the olive oil and cook until golden brown, then remove and set aside.
Add the whole onion to the pot and cook until fully browned, then add the finely-shaved garlic.
When the garlic begins to darken, add crushed red pepper flakes, San Marzano tomatoes, and roughly chopped basil.
Reduce heat to low and allow the gravy to simmer. Once the simmering begins (you'll see bubbles appearing in the gravy), add the meats back to the pot and simmer for six hours. Season to taste with salt and pepper.
The gravy will be ready when it reduces by about 25%. At that point, remove the onion from the pot and serve.
Editors' Recommendations