In Scotland, the whisky industry is still dominated by the old guard, distilleries like Glenfiddich and Laphroaig that date back to the early 19th century. Though there is nothing that even comes close to the craft distilling scene that we have here in the U.S., there are some upstart distilleries that are attempting to make their mark on the single malt Scotch whisky field. One such distillery is the Isle of Raasay Distillery located on, you guessed it, the Isle of Raasay just off the east coast of the Isle of Skye. This is the first legal distillery on the island, and its inaugural release whisky is due to be released this Christmas. This lightly peated single malt was aged in ex-bourbon barrels and finished in first fill Bordeaux red wine casks, and will be bottled with no added color and non-chill filtered.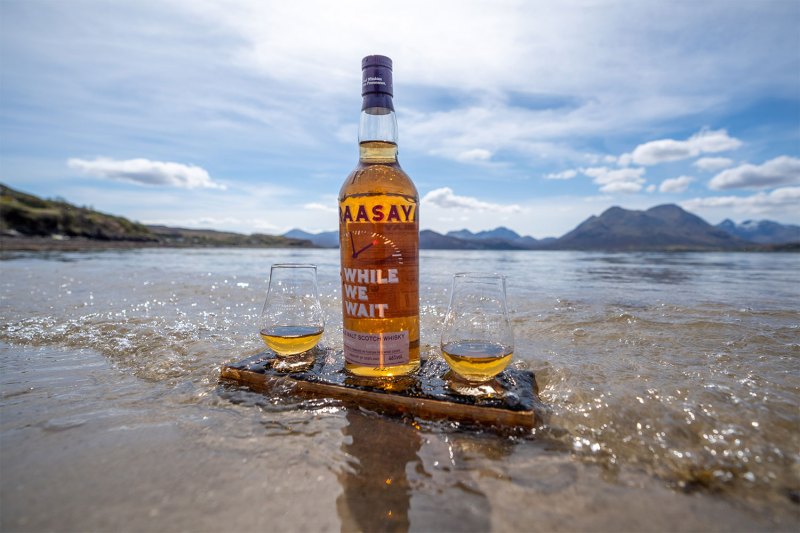 In the meantime, the distillery has also been releasing installments of its "While We Wait" whisky, a single malt that is meant to show the journey from new make spirit to aged final product. The fifth and final release of While We Wait, which ships to 21 states in the U.S., came out a few months ago, a blend of peated and unpeated whiskey finished in French oak Tuscan red wine casks. We had a chance to catch up with Raasay cofounder Alasdair Day to talk about opening a new distillery in Scotland, the evolution of the whisky, and how the distillery has been coping during the pandemic.
The Manual: How difficult is it to open a new distillery in Scotland? There doesn't seem to be anything close to the number of small distilleries that we have here, so I'm wondering if this is because it's difficult to compete with the historic distilleries, or of there are other reasons?
Alasdair Day: Small-scale distillation in Scotland is experiencing a boom at the moment – and that includes Scotch whisky, Scottish gin, and rum, too. With Scotland's reputation for its distilling heritage, history, skills, and high-quality raw materials, there's growing demand for Scottish spirits. The Isle of Raasay, an island in the northwest of Scotland that is rooted in centuries of illicit distilling, is, for us, the ideal location for distilling single malt scotch whisky. The diverse geology of the island creates minerality in our water that develops flavor and character in our new make spirit. We use the same water for cask reduction and bottling, and all our spirit is matured in our island warehouses, maximizing the influence of the local climate and sea air on our whisky, too. Island distilling does pose its challenges, but we are very lucky that the ferry is seldom canceled due to the weather, and that we have some of the best raw materials right on our doorstep. Provenance is everything and we really couldn't ask for much more.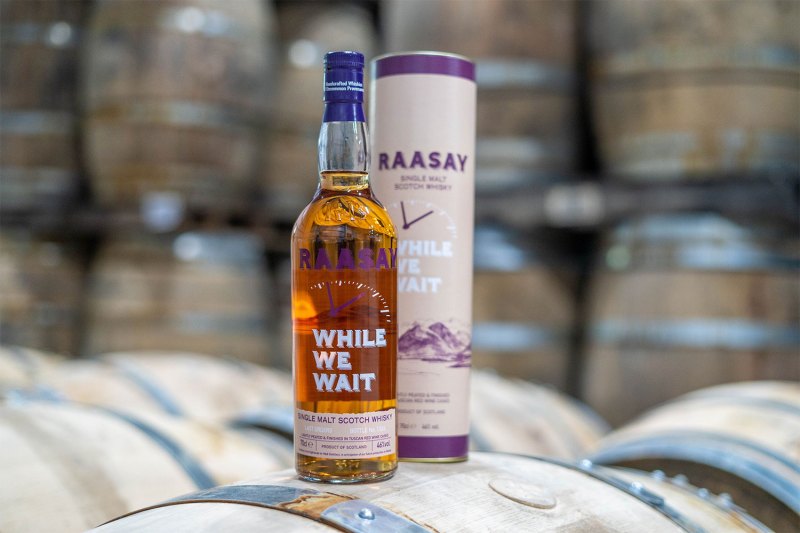 TM: Why did you decide to release While We Wait? Is there a risk in putting out something that will presumably be quite different from the inaugural release, or is it more about taking the consumer on a journey, or showcasing the different styles of whisky you are producing?
AD: There were three main reasons that we released Raasay While We Wait Single Malt in 2015. We wanted to talk about the Isle of Raasay, the distillery we were building, and the style of single malt we were producing on the island. Our Isle of Raasay Single Malt Inaugural Release will be very similar to Raasay While We Wait — lightly peated with dark fruit flavors; matured in bourbon casks, and finished for one year in French oak Bordeaux red wine casks. We also wanted to start developing sales channels and routes to market for our Isle of Raasay Hebridean Single Malt, and to establish that we are a scotch whisky business first and foremost.
TM: Are whisky drinkers in Scotland interested in trying new whiskies from new distilleries? Are there any challenges in getting your name out there?
AD: A lot of Scotch whisky drinkers are always on the lookout for new expressions and new whiskies to try. I think once people sample our signature Isle of Raasay Single Malt in 2021, we will be able to convince some of the more traditional whisky drinkers, who like to stick to what they know and love, to make room for Raasay in their drinks cabinet! Throughout lockdown, we have been doing virtual tastings of our cask samples, and the feedback has been extremely positive.
TM: How has the distillery been affected by the pandemic? I assume it's pretty far removed from any hot spots, but I may be wrong about this, and I know the industry and country overall are feeling the effects.
AD: We closed the distillery and stopped production at the end of March. We also closed our accommodation, visitor center, tours, and distillery shop. The priority was the safety and well-being of our staff, our visitors, and the local Raasay community. We are working on planning how we return to work and production, although we don't know exactly when that will be. It looks like we may well miss the whole of the visitor season for 2020. However, our staff will still be working behind the scenes, adhering to social distancing and health and safety guidelines of course, getting ready to bottle our inaugural release in November this year, so we have lots to look forward to.
Editors' Recommendations