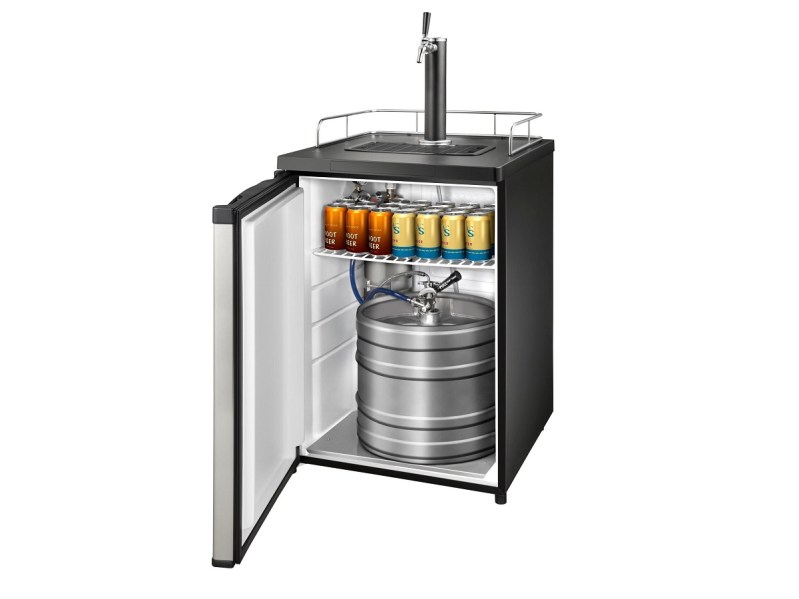 To make sure that you're always ready for a party at home, you're going to want to invest in a kegerator, which is basically a refrigerator with the primary purpose of keeping a keg of beer cold and fresh. Here's a nice option if you're interested in buying one — the Insignia NS-BK1TSS6 kegerator, which is on sale from Best Buy with a $120 discount that pulls its price down to $450 from $570. With an average rating of 4.4 stars out of 5 stars, it's one of the highest-rated kegerators from the retailer, so it's highly recommended that you complete your purchase as soon as possible before stocks run out.
Why you should buy the Insignia NS-BK1TSS6 kegerator
The Insignia NS-BK1TSS6 kegerator with a capacity of 5.6 cubic feet is capable of holding either a 1/2 keg or a 1/4 slim keg, and it can keep the beer at your preferred temperature through an adjustable thermostat. It also functions as a beverage cooler with its pair of wire shelves, which offers additional space for cans, bottles, and other beverages. To serve cold beer from the keg, you'll use the built-in pressurized tap system to pour the drink into your mug, just like they do in bars.
Since the Insignia NS-BK1TSS6 kegerator is equipped with locking wheels, you can take the party to every corner of your home. You also have the option of keeping the kegerator in one place, where it will surely match the room's looks because of its stylish design. The stainless steel door is also reversible, so you can choose to have left-handed or right-handed opening, depending on your preference and the available space for the door.
Everybody loves a mug of cold beer, so buy the Insignia NS-BK1TSS6 kegerator so that you'll always be prepared to serve them. It's currently available from Best Buy at $120 off, which lowers its price to $450 from $570. We're not sure how long this deal will last though, as it's one of Best Buy's top-rated kegerators. Stocks may get sold out as soon as tomorrow, so if you don't want to miss out on the savings, you should add the Insignia NS-BK1TSS6 kegerator to your cart and check out immediately.
Editors' Recommendations