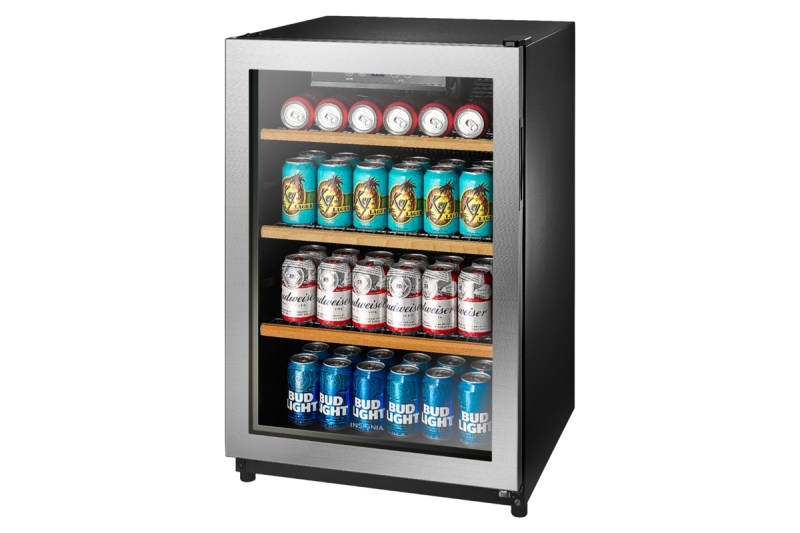 Mancave, office, patio, game room, theater room, or heck, even just a bedroom, these are all perfect places to stow a mini fridge. Why? Because of sheer laziness, maybe a little, but also because it's super convenient to have your beverages and snacks available right there, right when you want them. You don't have to make a trip to the kitchen or anywhere else. Whether for wine, beer, or soda, the best wine coolers and fridges are strangely compact but sizable at the same time — the latter meaning they can hold a few cans or bottles. They're also available at a great price, like the Insignia 130-can beverage cooler available for a discount at Best Buy, right now. Normally $370, you can get it for $320 thanks to the current deal and save $50 in the process. The 115-can variant is also on sale, for $250 saving you $50, as well. Hurry and check those deals out, they won't last forever.
Why You Should Buy the Insignia 130-Can Beverage Cooler
Okay, so, maybe Insignia's 130-can cooler didn't make it on our list of the best beverage coolers for 2023, but that's okay because it's not just comparable, it has a lot of additional features that make it worthy of your attention. For example, the touch controls and LED display make it easy to adjust temperature settings and keep an eye on your cold storage. Plus, there are three fully-adjustable wood-trimmed shelves for the interior, which you can use to organize your snacks, beverages, and whatever else you might store inside.
The reversible glass door can be swapped to open on either side, and with no difficulties. So, if you have to adjust the fridge to open from the opposite direction, there's no need to get a whole new fridge. Memory recall automatically restores the temperature settings after a power outage too, so you don't have to continue fiddling with the controls. LED interior lighting gives the inside a modern look, and makes it easy to see what's stored inside — or pick out beverages if you're a guest.
It holds up to 130 12-ounce cans or offers up to 4.6 cubic-feet of storage. Automatic defrosting keeps the element free from frost, heating it for a short time to melt away anything building up on it. Ultimately, that keeps your cooler working for longer without any temperature issues, regardless of where you place it.
Right now, Insignia's 130-can beverage cooler is just $320, or $50 off. But it's also worth mentioning if you want something a little smaller, the 115-can cooler is also $50 off, for $250. Either way now's the perfect time to grab a beverage cooler for your mancave.
Editors' Recommendations