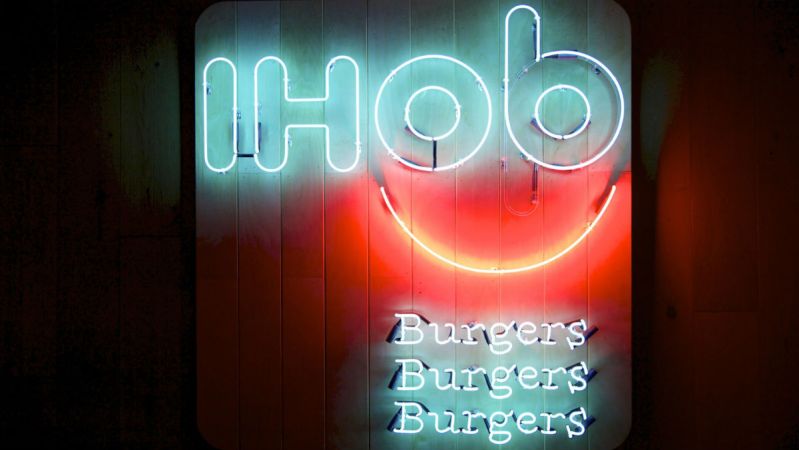 Last week, the most devoted pancake fans across the nation were sent spiraling into a chasm of riddles and quandaries when the diner chain IHOP changed its name and branding to IHOb across all social media platforms.
With no more "P" for pancakes, what in the world could the "B" stand for? (Bacon? Bourbon? We wish.) More than 30,000 people speculated online.
This week, the company finally broke its silence on the mystery "B." In place of pancakes, burgers have taken the lucrative spot at the acronym's tail, making it the International House of Burgers. To be honest, we don't know how we feel about that.
We aren't the only pancake-lovers left emotionally confused. One Twitter user wrote: "IHOb is the biggest disappointment of 2018; catch me at Denny's."
ihob is the biggest disappointment of 2018, catch me at denny's

— Bryana Salaz (@bryanasalaz) June 11, 2018
Another made the tongue-and-cheek comparison to Snoop Dogg, aka Snoop Lion.
"IHOb" is the best rebranding since "Snoop Lion"

— JonTron (@JonTronShow) June 11, 2018
One scorned pancake fan posted a disgruntled vlog while another wrote, "Slap me across the face if you ever actually hear me say 'IHOb' out loud."
slap me across the face if you ever actually hear me say "iHoB" out loud

— nathan zed (@NathanZed) June 11, 2018
Before you freak out and jump on the #RIPancakes train, IHOP — as the official website is still named — will continue serving pancakes and trademark breakfast foods, remaining consistent with the first restaurant opened in 1958 in Burbank, California. The profound moniker change was simply a marketing ploy to celebrate the debut of IHOP/IHOb's new Ultimate Steakburgers, a lineup of seven all-natural burgers made of 100-percent USDA Choice Black Angus ground beef.
IHOb steakburgers will be "smashed on the grill to sear in the juices and flavor before being topped with premium ingredients and sandwiched between a buttered and grilled Brioche bun," says a press release for the restaurant chain.
Burgers have taken over — or, at least, they will begin to make up a larger part of IHOP's business. This makes sense considering breakfast is only one meal of the day.
"To show the brand is as serious about burgers as it is about its world-famous pancakes, a flagship IHOb restaurant in Hollyburgerwood, California, has also been completely re-burgered and will play host to the VIB launch party the evening of June 11," says the release.
Those of us not in Los Angeles will be able to get in on "burgermania at IHOB," by checking out the new Ultimate Steakburgers at locations nationwide. For a limited time, these burgers will come with unlimited fries.
Perhaps this name change is all our fault. Indeed, we have done a poor job at remembering IHOP offered more breakfast. Now the diner has taken drastic action, much like a teenager who pierces his nose to remind his parents he's more than a kid.
We hear you loud and clear, IHOb. So long as you don't get rid of free pancake day and the tray of flavored pancake syrups, we'll accept the new you with open mouths. At least until you change your name back IHOP.
Editors' Recommendations