In recent years, the world of Chinese restaurants in America has gotten infinitely more exciting and diverse. While Chinese restaurants have mostly been labeled as either cheap eats or strictly traditional, countless concepts have popped up in the last few years pushing modern innovation and fine dining, many featuring boundary-pushing chefs and styles imported directly from China.
Most Chinese restaurant concepts have focused on the savory. However, Hutong New York, a fine-dining Chinese restaurant known for its Flaming Peking Duck, is exploring an often unexplored facet of Chinese cuisine by unveiling its intriguing new Treasure Bowl dessert. The aptly named Treasure Bowl is entirely dedicated to exploring a variety of Chinese desserts.
"I am thrilled to present the exquisite Treasure Bowl," said Conn Zhang, the Executive Pastry Chef of Hutong NYC. "A dessert that holds a special place in my heart. Drawing inspiration from Chinese tradition and my cherished childhood memories."
The inspiration behind the desserts
Anyone familiar with traditional Chinese cuisine is fully aware of the plentiful varieties of sweet dishes and pastries. Eight Treasure rice pudding, mooncakes, and sweet soups made from green or red beans are famous throughout China. However, besides mooncakes, most of these items aren't well-known outside of the Chinese community, lacking the cross-cultural penetration of Korean or Japanese sweets. In Zhang's opinion, there's a lot of potential for a modern Chinese dessert movement.
"I do believe there's potential for Chinese desserts in a more modern form," Zhang said. "In fact, there's a growing interest among young Chinese pastry chefs in learning techniques from France. Many of us dream of presenting Chinese ingredients, cuisine, and culture in our own desserts, and I believe this trend will continue to grow in the near future."
The first thing to understand about the Treasure Bowl is that despite its almost futuristic presentation, the flavors and ingredients are deeply rooted in Chinese cuisine, using ingredients like rice, sesame seeds, and soy. Combining all these inspirations, Zhang also implements her personal memories of Chinese food. For instance, the Bao & Soy, molded to present as a Chinese steamed bun, a popular breakfast food, is transformed into something creamy and decadent with white sesame Chantilly, salted caramel, sesame cake, praline, and soy milk ice cream. Another item, the Mala, mixes classic numbing Sichuan peppercorns with rich chocolate ganache and sour plum sorbet alive with Hawthorn, licorice, and tangerine peel, creating an intriguing combination that's intense and familiar to those well-versed in Chinese flavors.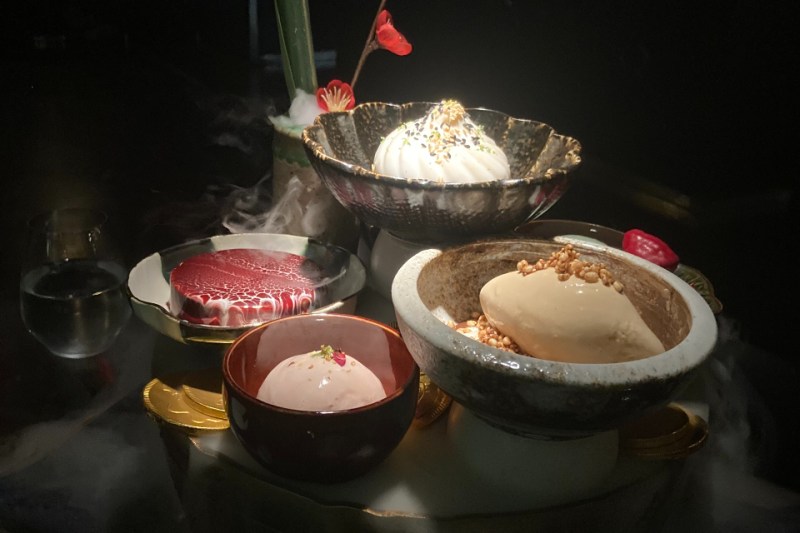 The taste test
If you're lucky enough to visit Hutong and try the Treasure Bowl, be sure to save room. While individually, these items aren't huge, the Treasure Bowl includes all four standout dessert items along with various ice creams, sorbets, and chocolates. It's definitely a feast for anyone with a sweet tooth and a must-try, even in the plentiful world of New York City restaurants.
But if you're worried about everything being too cloyingly sugary, rest assured it's quite balanced. There's a strong foundation of savoriness in the desserts, aided by the inclusion of ingredients like sesame, soy milk, salted caramel, and the slight bitterness of finger limes. While all the items were good, one stood out — a dish nostalgically named Childhood.
"It is inspired by my memories of growing up in China," Zhang said. "To the smells of popped rice, I have carefully crafted it with vanilla riz au lait, toasted rice ice cream, dark maple granola, butterscotch, and limes. Each bite is a trip down memory lane, evoking the flavors and textures that I cherished during my childhood days."
In this sense, the Treasure Bowl is a glimpse of what modern Chinese desserts can be, as a mixture of traditional and modern, all accentuated by the personal creativity of the pastry chef. In Zhang's case, this passion is why she created these desserts in the first place.
"As I present these creations to our guests," Zhang said. "I am filled with joy knowing that I am able to share a part of my Chinese heritage and my own personal nostalgia through these desserts. The Treasure Bowl is not just a culinary delight but a reflection of my passion for blending tradition and innovation in the world of desserts."
Editors' Recommendations