If it weren't for Ikea, would the majority of Americans know the joy that is a plate full of Swedish meatballs? Maybe, maybe not. What we do know, though, is that Swedish meatballs are delicious and perfect to make when you need to entertain a crowd (or you're just really, really hungry).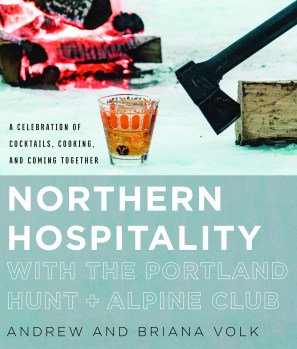 Now, if you're wondering what makes Swedish meatballs different than the meatballs you'll find atop a heaping plate of spaghetti, it comes down to the sauce and what they're paired with: Swedish meatballs are typically served with a cream-based gravy and potatoes or pasta. Pickled vegetables are an option. Size comes into play, too, but not to the extent as the meatballs' accouterment.
It is that cream gravy and the mix of pork, beef, and veal that make a plate of Swedish meatballs so delicious. Thankfully, making Swedish meatballs is not all that hard. With a little bit of time and know-how, you'll be churning out meatballs that would make Dolph Lundgren jealous.
This recipe for Swedish meatballs (as well as the demi-glace, meatball sauce, and spaetzle recipes for a complete meal) come to us from the new book, Northern Hospitality, which was published by Andrew and Briana Volk, the creators of the Portland Hunt + Alpine Club in Portland, Maine. The bar is a two-time James Beard Award finalist and offers not only top-notch spirits and cocktails but Scandinavian food to go with those tipples. Northern Hospitality is the duo's first book and offers a look at the power of good drinks, good food, and good company.
Swedish Meatballs
"Swedish meatballs are a classic that almost everyone has enjoyed at some point. We prepare ours a using a blend of meats and spices and serve them over homemade spaetzle. It's a hearty dish that can work as a filling appetizer or as a main dish and has been incredibly popular since making its debut on the Hunt + Alpine menu. This is a crowd pleaser that will stick to your ribs."
(Yields: 4 servings or about 12 meatballs)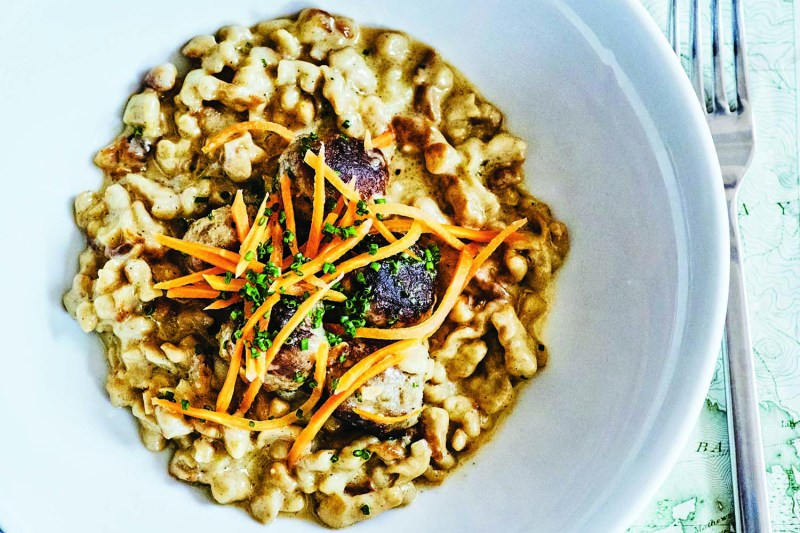 Ingredients:
2 cups panko
.25 cup milk
.5 lb ground pork
1 lb ground veal, beef, or venison, or a mixture
2 egg yolks
.25 cup grated Parmesan cheese
.25 tsp ground nutmeg
1 tsp black pepper
5 tbsp salt
Method:
Preheat your oven to 350 degrees Fahrenheit, and line a large rimmed baking sheet with parchment paper. Set the baking sheet aside.
Add the panko and milk to a small mixing bowl. Mix briefly and allow to sit for a minute. You want the milk to hydrate the panko until it's porridge-like.
Combine the pork, veal, eggs, and panko mixture in a large bowl or in the bowl of a stand mixer. Mix by hand or with the paddle attachment on low speed until fully incorporated. Add the cheese, nutmeg, pepper, and salt. Turn the mixer off and scrape down the sides with a spatula. Run the mixer on medium speed for 1 minute, or combine by hand.
Use a spoon to scoop the meatball mixture and form each meatball gently by hand (we like large tablespoon-size meatballs). Space the meatballs 1 inch apart on the prepared baking sheet.
Bake for 15 minutes for tablespoon-size meatballs. (It may take longer if you make larger meatballs.) They should read 165 degrees with an instant-read thermometer.
Demi-Glace
5 lb beef marrow bones
2 cups dry red wine
1 tbsp neutral oil
2 large onions, chopped
2 large carrots, chopped
1 bunch fresh thyme (or a pinch of dried thyme)
Method:
Preheat the oven to 350 degrees F. Roast the marrow bones on a large rimmed baking sheet until dark brown, about 20 minutes.
Meanwhile, heat the oil in a large pot (the marrow bones will need to fit after they've roasted) over low heat until shimmering, add the onions and carrots, and cook until they start to caramelize, about 15 minutes.
Once the onions are golden brown, add the red wine and continue to cook. Increase heat to medium and cook the liquid until it is thick, fragrant, and reduced by more than half, approximately 10 minutes.
By now, the marrow bones should have finished roasting. Add them to the sauce along with any liquid that has roasted off and enough water to cover the bones. Bring the sauce to a simmer and skim the foam and impurities from the surface from time to time, simmering for approximately 15 minutes.
When the broth is thoroughly skimmed and at a simmer, add the thyme. Turn up the heat and bring to a boil.
Cook until the broth has thickened, approximately 20 minutes. Using a strainer set over a large bowl, strain the broth and discard the bones. Return the strained liquid to the pot and reduce by half. Remove from the heat and set aside until the rest of the Swedish Meatball Sauce (recipe follows) is ready for it.
Swedish Meatball Sauce
Ingredients:
4 tbsp butter
1 large onion, finely diced
.25 cup Demi-Glace (recipe above)
1 qt heavy cream
Salt to taste, approximately 1 tsp
Freshly ground black pepper,to taste, approximately 1 tsp
Pinch of freshly grated nutmeg, approximately .25 tsp
Method:
In a large pot, melt the butter over low heat and add the diced onion. Sweat the onion until it turns translucent, about 12 minutes.
Increase the heat to medium-high. Add the demi-glace and cream. Bring the mixture to a simmer.
Season with salt, fresh cracked pepper, and nutmeg.
Spaetzle
Ingredients:
3 cups bread flour
1 cup rye flour
1 cup milk
8 eggs
.5 tsp nutmeg
Pinch of salt
Pinch of freshly ground black pepper
Method:
Combine the bread flour, rye flour, milk, eggs, and a pinch each of salt and pepper in the bowl of a stand mixer. Using the paddle attachment, mix for 5 minutes on low speed. If mixing by hand, combine all ingredients into a large bowl and stir until evenly mixed.
While the mixer is running, put a large pot of lightly salted water over medium-high heat and bring to a boil.
Stop the mixer after 5 minutes and wait for the water to come to a boil. Prepare an ice bath for the finished spaetzle and set it aside. Once the water is boiling, working in small batches, push the spaetzle dough through a perforated pan into the pot of boiling water. You can use a dough scraper to help push the dough through. Work in batches so as not to overfill your boiling water. You should aim to create 1 layer of spaetzle per batch.
Cook about 4 minutes, until spaetzle floats to the surface. Immediately remove the spaetzle with a slotted spoon or strainer and transfer to an ice bath. Repeat with the remaining spaetzle dough. When finished, strain any excess water and toss with a neutral oil before serving.
Swedish meatball recipe reprinted with permission from Northern Hospitality by Andrew and Briana Volk. Voyageur Press, 2018. Photo credit: Peter Frank Edwards.
Editors' Recommendations