Let your Francophile flag fly this Christmas and cook goose (or oie, if you're fancy and happen to know Old French). Goose is a common meal served in France during the holidays, enjoyed for its gamey and strong bird flavor, closer to fine red meat than a turkey or seafood dish.
The Manual leaned on skilled Chef Max Mackissock of Morin (a modern French restaurant in Denver that experiments and updates traditional French cuisine) for two Christmas goose recipes — one easy and one more difficult — that will wow family, friends, and most of all, mom.
Mackissock adapted his insane goose recipe from Morin's holiday Joie de Noël menu because let's be real, our kitchen talents are admittedly more Guy Fieri than Joël Robuchon — not that there is wrong with the Mayor of Flavortown.
But, with so many options for Christmas meals, why choose something as different as a goose?
Because it'll make you step out of your comfort zone, bucko. "It's really not as hard as people think," Mackissock says. "It's also healthier."
Tips for Cooking a Goose
Buy a good goose. Mackissock suggests purchasing a bird online from D'artagnan out of New York. Short on time? Run to Whole Foods, but do not buy frozen or it'll taste astringent.
Plan to cook the legs and breast separately. "Especially with larger birds like turkey and geese, I recommend roasting the legs and breast apart since they like to cook at different temperatures," Mackissock says. "Legs need to go to a higher temp to cook through and be tender."
Goose is really only available during the holidays on a consumer-retail scale, so take advantage!
Now, let's get to cooking that bird.
Goose Recipes
Seared Goose Breast
Start your recipe 2 days before you plan to cook. Rub in koji (can be ordered online) to denature the raw goose protein once per day; remove with damp towel and store in fridge.
Ingredients for the Stock:
1 goose
Honey (for garnish)
Crystalized ginger (for garnish)
Pink peppercorns (for garnish)
3 goose bones
1 onion
2 carrots
2 celery stalks
Ingredients for the Sauce:
16 oz reduced goose stock
10 oz cubed cold foie gras
1 oz sherry vinegar
1 tsp salt
Method:
For the stock, remove the breast and cut up the legs and wings on the joints.
Cook the stock for 4 hours; strain and reduce by half (this will serve as the base for sauce).
Put the foie, vinegar, and salt in a high-powered blender.
Slowly pour in hot reduced stock and blend for 30 seconds on high.
Now cook the breast by seasoning with 1 teaspoon salt and place into cryovac bag and cook for 1 hour at 128 degrees Fahrenheit.
Remove from bag and over medium heat in a nonstick pan, cook until crispy. Glaze with honey, crystallized ginger, and pink peppercorns. Serve and enjoy!
Kale-Wrapped Goose Sausage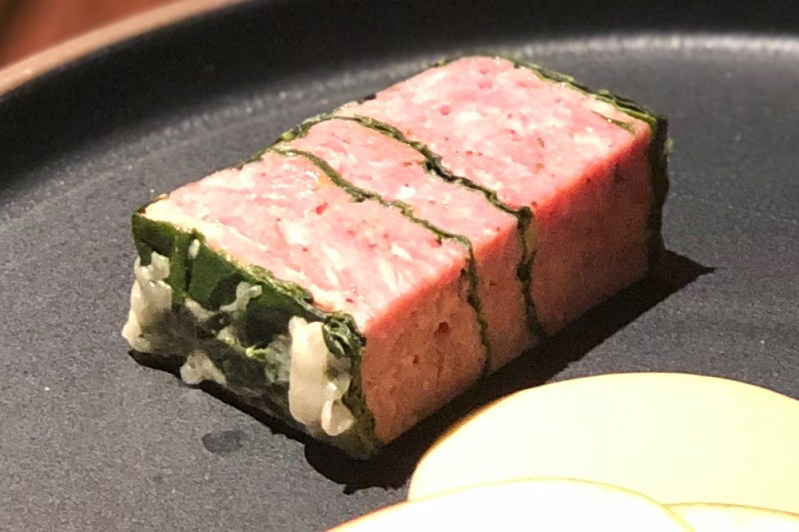 Ingredients:
.5 lb goose meat
.5 lb pork meat
.25 lb back fat
7.5 g large kosher salt
6 g chopped garlic
2.5 g chopped sage
1 g white pepper
2.5 g dried juniper berry — ground in spice grinder
3 g orange zest
Method:
Begin with the meat by cubing, mixing, and partially freezing (you want to keep the fat cold so it does not melt).
Remove the meat from the freezer and mix in all herbs & aromatics.
Grind on medium die first, then do a second grind on smaller die.
Put back in fridge post-grind for 5 minutes.
Paddle in KitchenAid for about 30 seconds until the mix is somewhat sticky (you're breaking down the myosin). (Pro tip: keep the meat as cold as you can throughout the process.)
Clean and de-stem kale leaves then blanche in salted boiling water for about 15 seconds. Shock in ice bath and remove.
Line terrine mold first with plastic wrap (or caul fat) then line terrine walls with kale leaves; add in meat mixture then top w/kale leaves and the terrine lid.
Cook in water bath until 140 degrees F.
Let cool in terrine. Remove, then slice and serve.
Editors' Recommendations