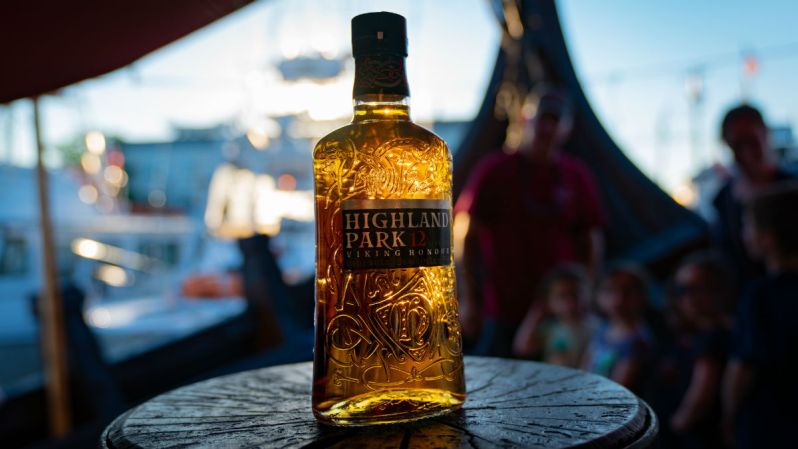 Want to be a Viking? Great.
Highland Park single-malt Scotch whisky from Orkney, Scotland, is helping us channel our inner Norse seafarer by partnering with the Draken, a genuine recreation of a Norwegian Viking ship that is sailing from Maine to South Carolina on a four-month, whisky-fueled cruise.
Take that, Carnival. *Viking wail*
Bring your horned helmet (although there's no evidence Vikings actually wore them) and join the Draken Harald Hårfagre Expedition America East Coast Tour 2018, which set sail on July 9.
"The Draken ship and its journey exemplify the spirit of the modern­day Viking and everything that Highland Park stands for: determination, adventure, quality craftsmanship, and rich history," says Martin Markvardsen, Highland Park senior global brand ambassador.
Fun fact: Highland Park's founder, Magnus Eunson (not enough dudes are named Magnus anymore), was a direct descendant of the Vikings who settled on Orkney over 1,000 years ago.
The founders of the Draken began the creation of what would become "the largest modern-built Viking ship in the world" in 2010, relying on their expert knowledge of Viking history, Norse sagas, and traditional boat-building. Come 2012, construction was completed; the ship came measured 115 feet long with a 26-­foot beam, 79-­foot mast, and 160 square meters of silk sails. In 2016, the Draken off for its inaugural trans-Atlantic crossing from Norway to the U.S., the same journey taken by OG Vikings discovering the New World over 1,000 years ago.
The Draken's 2018 Highland Park tour will see the massive Viking ship visit 14 East Coast harbors over the span of four months. Each port will hold an arrival ceremony where attendees can board the Draken and explore the deck, talking with the captain and crew as they share their experiences on this revived legendary sea vessel. Take a load off for the screening of the new Draken documentary and meander the "Viking Village" (there's food and, most importantly, Highland Park whisky).
Now. if only I could find my old buffalo horn cup …
Editors' Recommendations