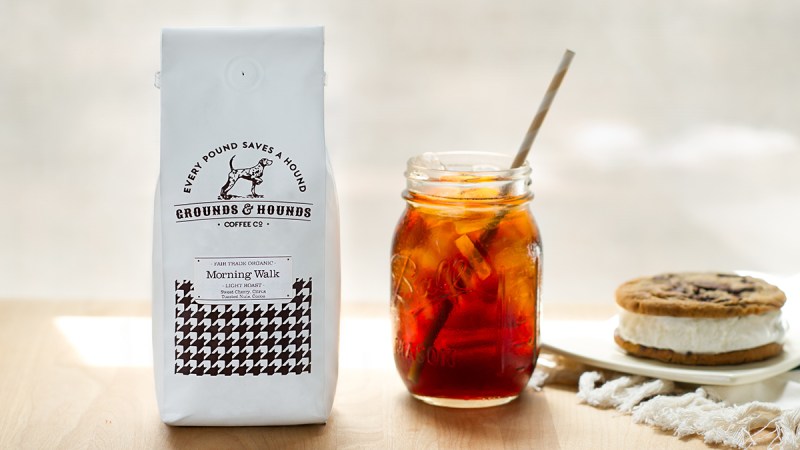 Molly, the plucky brown and white Dalmatian, may not realize it, but she's changed the lives of thousands of animals. She's also keeping humans caffeinated. Molly is the dog behind Grounds & Hounds, the coffee company that gives back to animal organizations around the country.
Like many great love stories, when Jordan Karcher left his Santa Monica home in 2012 he had no idea he was about to fall in love. It was just a normal morning until he walked by an animal adoption event and a malnourished Dalmatian named Molly made her way onto his lap–and then quickly into his heart and home. Admittedly, Karcher fell in love with coffee first at the tender age of 12, but it was Molly who launched the Grounds & Hounds Coffee Company. Well, no Karcher did that part– (Dalmatians are notoriously bad at paperwork)– but she inspired it.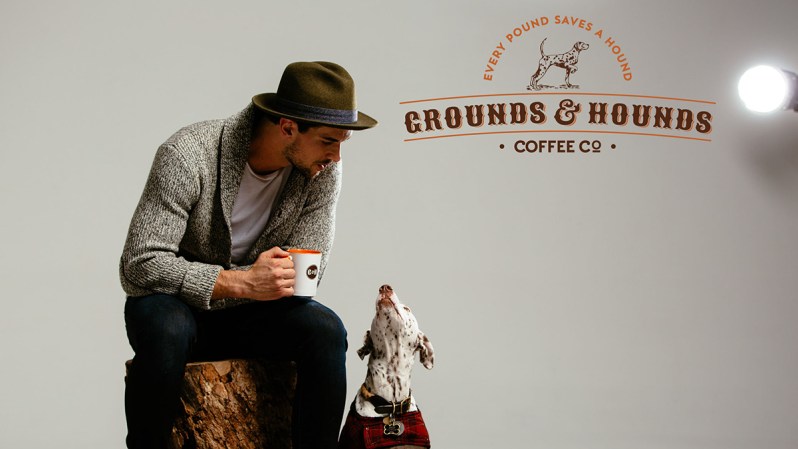 Karcher started Grounds & Hounds to provide great coffee that also benefits animals. The company offers a variety of blends as well as single origin coffees. And, because Karcher cares about people as well, all the coffee is certified Fair Trade Organic. The blends are cleverly named, like Alpha, Papers & Slippers, and Morning Walk Breakfast Blend and are made up of beans from some of coffee's heaviest hitters. Alpha is, fittingly, their darkest blend made with coffee sourced from Colombia, Guatemala, and Sumatra, with a sweet and smoky taste. Paper & Slippers uses light and darker roasts for a full body and berry notes, using beans sourced from Peru, Nicaragua, and Mexico. Morning Walk is designed to be perfect for your day's first cup, full of citrus and nutty flavors, using Guatemalan, Peruvian, and Sumatran beans.
If you're a single origin coffee drinker, they offer plenty of options from places like Peru, Colombia, even Papua New Guinea and Ethiopia. Karcher also remembered decaf drinkers with the single origin Peruvian decaf coffee. Most 12 ounce bags of dog-saving whole or ground beans costs just $14. A six ounce single blend, like the one from Papua New Guinea, is only $9.50. Or, do yourself a favor and subscribe so you never run out of coffee (and save yourself as much as 15%).
A whopping 20% of these proceeds go to one of Grounds & Hounds partners who work tirelessly to find homes for animals, rescue animals, stride closer to a no-kill policy, even provide veterinary care. They partner with organizations all over the United States, including the Charleston Animal Society, Badass Brooklyn Animal Rescue, Humane Society of Indianapolis, Adore-A-Bull Rescue, Pet Refuge, Wags and Walks, and Secondhand Hounds to name a few.
One of the coolest things about Grounds & Hounds is they look at your shipping address and give the 20% you generated for them to the closest organization near you, allowing your dollars to directly benefit the animals in your community.
If you love coffee and you love dogs, you've found your new favorite cup-a-joe. Toast to Molly and Jordan.
Editors' Recommendations