There are numerous variables that go into making a good piece of grilled meat. There's the grill, obviously, and the type of fuel, and there's even the cut of meat (not all cuts are created equal). One company is making the push that there is something else that is the key behind a good grilling sesh: the grill grate.
The company, GrillGrate, is on a mission to show that it isn't the fuel source that drives the flavor, but it's the drippings from whatever you're cooking. Dripology, they call it. To prevent juicy droplets of deliciousness from falling onto the coals or into the oblivion of a propane flame, The company says this design allows for the best of all forms of cooking, including conduction, convection, and radiant heat. Together, these various methods create a juicier and more evenly cooked product.
Made of anodized aluminum, GrillGrate products have grooves that catch the droplets coming off whatever you're cooking. From there, moisture and flavor are radiated back up into the food without having to worry about any flare-ups from the heat source below. (Who hasn't had one hot dog consumed in flames as if possessed by the devil while the rest quietly cooked on?)
GrillGrate offers numerous benefits beyond juicier meat (though, to be fair, if something helps give you juicier meat, that's a pretty great reason to get it). According to the brand, your grill will run hotter (from 100 to 350 degrees Fahrenheit hotter) and heat up/cool down quicker, saving you time and money in the long run. Finally, GrillGrate also helps on a very, very practical level: If you're one to grill veggies or other small items, GrillGrate prevents those foods from falling between the grates.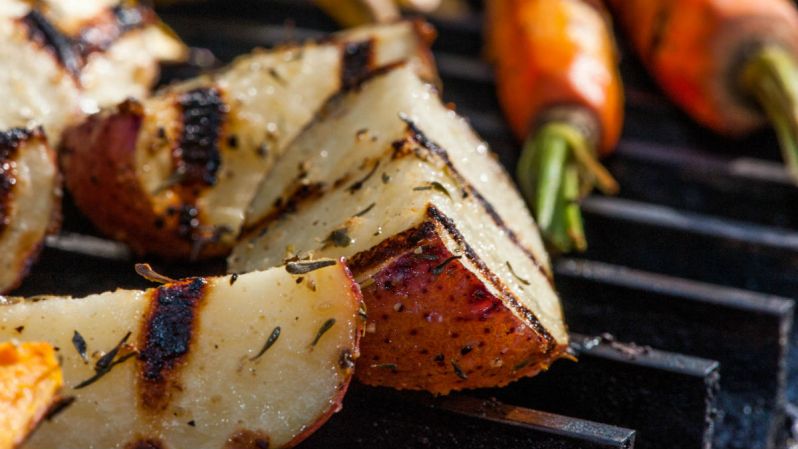 Aesthetically, a GrillGrate — as a normal grill does — gives killer grill marks, so there's no need to worry about missing out on those key Insta moments at summer barbecues.
So, what does this all mean? If you're a serious pitmaster who takes great joy in managing one's heat levels (as well as every other aspect of the grilling process) a GrillGrate might not be for you. But, if you're a casual griller who loves some cooked meat but maybe wants it to be a little easier (there's beer-drinking to do!), then a GrillGrate might be your new best friend this summer.
GrillGrates come in several sizes and are made for every major type of grill. They can be purchased here.
Editors' Recommendations