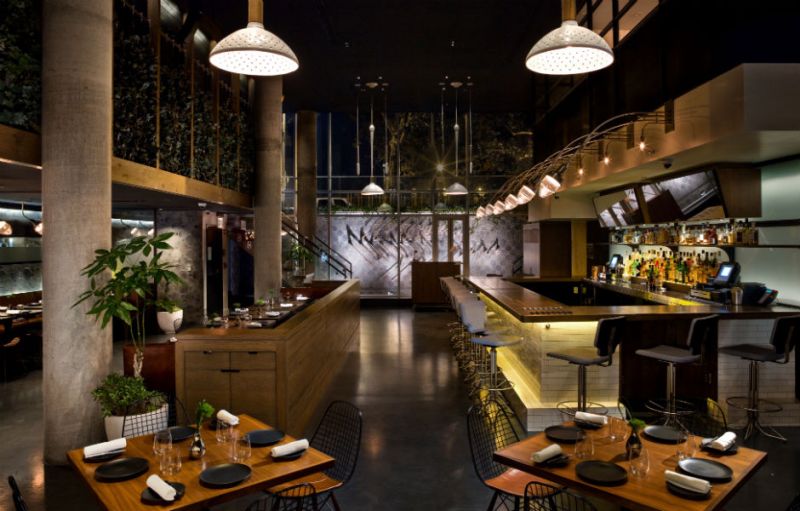 Chef Paul Liebrandt honed his skills under some of the greatest Michelin-starred restaurants, from Paris's Restaurant Pierre Gagnaire to Marco Pierre White to Le Manoir Aux Quat'Saisons in Oxford to Pied à Terre in London, and on top of the Liebrandt became one of the youngest chefs to earn a three star New York Times review.
So it's no wonder that his latest venture, The Elm, which is tucked away in King & Grove in Williamsburg, Brooklyn, is attracting throngs of foodies from around the globe. There, Liebrandt serves up what it refers to as "classic, yet forward-thinking French fare." The small menu is divided up into four sections: Land, which has dishes like Foie Gras with black trumpet mushroom, sake cremé, and green apple; Sea, which offers a Salt Cod with gnocchetti sardi, broccoli rabe and soppressata; Land, which has Duck with endive, cardamom yogurt and pomegranate jus; as well as a sharing menu that has a to-die-for Lobster Cassoulet. If you're up for something a little more special, there's the eight-course menu at Little Elm, which only seats eight diners at its tiny tasting counter.
Here, Liebrandt tells The Manual which items you should try off The Elm's spring menu, which he says "represents the first spring's bounty and is symbolic of our own interpretation of the season," and, "is meant to uplift the guest and excite their palates and imagination of what spring and summer has to come."
Asparagus Salad: Spring Peas, Radish, Red Watercress
"Each year the winter's snow melts and makes way for a rebirth of life in the fields, mountain sides, and green markets. The asparagus salad is representation of that rebirth. It focuses on the year's first asparagus, sweet peas, and wild field greens. It is bright, vibrant, texturally diverse, and flavorful."
Striped Bass: Mustard Greens, Black Garlic, Pomme Purée
"April marks the annual run Wild Striped Bass up the Hudson River. As a native to the Hudson Valley, it has always symbolized spring and pointed towards warmer weather to come. It is paired to spicy mustard greens to tickle the palate and black garlic which brings a rich earthiness to the dish."
On the tasting Menu:
Rabbit & Peas
"Few things say Spring more than images of a rabbit is a field or racing through a vegetable garden. The tasting menu finishes with rabbit roulade, sugar snap peas, sheep milk agnolotti, and morel mushrooms."
If you want to get a refreshing cocktail to pair with your meal from the Elm's happy hour menu, beverage manager Marcus Bifaro, who got inspired by Liebrandt's fresh menu, says his menu is all about "really simple easy drinks that can be enjoyed at the end of the day," recommends the Joan Rivers and the Huckleberry Mojito. The Joan Rivers is one of my favorites though, its very refreshing with grapefruit and prosecco," he says. "I've been making that cocktail for years and its always one of the best sellers. The Huckleberry Mojito is also a great because of the uniqueness it achieves.
For more information, visit theelmnyc.com.
Editors' Recommendations