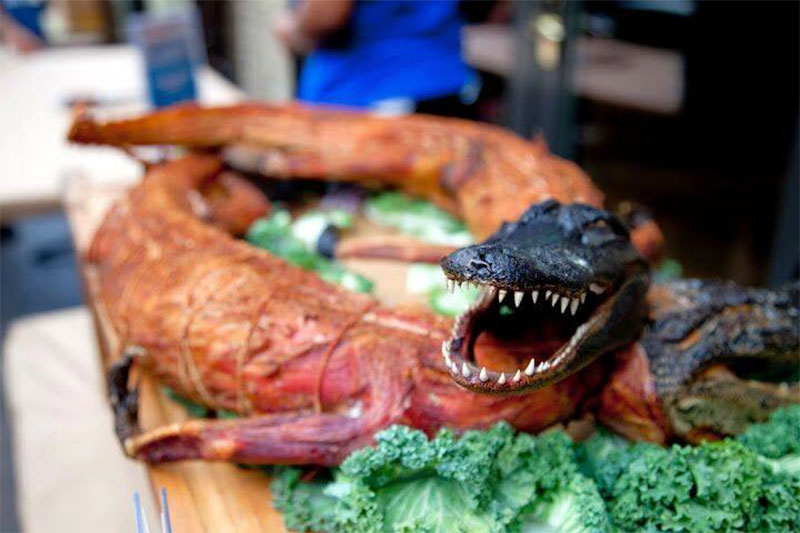 Pig roasts, hot roasts, luaus — whatever you call them, they're a popular shared culinary tradition in cultures around the world. It seems the primal desire for savage, Lord of the Flies-style dining is deeply ingrained in us as humans. But it's rare to find a full-on pig roast at a gourmet restaurant in the middle of a city; and rarer still to find a restaurant that also offers whole goats, antelope legs, and even entire chicken-stuffed alligators. Such is the case at Chicago's Frontier, though, where they proudly encourage guests to eat outside their comfort zone.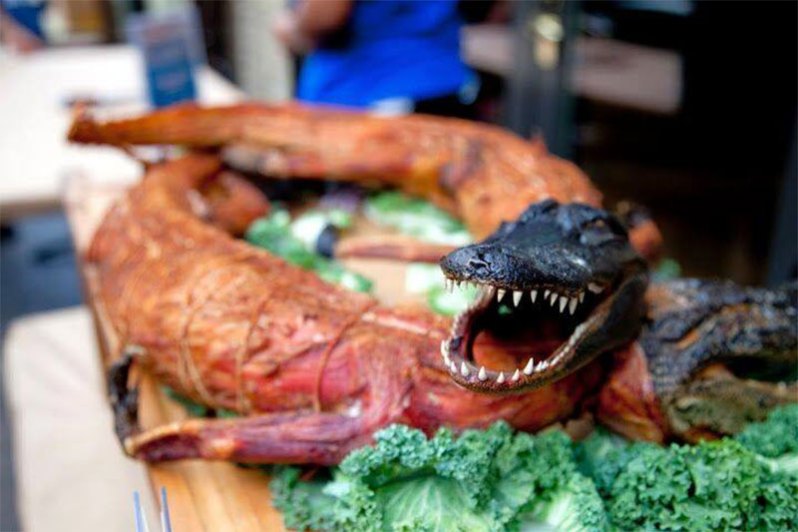 If you're looking to really impress two dozen of your closest friends with dinner in the Windy City, sharing a few deep dish pies is hardly the way to go. Frontier Chicago boasts a one-of-a-kind dinner that's unlike anything you'll find in almost any American city. The Whole Animal Experience can generously feed up to 25 people. The experience starts by choosing your main course. Entry-level options include farm-raised pig, wild boar, and whole goat (if, at this point you're thinking, "Wild boar is entry-level?" strap in, it's about to get wild).
For the more adventurous, a giant salmon (feeds up to 12 adults), a whole antelope leg, and Frontier's Select Trio (a gamey medley of goat, boar, and wagyu beef) are also available. But, the big get is the restaurant's wild-caught Louisiana alligator. It's slathered in a house marinade, stuffed with whole chickens (take that, turducken), then roasted and smoked over apple and cherry wood. Frontier promises the meat tastes a lot like pork or chicken with far less fat and cholesterol. And you get to say you ate a whole freaking 'gator, so there's that.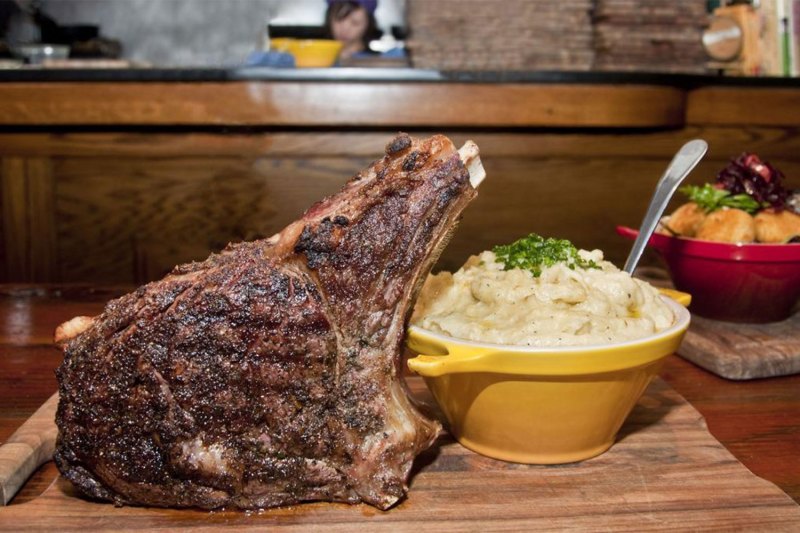 Every beast is served family-style with a carefully chosen selection of hearty side dishes. The wild boar, for example, is accompanied by Southern-inspired five-cheese mac, seasonal vegetables, and buttered rolls. The whole salmon is backed with Acadian green rice, green beans with lemon and candied pistachios, and smoked shrimp and dill potato salad. The 'gator comes with shrimp and sausage jambalaya, five cheese mac, Caesar salad with polenta croutons, seasonal vegetables, and buttered rolls with herb butter. Frontier also encourages guests to punch up their experience with add-ons like char-grilled oysters, roasted pig face, and house-made punch bowl concoctions.
Pricing for Frontier's Whole Animal Experience starts at $400 which feeds at least you and a dozen of your friends (or one Adam Richman). But, the restaurant's more exotic offerings — the shrimp boil and whole alligator, in particular — are sold at market price. Whichever you choose, you'll need to secure your reservations at least three days in advance (some animals take longer), and plan to arrive very, very hungry.