Ok gents, you may need to stop everything you are doing and just focus on this amazingness for a minute.

Our man, Chef Daniel Doyle, at Poogan's Smokehouse in Charleston, South Carolina, has created the meatiest monster sandwich we have ever encountered.

A native to the Lowcountry, Doyle has been cooking at local institution Poogan's Porch since 2007 and bounced over to the Smokehouse when it opened in 2015. This airy industrial space in the heart of the French Quarter has been buzzing since day one. While their happy hour is well known on the peninsula, the cooking of course is the big draw. Doyle's main focus is to source local products and consciously-raised meats, not to mention his 'Hash, Belly and Bird' has reached iconic status.

As for the Four Porksmen, we asked Doyle where he got his inspiration from: "The backstory on the sandwich is simply that we really wanted to add a signature item that stood out on our menu, something that was just fun and over the top, yet still cool and crowd pleasing. So we had a little fun in the kitchen and the Four Porksmen was born!"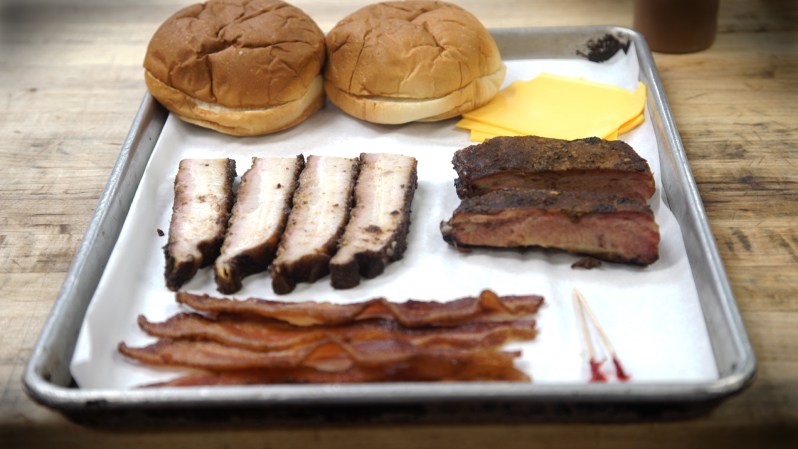 I have indeed sunk my teeth into one of these and a) needed a cold beer to wash it down and b) nearly had to call out for the rest of the day. What makes this sandwich so over-the-top is the St. Louis rib as a final 'garnish'.  Also worth mentioning is the unapologetic use of cheap ole American cheese. No fancy French stuff here, just the good ole bright yellow square you grew up with.
Ingredients:
Pulled Pork
Smoked Bacon
Pork Belly
American Cheese
Poogan's Signature BBQ sauce
King's Hawaiian Bun
St. Louis Ribs
Method:
Layer pulled pork on bottom Hawaiian bun
Add a layer smoked bacon
Add a layer of American cheese
Top off with grilled pork belly and a good drizzle of BBQ sauce
Finally, top it with the bun and garnish with a St. Louis Rib
If you do attempt to make this at home, we want to see it. Tag us on Twitter or Instagram so we can drool from afar.
Editors' Recommendations