It's that time of year again: tailgating, over-sized foam fingers, fantasy leagues, and a bounty of lip-smacking finger foods. That's right, it's football season! Whether you love to watch that pigskin fly, you're planning a party for your sports-fan friends, or you're secretly just going all in on the Super Bowl for the commercials, chances are you'll soon be thinking about this season's finger-lickin, rivalry-revealing football parties. Sure, you've already got a grasp on the basics of a good game day party, but the last thing you want to do is deflate your big day with too much work or too little preparation. We chatted with Sunny Anderson — Food Network personality, Creator of the Infladium, and MVP hostess — for some football party ideas, her new invention that is setting out to change the way you chow-down, and how you can rally your fandom to help battle hunger in your favorite team's city.
Throw the Perfect Party — Without Missing the Action
For Anderson, a crucial component of successful hosting is to create a menu that gives your guests something fun to nosh on, without creating a meal so complex that you won't be able to sit down and enjoy the game until the final buzzer sounds: "I love having a party where I don't have to do all the work, and you give people something familiar, but new ways to enjoy it."
So, how do you create a party that your guests will be fans of without tying yourself to the kitchen all day?
First, it's important to realize that you don't have to make every little morsel and hors d'oeuvre from scratch. "I really love to do my football parties broken down kind of like a football game," Anderson says. "So I do the pre-game, and I think pre-game should be drinks, apps, small snacks. I call it the freezer section time of the show … raid the freezer section at your grocery store, get those tiny pizzas, those taquitos … little tiny things like that."
You can cut down the prep time and still have your stamp on the party by creating smart combinations of pre-packaged and made-from-scratch snacks. Make apps easy for yourself by cooking up a smorgasbord of frozen finger foods, then add a personal touch with something simple and homemade like a signature drink that incorporates the colors of battling teams.
"I love having signature drinks at a party, I can't say it enough, especially if it's something very simple. There are winter sangrias and there are summer sangrias, so it's perfect if you do a sangria, because you've got fruit in the bottom," Anderson says. "All you have to do is keep replenishing the liquids and they start eeking out the moisture and the flavor from the fruits. A signature drink is so much fun because it's a conversation starter, plus … it allows you to kind of relax and watch the game."
Once you've got your pre-game plan, you can start to think about the main event: the food you'll be serving during the real heat of the game. You can go as big as you like with your main course, but remember that your guests are there to enjoy the game, not to dine out on a luxury dinner, so keep your foods simple and easy to handle. "I really think that hand-held foods and the things you can cradle in your lap are what work," Anderson explains, "By and large, when you're doing a game day party, something that fits a buffet style really works out."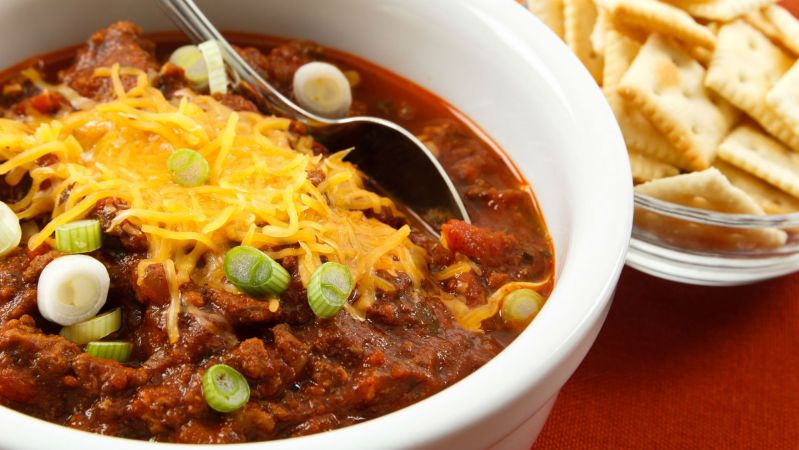 You don't need to invent the newest snack craze, either — there are plenty of ways to have fun with football-season staples like dips and chili by changing up the protein or getting creative with the fixins. "I love to put the
chili
in a slow cooker, and then on the side … all the cold things that you use for chili like scallions, sour cream, tortilla chips," Anderson says. "People love more than just chili. Throw some tater tots on there, baked potatoes, french fries — people can create their own Frito pies using corn chips. If you're not into beef and pork … you could always do turkey, you could always do chicken, and there are a lot of great vegan recipes out there."
You can also jazz up basic party foods that you buy or order in. "A lot of times people will do the quickie order out pizza and stuff like that, but even then you can have fun with it. You can order a cheese pizza and … make a really quick arugula, Parmesan, olive oil, and apple cider vinegar salad and toss it over the top and you've got a brand-new pizza."
To help you get started with your menu, Anderson shared her recipe for a cheesy, gooey dip that's as easy to make as it is to devour.
Sunny's Cheese "Point" Spread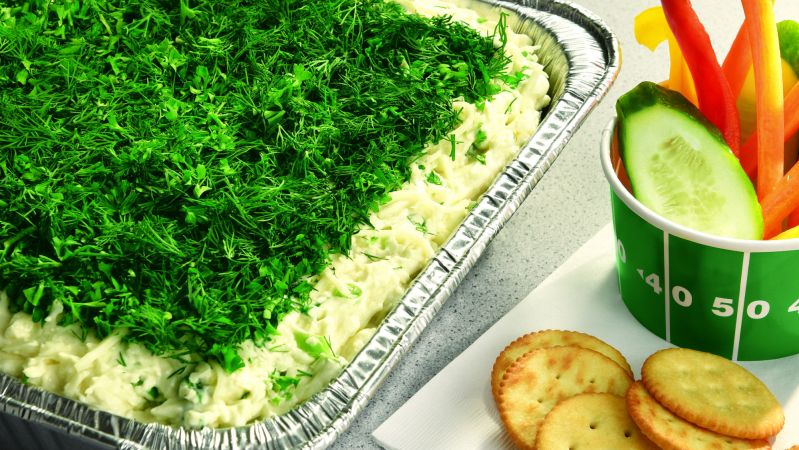 Ingredients:
48 ounces shredded white cheddar
32 ounces shredded white cheddar for garnish
48 ounces shredded Monterey jack
4 cups mayonnaise
2 tablespoons onion powder
2 tablespoon garlic powder
48 ounces scallion cream cheese
1 cup drained and chopped pimentos
½ cup drained and chopped pickled jalapenos
Fresh dill, parsley, and cilantro (chopped) for garnish
Method: In a large bowl, combine all ingredients and spread evenly into the full sheet to flatten. Top with the additional 32 ounces of cheddar cheese and green herbs to create a football field.
Consider the Crowd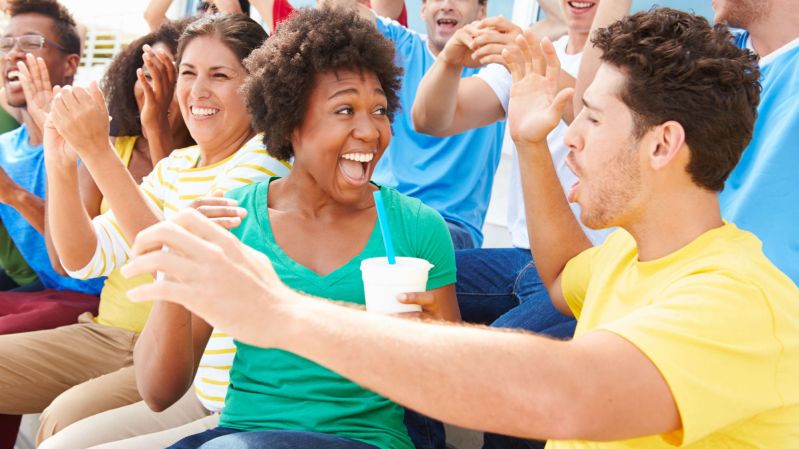 A great football party isn't just about food. Keeping your recipes simple, transportable, and easily customizable for guests is a great start, but there are plenty of logistical aspects to consider when you're hosting a big crowd. After all, the big game isn't going to be much fun if you spend it following your guests around like a living garbage can, or if you run out of cold drinks halfway through.
"If people are asking you where the trashcan is at your party, you don't have enough trash cans visible," Anderson advises, before adding with a laugh, "and make sure you have a plunger in your bathroom …because, you know, things happen."
It's also important to stock up on some essentials before the game so you don't find yourself in a pickle at halftime: "I like to get … about two pounds of ice per guest, especially if your refrigerator or freezer doesn't produce ice as fast as you'd like it to. It's smart to go to a gas station or grocery store and do the math for how many people are coming over. Just keep it in the cooler or even in the garage over the course of the party."
Of course, no game day party or tailgate would be fun without its theme, and when it comes to football, the more grand, colorful, enthusiastic, and boisterous, the better! This year, Anderson has wrangled her foodie fanaticism and football fandom into the new Infladium, an inflatable snack stadium she designed in partnership with Party City that promises to make football the centerpiece of your party. "I wanted something gargantuan, huge, impressive, that really made the party," says Anderson.
The idea came about when she noticed the recent popularity of homemade snack stadiums that fans were building from plywood, cardboard, and foil for their Super Bowl parties. "I thought to myself, I really want a snack stadium, but I don't have the time and don't want to lose a Saturday in my garage putting something together that; after I use it once, it's no good anymore… all that work for one day in the sun. So I started thinking … how could I make a [snack stadium] for everyone?"
The result is a massive, inflatable snack stadium that's insanely easy to clean and completely reusable. Decked out in full game gear — like pep flags on every corner, an illustration that wraps around the entire stadium, and a bright green football field at its center — the Infladium holds as much pigskin-themed charm as it does game day snackage. "I can't wait for people to use it," Anderson explains with palpable excitement, "because as big as a football fan as I am, as big into food as I am, as big into entertaining as I am … I'm always trying to look for something cool and a conversational piece and something that just says 'wow!' To now have a centerpiece that I can put on my table that's ready to go, ready to fill, easy to clean, reusable, and we worked really hard on making it inexpensive because … I want everyone to enjoy something as fun as this. The Infladium, to me, is hopefully going to be the new way to buffet."
Available now at Party City, the Infladium isn't just a clever serving dish for your favorite football foods, it's also a surefire conversation-starter that will whip your party guests into game mode as soon as they walk through the door. Combine the clever snack stadium with Anderson's MVP tips as a handy party playbook, and you're ready to take the field for a winning season of football parties.
Spread Your Game Day Love
This year Anderson is taking her party expertise and teaming up with Taste of the NFL, an organization that raises money from football fans to help battle hunger.
"This is my first year being involved with Taste of the NFL and I'm really excited," Anderson explains, "being in the food business, it's obvious that I'm into feeding people, and [their] major effort is providing food and funding for food banks, locally."
Now in its 27th year, Taste of the NFL's mission is to continue to raise awareness and funds via the season-long Kick Hunger Challenge, a friendly competition for fans to raise money for their favorite NFL team's local food bank. "That's the neat thing," Anderson says of the Challenge's local focus, "you can do something kind of nationally but still have an impact locally."
To date, Taste of the NFL has raised and donated in excess of $25 million to food banks and nonprofit organizations in the 32 NFL markets, resulting in more than 200 million new meals for Americans in need. The annual Super Bowl Eve Party with a Purpose (this year's event takes place on February 3, 2018 in St. Paul, Minnesota) encourages fans to take a moment out of their game day celebrations to help those in need, with 100 percent of the proceeds going directly back to local communities.
"When you go to a game, you love eating out," says Anderson, "and you have to realize there are a lot of people that don't have the luxury of going into their pantry … and pulling out food for a big game day party."
While you're planning for your tailgate or Super Bowl party this year, get in the game and help kick hunger by heading over to the Kick Hunger Challenge and donating to your favorite team.