Sangria is pure fun in the glass, a mix of fruit and wine and herbs that, if made correctly, can fit any month of the year. Folks don't normally associate the drink with winter, but that's because they don't know what they're doing. Here, we'll transition the Portuguese and Spanish beverage into something you'll want on hand even when the snow starts to fall.
Related Reading
A quick note on sangria. The Iberian treat can be made with red or white wine spanning many grape varieties. In the winter, you'll likely want to go red, as it tends to be a bit heavier and pairs better with a lot of the warm baking spices and herbs of the season. But a well-selected white or even pink wine can do the trick, too. We've offered a few suggestions for each recipe below. If you want to play it safe, have some meaty reds at the ready, like Tannat, Malbec, Cabernet Sauvignon, or Merlot.
Keep in mind that these are just templates, worth following but also tweaking to your liking. Sangria welcomes so much in terms of added complementary ingredients, so make sure your spice rack is full and that you have some other boozy treats, like brandy, port, and Grand Marnier. Here are a few cocktail recipes, including one warm version with chocolate made especially for the chilliest of nights.
Lillet Rouge Spiced Sangria
Blending fresh juice, orange liqueur, and a certain French aperitif, this sangria recipe from Lillet involves no wine technically, but you'd never know based on the flavors. Add a splash of Rosé if you feel so inclined.
Ingredients:
1 bottle Lillet Rouge
.5 cup Grand Marnier
1 cup cold-pressed apple juice
3 ounces fresh lemon juice
2 cinnamon sticks
1 apple sliced
1 pear sliced
Method:
Combine all ingredients in a pitcher with a large block of ice. Garnish with fresh orange.
Fresh Victor Winter Sangria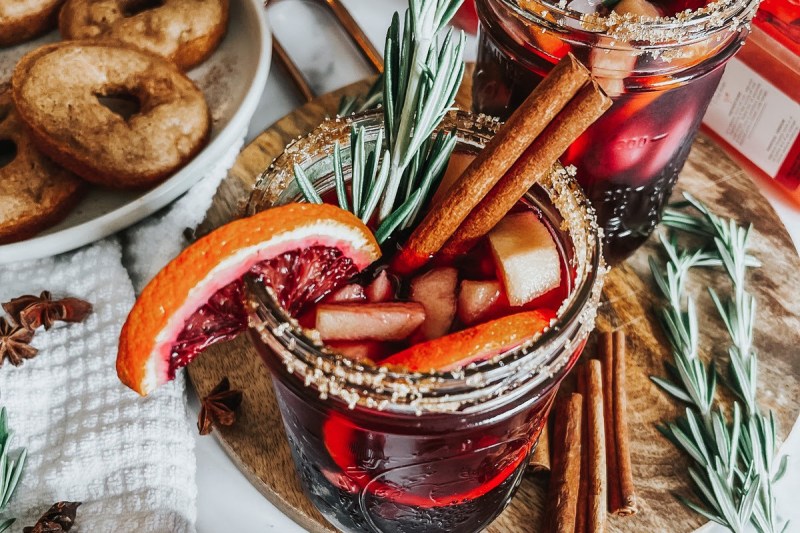 This cold-weather sangria courtesy of Fresh Victor mixes up colorful pomegranate and prickly pear cactus with some soothing herbs and spices to excellent results.
Ingredients:
2 parts red wine (for lighter, try Beaujolais, heavier try Grenache or Rioja)
1 part Fresh Victor Cactus Pear & Pomegranate Mixer
Cinnamon stick, rosemary, apple slices, and blood orange for garnish
Method:
Place fruit slices in cup and add the mixer and wine. Garnish with cinnamon stick, citrus wedge, and herbs.
Campo Viejo Traditional Sangria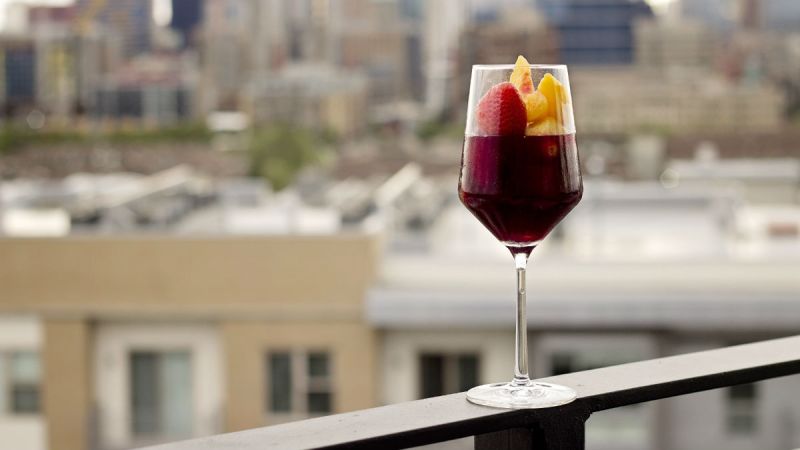 A pleasant mix of Spanish red wine, Cognac, citrus, and some sweetness, this more traditional take is reliably tasty. The recipe was provided by Campo Viejo.
Ingredients:
5 parts Campo Viejo Garnacha
1 part Cognac
.25 part sugar
.25 part lemon juice
.5 part orange juice
Method:
Combine all liquids and stir until sugar dissolves. Add fruit and let rest 15-30 minutes. Pour over ice and garnish with fresh fruit.
Hot Chocolate with Red Wine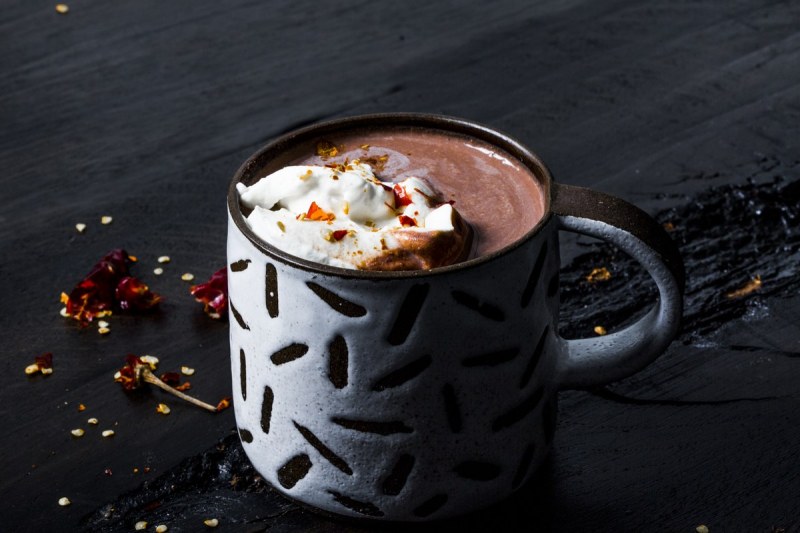 This recipe, courtesy of Home Cooking Adventure, makes about one to two servings, so add or subtract proportions as you will.
Ingredients:
1/4 cup red wine (go with. Malbec)
4 teaspoon sugar
3 teaspoon unsweetened cocoa powder
1 cup milk
Pinch of salt
Cinnamon sticks (optional)
Whipped cream (optional)
Method:
Bring your wine to a simmer over low heat, adding any mulling spices you'd like. Keep in mind that alcohol burns off around 173 degrees. So, if you don't have a way to check the temperature, heating the wine first will only reduce the alcohol level. You could also add the wine over the cocoa and milk mixture, and bring everything to a boil if preferred. Meanwhile, combine your cocoa powder with sugar and salt in a separate bowl. Add a splash of milk and stir well to combine. Then, add the rest of the milk, stir well, and pour over the wine. Whisk (or stir) while bringing to a light boil. Once it reaches your desired temperature, pour into your favorite mugs, garnish with whipped cream and cinnamon sticks, then indulge in your new favorite holiday drink!
Editors' Recommendations