Feasting is our column dedicated to cooking, grilling, eating and discovering what's on the menu across America and the world.
It's no secret we love meat here at The Manual, just like our dear friend and contributor, the late, great Josh Ozersky. In fact, Josh loved meat so much, he accidentally founded the event Meatopia 10 years ago, originally intended as his birthday celebration. Ever since, chefs from all over who share his philosophy of sustainably sourced meat and live fire cooking come together for the event a couple times a year, held in multiple cities so people from all over the world can enjoy it. The event has gained a cult following of sorts, and chef's see it as an honor when asked to be a part of it.
Meatopia has become somewhat of a tribute to Josh, promising nothing but the best cuts of meat from animals that have been raised naturally and cruelty-free, cooked over live fire. Part of the South Beach Wine & Food Festival presented by Food & Wine, there are still tickets available for this month's Meatopia Miami, taking place on February 27. To celebrate, we spoke with four of our favorite chefs cooking at the event to find out how Josh has inspired them and whose food they're most excited to taste this year.
What's the inspiration behind your restaurant? How does the dish you're cooking for Meatopia reflect your restaurant's menu, if at all?
JJ Johnson: The food I cook at The Cecil is really rooted in history and based on the interpretation of the African diaspora. It's a cultivation of different cultures, combining West African, Asian and Caribbean techniques and flavors. The dish I'm cooking at Meatopia definitely reflects the menu at my restaurant. I'm making Grilled Pork Shank with Coconut Yassa, a sauce that originated in West Africa. Traditionally, it's made with onions, lemon and olives, but I'm putting a twist on it by adding coconut milk so it acts more like a glaze for the pork shank.
Paul Qui: Pao is inspired by my growth as a person and my journey as a chef, and also by Filipino culture with global influences. My dish for Meatopia is a very classic Filipino dish that was inspired by my grandmother. It's the perfect representation of what my food is to date.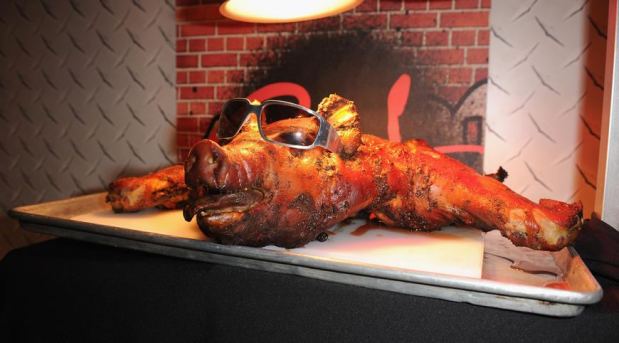 Miguel Trinidad: The inspiration for Jeepney and Maharlika was to bring Filipino food to the masses and bridge the gaps between cultures. Let's face it, very little was known about Filipino food. Our mission was to show, educate and expand people's knowledge on the multicultural influences that are the fabric of Filipino food. We wanted to make our Banana BBQ ribs for Meatopia, one because Josh Orzersky really enjoyed them and also because they represents Jeepney's way of inventing new dishes using Filipino ingredients and flavors.
John Tesar: I was asked to open a steakhouse, and being me and living in Texas, I think it was a natural fit. The dish I'm cooking is right off the menu – beef cheeks braised and then grilled over red oak fire.
Related: Feasting: Patagonia Provisions is Saving the Great Plains
Josh Ozersky believed in raising and consuming sustainable meat. How do some of the practices at your own establishment reflect his philosophy?
JJ Johnson: Josh Ozersky was a great friend of mine, and I've always appreciated this philosophy. At The Cecil, we work closely with Heritage Farms and vendors such as D'Artagnan and Debragga who, in addition to providing us with product, tell us what cuts of meat are in season at a given time. It's great working with such respectable purveyors to ensure we're only serving the highest quality ingredients to our customers.
Paul Qui: Josh was a dear friend and we had a lot in common. Sourcing responsibly shouldn't have to be an advertising point for a restaurant – it should just be.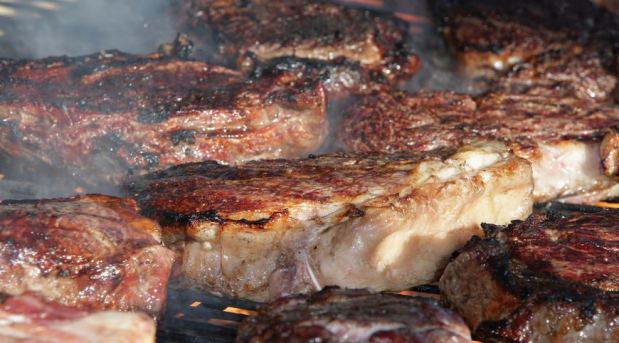 Miguel Trinidad: We source most of our product from local farmers in Jersey and upstate New York whenever possible. It's a practice in our restaurants to use every part of the animal to produce our food. We allow nothing to go to waste.
John Tesar: Josh and I were very close and we had a similar philosophy and thoughts about meat. At Knife, we partner with 44 Farms and have a great relationship with them using sustainable meat and no antibiotics.
Whose food are you most excited to try at this year's Meatopia?
JJ Johnson: I'm definitely excited to taste Dale Talde's food this year.
Paul Qui: I'm super excited to try all the local Miami flavors!
Miguel Trinidad: I have to say I'm most excited to try The Cecil's Chef Joseph Johnson's food. I mean this guy is amazing with what he does.
John Tesar: Everyone's! Especially the whole animal live fire chefs.
To learn more about Meatopia and SOBEWFF and to buy tickets, visit sobefest.com/meatopia.