Plant-based cooking is quickly shaping up to be the next big culinary phenomenon. With so many options in grocery stores for vegans or anyone wanting to dabble in plant-based eating, it was only a matter of time before celebrity chefs emerged with their takes on vegan dishes. Twenty years ago, the mention of vegan recipes in restaurants or by well-known chefs was considered groundbreaking and ahead of its time. Today, vegan recipes are quickly becoming staples in every innovative chef's kitchen. Whether you are new to plant-based eating or are a hardcore vegan, these recipes are easy to make and will elevate your home culinary skills. And remember, it's OK to eat vegan even if you're not vegan.
Vegan and Gluten-Free Enchiladas with Sweet Potatoes and Black Beans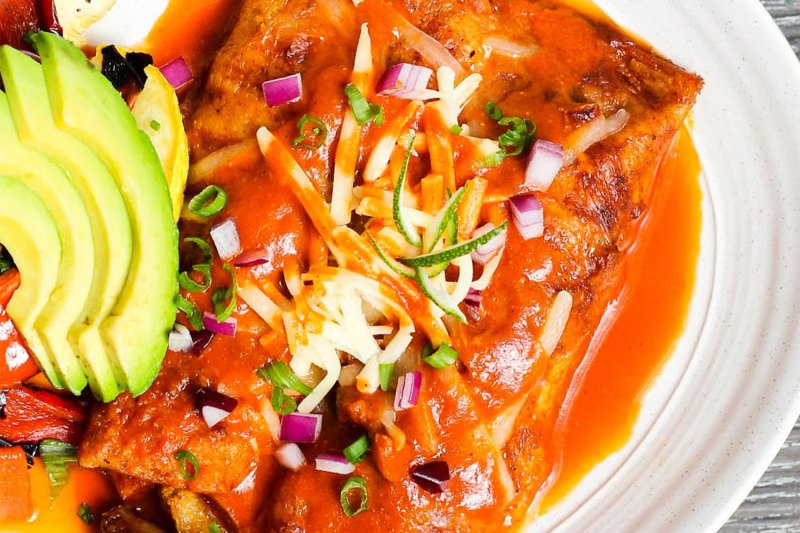 (Created by Chef Kristen Thibeault of Nybll, high-performance food company and corporate catering service
Ingredients:
2 large sweet potatoes, peeled and diced into 1/2-inch cubes
1 cup black beans, cooked and drained
1 small yellow onion, finely diced
2 cloves garlic, minced
1 small poblano pepper, seeds removed and finely diced
8 corn tortilla shells
1 cup vegan shredded cheese of choice
Safflower oil, for cooking
Enchilada Sauce Ingredients:
3 tbsp safflower oil
2 tbsp rice flour
.25 cup chili powder
.25 tsp cumin
.25 tsp garlic powder
.25 tsp onion powder
.5 cup tomato sauce
1.5 cups water
Method:
Preheat oven to 350 degrees Fahrenheit.
Toss diced sweet potatoes in oil, salt, and pepper. Roast until tender and set aside.
Sauté onion and poblano peppers in oil until tender. Add garlic and sauté until fragrant.
Add black beans and season to taste with salt and pepper.
Combine black bean mixture and sweet potatoes in a large bowl and set aside.
Make enchilada sauce: Heat oil in a pan. Stir in flour and spices and cook on low until browned. Stir in tomato sauce and water. Simmer until sauce thickens.
Spray an 8 x 10-inch baking dish with nonstick cooking spray.
Add about 1 cup enchilada sauce to the bottom of the prepared baking dish.
Spoon sweet potato filling into each tortilla shell, roll up, and place side by side in baking dish.
Top enchiladas with sauce and vegan shredded cheese.
Bake until cheese is melted
Low-Carb Vegan Tacos
(Created by Chef Kathy Fang, two-time CHOPPED champion and chef/owner Fang, San Francisco)
Ingredients:
3.5 oz cubed soft or medium firm tofu
2 stalks of curly kale (rough chop)
1 small organic tomato (vine tomato is the best for this), diced
2 tsp of taco seasoning
Pinch of salt and black pepper
.5 tsp of Braggs soy sauce
1 tsp of avocado or olive oil
Juice of half a lemon
1 Low carb tortilla
1 small handful of Daiya cheese (vegan cheese)
Method:
Heat a nonstick pan to high and add avocado oil.
Toss the cubed tofu in and sauté on high heat for 1 minute.
Add taco seasoning and sauté to coat the tofu in the flavor.
Add kale and Braggs soy sauce, along with a squeeze of lemon juice.
Sauté until the kale wilts and add half of the diced tomatoes.
Season with a little salt and pepper.
Add the Daiya cheese to melt into the mixture.
Scoop the tofu kale filling into the tortilla and plate next to a small bowl of salsa.
Planta's Coconut Ceviche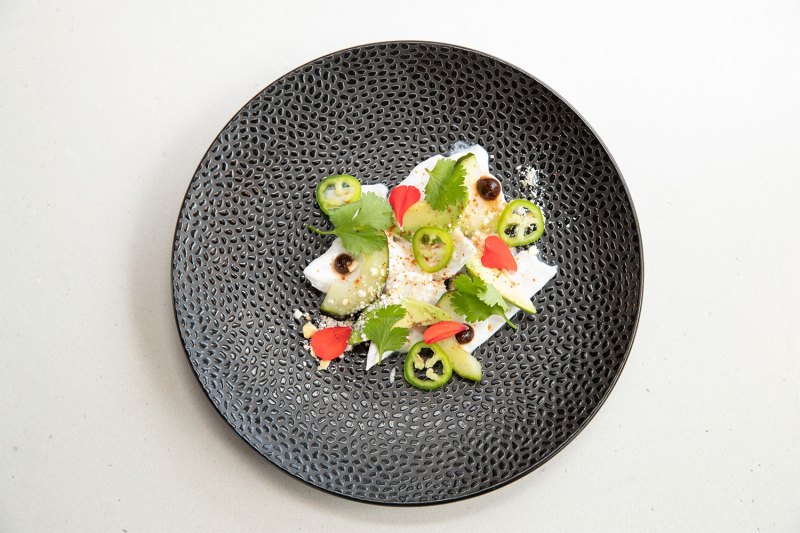 (Created by David Lee, executive chef and co-founder of Planta)
Ingredients:
Marinade:
3 shallots, sliced thinly
1 jalapeño, minced
2 tbsp Anaheim chilis, minced
2 coriander stems
Gray salt, to taste
4 tbsp fresh lime juice
Method:
For the marinade, combine thinly sliced shallots, jalapeño, chilis and gray salt until mixture releases its juices. Then mix in lime juice and coriander.
Clean and thinly slice young coconut meat, and combine it with two cups of the marinade, a cup of lime juice, and a pinch of kosher salt.
Top with cilantro and corn nuts and add sliced avocado to the plate. Serve with tortilla chips.
Creamy Mushroom Fettuccine Alfredo
(Created by award-winning cookbook author and celebrity chef Stephanie Banyas)
Ingredients:
1 lb dry fettuccine pasta
Kosher salt
2 tbsp olive oil
1 lb sliced cremini/baby bella mushrooms
2 tsp finely chopped fresh thyme leaves
Pinch of red chili flakes, optional
Freshly ground black pepper
1 container (8 ounces) Fresh Cravings Creamy Garlic Almond Dip
.25 cup vegan parmesan cheese, plus more for serving
1 tsp finely grated lemon zest, optional
.25 cup finely chopped fresh parsley leaves
Pinch of red chili flakes optional
Optional- Vegan Parmesan
1 cup raw cashews or raw almonds
3 heaping tbsp nutritional yeast
1 tsp kosher salt
.25 tsp garlic powder
Method:
Bring a large pot of cold water to a boil over high heat, add 2 tablespoons of kosher salt. Add pasta and cook until al dente, about 9 minutes. Before draining pasta, reserve 2 cups of pasta water and set aside.
If making vegan parmesan: While the water is heating, combine cashews, nutritional yeast, salt, and garlic powder in a food processor. Pulse until finely chopped. (Note: this mixture will last, if tightly covered, in the refrigerator for up to 2 weeks.)
While the pasta is cooking, heat oil in a large high-sided sauté pan over high heat until it begins to shimmer. Add the mushrooms and cook, stirring occasionally, until golden brown and liquid has evaporated, about 8 to 10 minutes. Add the thyme and parsley. Season to taste with salt, pepper, and optional red pepper flakes.
Scrape Fresh Cravings Creamy Garlic Almond Dip into the pan with mushrooms, stir to combine. Add 1/2 cup of the pasta water and 1/4 cup of the grated cheese, continue mixing until heated through and the mixture begins to thicken, about 2 minutes. Add the drained pasta and another 1/2 cup of pasta water. Mix until combined and creamy, adding more water if needed and cook 2 minutes longer.
Stir in parsley and lemon zest, if using. Transfer to a large shallow bowl. Serve sprinkled with parmesan or vegan parmesan.
Sweet Potato Shepherd's Pie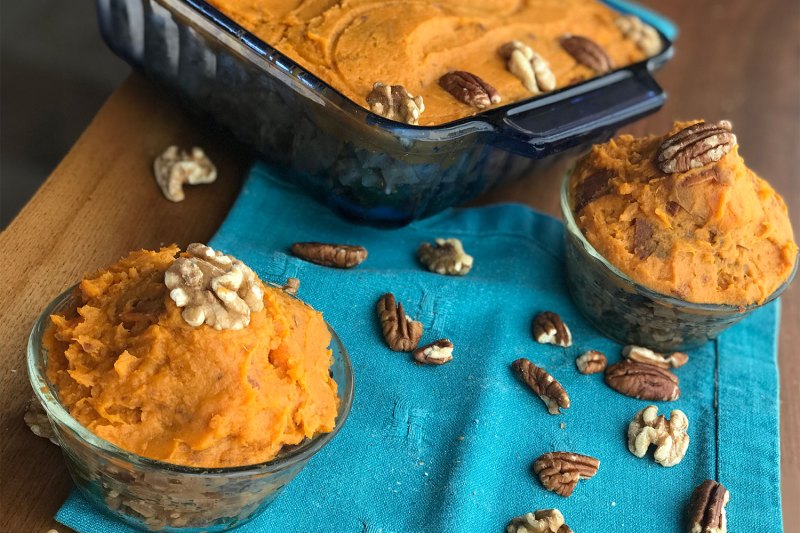 (Created by Boston-area vegan chef Suzi Gerber)
Ingredients:
Sweet Potato Topping:
3 large sweet potatoes
1 tsp safflower oil
.25 cup vegetable broth
1 tsp smoked paprika
1 tsp sea salt
Pie Filling:
.25 lb pecans, chopped
.25 lb walnuts, chopped
.25 cup maple syrup
2 parsnips, chopped
1 white onion, diced
4 cloves garlic, minced
1 bunch lacinato kale, removed from the stem and chopped
2 tbsp avocado oil, and more to paint the squash
1 tsp cinnamon, and more to dust
.5 tsp cumin powder
.25 tsp salt
.5 tsp smoked paprika
Additional walnuts and pecans to top
Method:
Preheat the oven to 375 degrees F.
Cut the sweet potato into quarters, and toss in the salt and safflower oil, and roast in the oven until soft, about 15 minutes.
While the potatoes roast, chop the nuts, and transfer them to a deep cast-iron pan to toast.
Add the avocado oil, and then the onion. Sauté until translucent, and add the garlic, and saute for 1 minute.
Add the maple syrup and parsnips, and sauté until tender. Then add the kale until very green. Then remove from heat, and set aside, covered.
Take the roasted potatoes, and add them to a food processor or blender, adding the smoked paprika and as much of the vegetable broth as necessary to whip the potatoes into a smooth even texture — adding only a little at a time.
Editors' Recommendations