Feasting is our column dedicated to cooking, grilling, eating and discovering what's on the menu across America and the world.
When you first pick up the latest book from author and rugged foodie outdoorsman Rohan Anderson, the cover photo and font might make you believe you're about to dig into a book written in the 70s. There's an old school look about it. But when you start flipping through the pages of A Year of Practiculture: Recipes for Living, Growing, Hunting & Cooking with the Seasons, the beautiful, modern photography will immediately remind you the book was released a mere month ago as the second title from Rohan.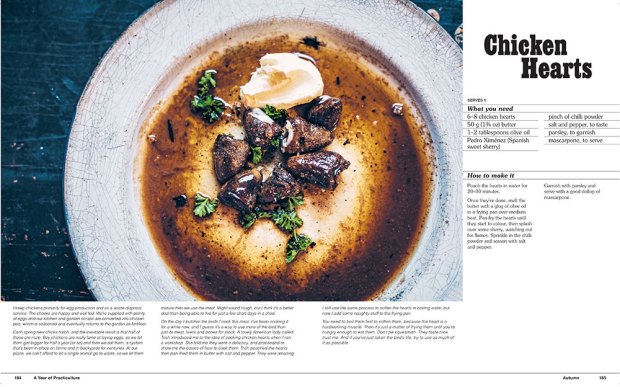 However, as you start reading, you might think again of the good old days, a time when people grew gardens and lived off their land by hunting and foraging rather than buying pre-wrapped protein in a shiny grocery store. And this is exactly the feeling Rohan wanted to conjure. He left his desk job as a graphic designer and marketer in Melbourne, Australia for the richer pleasures of living a simpler life on the land. And so practiculture came to be in his world, which is a direct involvement in the day-to-day elements of survival and making the choice to grow, hunt and forage healthy, sustainable food. In our opinion, it's pretty badass.
One of the easiest ways to eat sustainably is to follow the seasons, which is another reason we love this book. Rohan breaks it down into four sections – spring, summer, fall and winter – and features more than 100 simple, rustic recipes that don't use a lot of fancy ingredients. But you'll definitely have to cook, as we reckon you can't find a frozen pizza crust out in the middle of some field. We wouldn't have it any other way.
Related: Butcher Jason Nauert Teaches Us How to BBQ Game Meat
Some of the things you'll be making? Dishes like chicken hearts and herby roast goose with crispy skin sit alongside seasonal vegetable goodness like a grilled broccoli, almond and sriracha salad and roast parsnip dip. Rohan's writing style is no-nonsense and funny, and he uses this mix to bring humor into more serious subjects like the realities and hardships of living off the land as well as some deeper issues our modern food system raises. By telling his own story with so much transparency, it will instantly make you yearn for and appreciate the simpler things in life, something we all need to do from time to time.
A Year of Practiculture is available for purchase on amazon.com.