Feasting is our column dedicated to cooking, grilling, eating and discovering what's on the menu across America and the world.
We're big fans of caviar here at The Manual, those tiny little spheres of salty roe that can elevate pretty much any dish, from blinis to scrambled eggs. But just like any number of fish in today's world, caviar is many times obtained unsustainably in places where overfishing is prominent. And as much as we love the taste of this delicacy, the thought of jeopardizing an ecosystem leaves a bad taste in our mouth. Lucky for us, and all of you roe lovers out there, KHAVYAR is doing things the right way.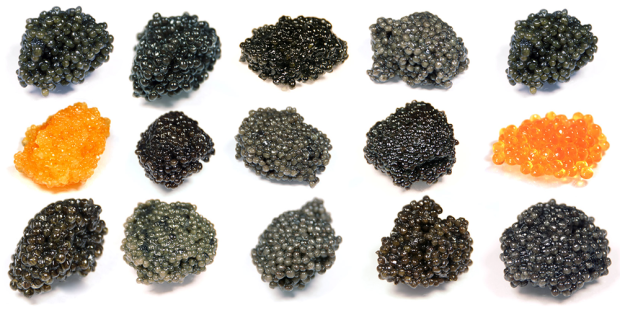 KHAVYAR believes sustainability is more than just good business. It's a passion born out of a deep respect for our environment and protecting the world in which we live. Led by people who have decades of experience in the market, KHAVYAR is able to cultivate impeccable roes that pass a rigorous set of standards before hitting their website. And they believe caviar shouldn't be exclusive to only a select few, so it's a priority to make their product available at price points anyone can enjoy.
To get a better understanding of how KHAVYAR does business and to get some inside info on how to know if you're getting the good stuff, they answered a couple burning questions for us below. We even asked the guys at L.A. restaurant Animal how they like to eat and drink with it.
The Manual: We've seen a steady rise in sustainable caviar, especially in the last six months. What do you attribute to this booming business?
KHAVYAR: Overfishing of sturgeon in the Caspian Sea, which borders Russia and Iran, and a U.S. ban on Caspian beluga caviar has allowed for sustainably-farmed caviars from America, Europe and Israel to grow in popularity. The quality of the eggs is excellent, and the American version is slightly more affordable than what is imported. Also, today's consumers are looking for luxury brands that both fulfill their desire for a delicacy at the right price and are centered on sustainability.
The Manual: For caviar beginners, what are some essential things to look for when seeking out quality roe?
KHAVYAR: Caviar is made from "roe" (or eggs) from female sturgeon, which are found in the Caspian Sea, Black Sea, parts of America's Pacific Northwest and South Atlantic waters, and fresh-water lakes and rivers across Europe. The three most recognized types of sturgeon caviar are Beluga, Osetra and Sevruga. Roe that comes from other fishes like salmon and sea trout are a more affordable, and just as delicious, alternative to caviar.
When looking for freshness and quality, keep the following in mind:
– Appearance: Shiny and glistening like crystals in the light – should not look oily or dull
– Taste: Fresh caviar separates and pops in the mouth and should not feel mushy and pasty on the tongue.
– Care: Should be kept in the coldest part of your refrigerator, near the bottom and to the rear. It will last up to two months unopened and up to one week once opened.
– Presentation: Allow it to rest unopened at room temperature for 5 to 10 minutes prior to service. The caviar can be served directly from its glass or tin container or transferred to a glass bowl nestled into a bed of ice.
Related: The Modern-Day Meat Stick: Belcampo Beef Blunts
The Manual: When it comes to pairing caviar with beer, what are the rules? How can you choose the best possible beer for the roe you're about to taste?
Animal: In my personal opinion, there are no rules for what you should or shouldn't have with your caviar. I personally like it with a lighter brew like House Beer because I think the salty nature that caviar holds pairs well with something light in body.
The Manual: We love caviar, especially when it accompanies some of our favorite dishes. What types of food would you suggest topping with it?
KHAVYAR: Just to name a few – eggs, pasta, pancakes, potatoes, asparagus, caramel, cream and the list goes on!
Editors' Recommendations