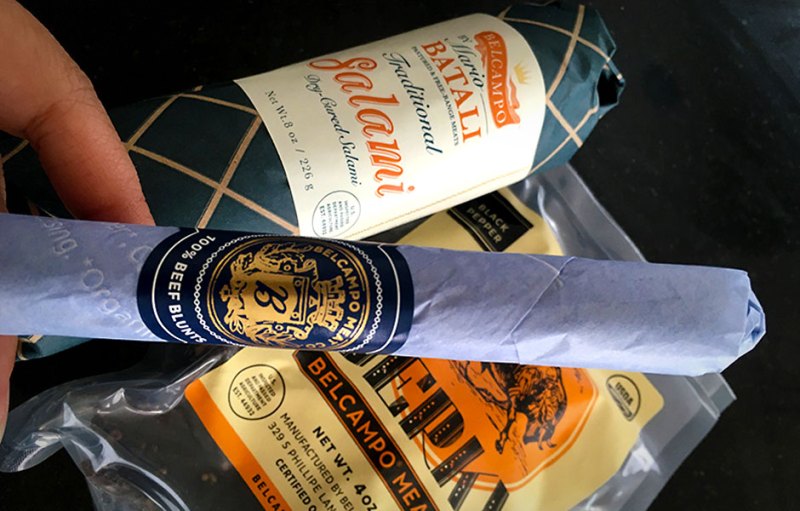 There's something that's just so comforting about a beef stick. Personally, it takes me back to the elementary school snack cart where we would buy them during recess to quell any hunger pangs that arose before lunch. Now there's a grown-up version of the beloved snack, made by the folks at Belcampo.
In case you didn't know, here's a little explanation from the company: "Belcampo is a lot of things: a farm, a processing plant, a neighborhood butcher shop, a restaurant. What unites everything we do is our singular commitment to provide you with delicious, organic, and humane meat you can feel good about buying and eating." That's everything we want in a company that provides meat. Plus, some cool collaborators, like Mario Batali, will occasionally step in.
At the butcher in Santa Monica, there's a new snack that looks exactly like….a cigar! Displayed in a wooden box that looks exactly like a box of cigars, the 100 percent beef sticks can be used in a number of ways. You can just take a bite out of it, like you did when you were a kid, or you can be fancy and use it like saucisson by cutting it up into little slices and placing it on your charcuterie board next to the proscuitto and parmesan next time you have people over for wine and cheese.
Or even better, when a meat-lover you know has a baby, what better way to celebrate than to break out with a box of Belcampo Beef Blunt? We bet the couple would get a kick out of that.

For more information, visit belcampo.com.
Editors' Recommendations