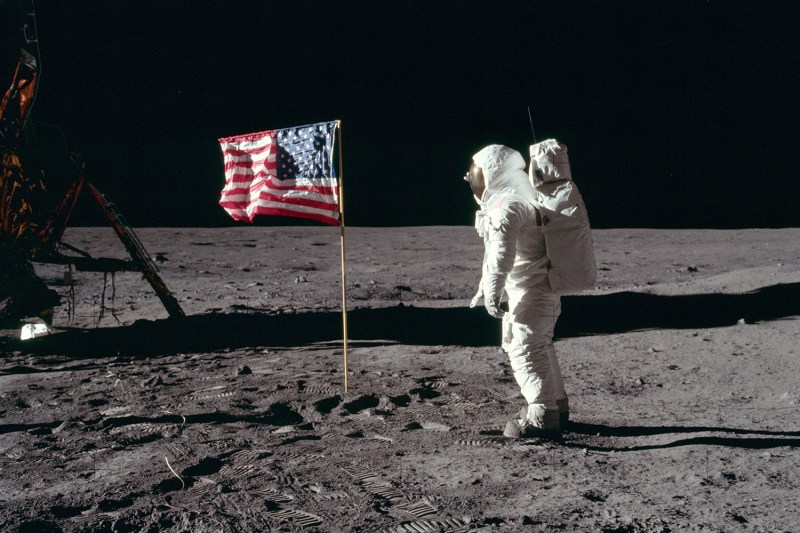 Budweiser is celebrating the moon landing this year with a new beer.
With the 50th anniversary of Neil Armstrong's famous steps approaching in July, Budweiser has released the Discovery Reserve American Red Lager, the fourth beer in the brewery's Reserve Collection.
Brewmaster Karissa Norrington, a former U.S. Air Force captain, developed the recipe with the help of Budweiser's archival recipe from when the Apollo missions were shuttling astronauts back and forth between the moon and Earth.
Discovery Reserve American Red Lager is made with Voyager barley malt, a medium-roast evoking the cosmic theme. The beer has a light hoppy aroma, along with toasted barley and toffee washing over the palate. The special-edition logo is circled with 11 stars and a moon in the background, representing the Apollo 11 mission, while alternating bottle caps signify the astronaut's moon footsteps and future potential journeys to Mars.
The limited release will support the Folds of Honor Foundation with a contribution of $1 per 24-pack sold of the Discovery Reserve American Red Lager. The foundation supports educational scholarships for military families. It's the eighth year Budweiser has partnered with Folds of Honor, donating nearly $16 million to the foundation for more than 3,000 scholarships.
"I salute Budweiser and their life-changing donations and continued commitment to Folds of Honor over the last eight years," Folds of Honor CEO and founder Major Dan Rooney said in a statement. "We are proud to stand with them as they release Discovery Reserve, further illustrating their commitment to our armed forces."
The beer will be available through the summer, as long as supplies last. The Reserve Series was debuted in fall of 2017 to debut new recipes and packaging tied to historic moments. Other beers in the series include the Reserve Copper Lager, Freedom Reserve, and Repeal Reserve.
As the American public gazes up to the moon in the summer sky this year, drinkers can toast to the July 20, 1969, footsteps of the Apollo 11 crew.
"This Bud's for those who challenged the odds and made the impossible, possible," said Ricardo Marques, Anheuser-Busch vice president of marketing core & value brands. "Budweiser Discovery Reserve is our tribute to this epic moment in history, one that will certainly continue to inspire generations of present and future explorers."
Editors' Recommendations