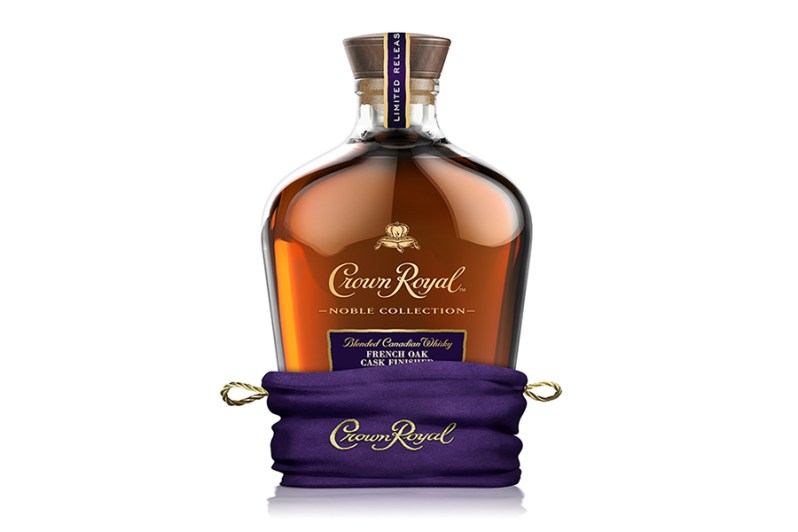 Crown Royal is expanding its Crown Royal Noble Collection line with a new release, French Oak Cask Finished.
The French Oak Cask Finished is the fourth release in Crown Royal's Noble Collection. The expression takes the base Crown Royal Fine De Luxe and rests it on French oak to finish the aging process. The oak is sourced from Vosges region in France, following a two-year, open-air aging process and a two-step fire toasting. The oak imparts a unique body and structure to the Fine De Luxe's notes of caramel, vanilla, and fruit.
"We are honored to share this exceptional whisky and grateful we were given creative liberty to do so," Crown Royal Master Blender Mark Balkenende said. "Our ability to elevate Crown Royal Fine De Luxe using innovative materials to bring out new flavors was an exciting experience for this team of veteran blenders.
"We are always looking for ways to experiment with the brand's flavor profile and with Crown Royal Noble Collection French Oak Cask Finished, it is evident how intentional changes in barrel selection and aging can enhance the flavor while elevating the signature smoothness of Crown Royal Fine De Luxe."
The new expression in the Noble Collection adds to the three previous releases: Cornerstone Blend, Wine Barrel Finished, and 13-Year-Old Blenders' Mash.
"We're continuously in awe of our master distillers and blenders' ability to surprise and delight with interesting takes on whisky, while still maintaining the premium standards of excellence that distinguishes Crown Royal," said Nicola Heckles, director of Crown Royal at Diageo North America. "Crown Royal Noble Collection French Oak Cask Finished is an example of our commitment to innovation and being unabashedly unafraid to try new things we anticipate people will enjoy."
With French Oak Cask Finished, Canadian Crown Royal could be taking a page from the growing segment of French whisky, like Brenne and Bastille 1789.
Like the other Noble Collection expressions, French Oak Cask Finished finds itself in a sleek bottle with a crystal-cut base.
Crown Royal suggests sipping the whiskey neat or on the rocks to taste the full experience of the French Oak. The limited edition whisky will find its way nationwide at a suggested retail price at $60.
Editors' Recommendations