First, a word to the wise: When you're cooking, stick with a lower ABV brew like, say, a Trumer Pils (which just happens to be featured in the cooking below). I recently eschewed this advice while using a horrifyingly sharp eight-inch WÜSTHOF CLASSIC Chef Knife, no less, so I was saddled with a bandage I wore for several days on my left index finger. I'll skip the details, but as I'm recommending you cook with beer, I'd be remiss in not offering some mild warning. Because let's be honest, you're going to drink beer while you do it.
While beer has long been considered a critical component of cooking in that it's fun to drink while you're in the kitchen, you're missing out if you're not also using this beautiful beverage as an ingredient in your foods.
Here are three rather easy and flavor-filled recipes that use beer as a critical ingredient.
Once you get these down, it's time to try beer can chicken.
Sourdough Pilsner Beer Bread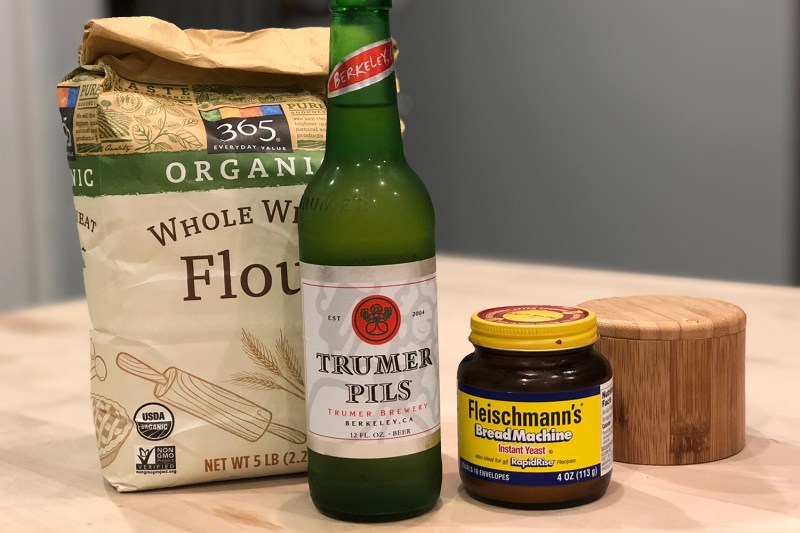 I checked in with chefs Perry Lesdema and Richard Rhea of the celebrated restaurant(s) The Butcher's Daughter (there are locations in both New York City and Los Angeles) for insight into how they make a hoppy sourdough loaf, a bread made with beer that pairs perfectly with, well, more beer.
If you want to go nuts with this one, consider getting whole cone hops, boiling them for 15 minutes (to reduce bitterness), then soaking them in cold water for at least 24 hours, replacing the beer in the recipe below with the infused water you'll create. Otherwise, just use Trumer's Pils.
Ingredients:
1 12 oz bottle of Trumer Pils
3 cups all-purpose flour
1/3 cup sugar
1/3 cup melted butter
3 tsp baking powder
1 tsp salt
Method:
Preheat oven to 375 degrees Fahrenheit.
Blend all dry ingredients in a bowl, then pour in beer and mix.
Transfer dough to greased 9-inch by 5-inch loaf pan.
Bake for an hour, then remove from pan and rest loaf.
Beer and Cheddar Soup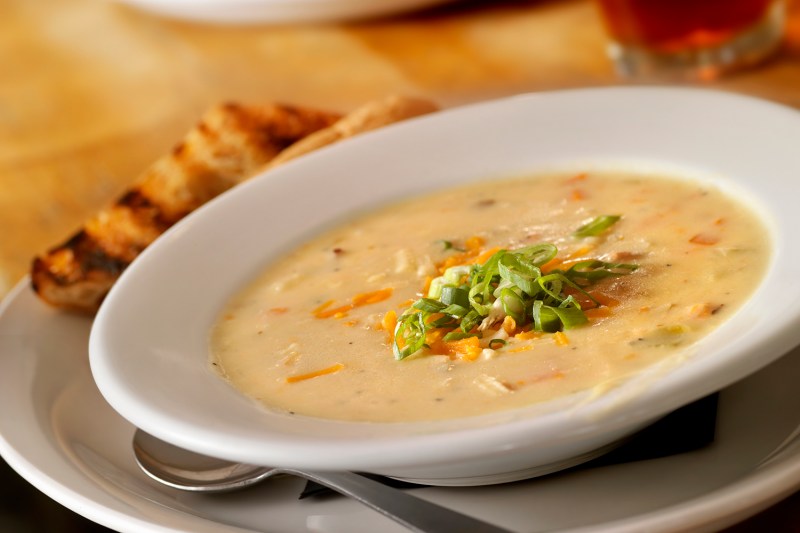 Let's pull back the curtain on this ski lodge and brewpub classic, which seems complex and perhaps even daunting. If you can handle a bit of chopping and stirring and simmering and such, you really can't screw this soup up. Unless you use the wrong beer, that is. A pilsner or a lager is a safe bet, though a brown ale is crazy enough to work, too.
Ingredients:
12 oz of your preferred beer
.75 lb aged cheddar (smoked, if you'd like)
.5 lb bacon (slab or sliced), roughly chopped
2.5 cups chicken or vegetable stock
1 cup cream
.25 cup flour
4 tbsp butter
1 tbsp dried thyme
4 garlic cloves, chopped
2 celery stalks, finely chopped
1 yellow or white onion, finely chopped
Method:
Grease a large pan then cook the bacon until it's browned.  Scoop out the meat, but leave the grease.
Cook all veggies in the bacon grease for about 5 minutes, then add 6 ounces of beer.
Cook five more minutes at medium heat, then add stock and bring to a low simmer
Meanwhile, make a roux in another small pan by melting the butter and stirring in the flour.
Once the roux is thick and beginning to brown, mix it and everything else into the first pan (e.g. the remaining beer, the cream, the cheese, the cooked bacon, all of it, baby).
Simmer and stir until everything is melted, mixed, and generally amazing.
Pot Roast Beef with Irish Stout
Meat and potatoes are great, frankly. Meat and potatoes and carrots and onions and more … and beer? Oh so much better. I made this roast with a 14-0unce can of Breckenridge Brewery Nitro Irish Stout and it was delectable. One tip: Open your can or bottle of Irish stout a good half hour or more before you'll use it. That lets some of the nitrogen foaminess settle and lets the beer warm (assuming it was chilled in the first place) so it won't reduce heat in the cooking process. (Also, you can use a slow cooker on high for four or five hours, or a dutch oven, or another roasting pan in the oven, as specified below.)
Ingredients:
14 oz can Breckenridge Nitro Irish Stout
2-3 pound chuck roast
.25 cup olive oil
6 carrots, peeled and coined (thick coins)
3 onions, chopped
4 garlic cloves, chopped
1 large potato, chopped
1 large tomato, finely chopped
Salt and pepper to taste, plus red pepper flakes if you like the spice
Method:
Preheat oven to 300 degrees Fahrenheit. Meanwhile, heat 2 tbsp oil in large skillet.
Sear the roast on both sides until browned, then remove from heat and season with salt and pepper(s).
Spread chopped onions on the bottom of the roasting pan (or slow cooker).
Put meat atop onions, then put tomato, carrots, and potato atop meat.
Pour in the beer; if it doesn't cover the foodstuffs, you can add stock until all is barely submerged (and check during the cooking to make sure there is still sufficient fluid; you can top off with a bit more beer and/or stock).
Cook for at least three hours.
Editors' Recommendations